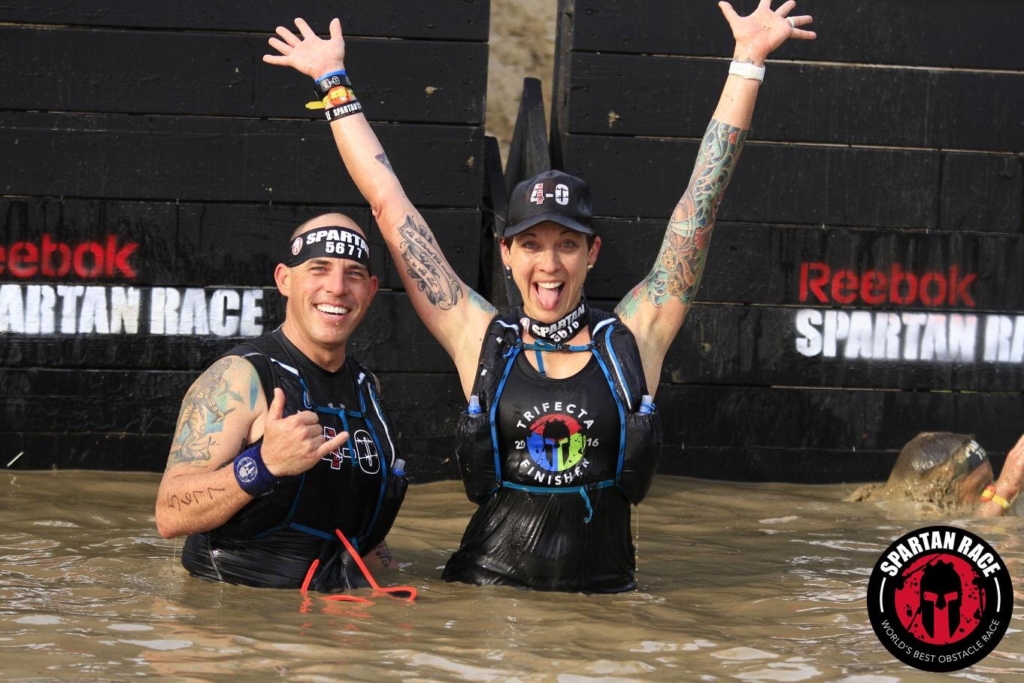 There is not one single person in the OCR community that can say OCR has not changed them for the better.  Each person that I have spoken with (even if their first OCR race was their last), has shared with me a moment on the course that left a mark with them. Going through all the stories/submissions that I get for the Badass Women of OCR series I write, I can feel that Lisabeth Cuppoletti's first race has forever changed her. After surviving  a terrible car accident, she was told at the age of 32 she would never be the same. Lisabeth Cuppoletti decided not to just lie down and accept what was going on, but decided to focus on becoming strong again. This is her story.
Please tell us a bit about yourself.

I'm 39, born and raised in Northern California (originally from the Bay Area, now call the Sacramento area home). I'm a dog mom, and I'm very happily married to a fellow Spartan/runner.
Did you always consider yourself athletic?

No! I was a ballet dancer as a child/teenager, and a swing dancer in my late teens/early 20s. Looking back, I realize that I was athletic, but because I wasn't involved in traditional sports, I did not think of myself as athletic.
How did you get into the sport of OCR?

A couple of years prior to my first race, I was in a terrible car accident that I was lucky to live through and walk away from. I had to go through a few months of physical therapy to get my body "right" again, but I was told, at 32 years old, that I would never be the same as I was before. I decided then that I was not going to accept that, and started working on becoming fit and strong. I had spent too many years of my life dealing with an eating disorder and focusing on being skinny. I started learning how to run to gain endurance and strength.
A dear friend had run several Spartans and told me about it. I was intrigued by the idea of OCR. My husband and I decided to register for our first Spartan Race as a wedding anniversary gift for each other (the race was held a few days after our 4th anniversary).
What was your first race like? Which one was it?

It was the Spartan Sacramento Sprint, 2014. It was the HARDEST thing I'd ever done, physically, emotionally, and mentally. I tripped on a rock at mile 3.5 and landed on my face – skinned my chin and had a big fat lip. I had an anxiety attack but my husband coached my breathing and got me to continue the race. Crossing the finish line was an epic moment. I was exhausted but a fire was lit inside of me at that instant.  The old Spartan motto "You'll know at the finish line" became real for me and it still means a lot to me. It's a feeling you can't understand until you achieve it for yourself.
Tell us about the races you have done so far.

These are my OCRs so far… I also do a LOT of running races. I've run many 5Ks and 10Ks, 10-milers, seven half marathons (#8 is coming up in 2 weeks), and one full marathon (2017 California International Marathon).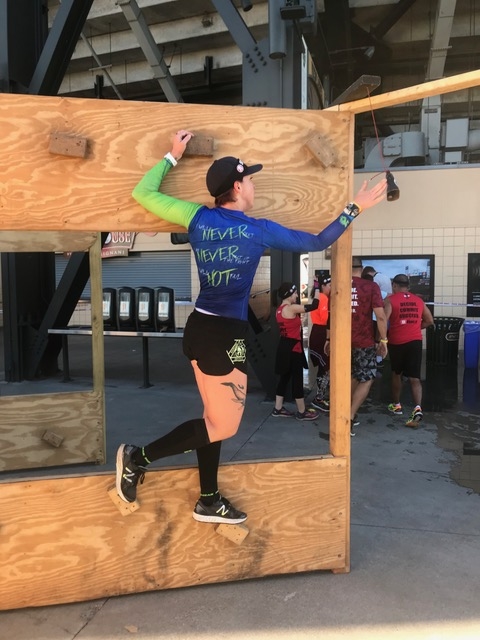 2014:
Spartan Sacramento Sprint
Merrell Down and Dirty 10K Mud Run
2015:
Spartan Hawaii Beast, Super and Sprint – yup, the whole Trifecta in a weekend!
Spartan Sacramento Super
2016:
Battlefrog San Francisco
Spartan AT&T Park Sprint
Rugged Maniac
Battlefrog San Jose
Spartan Tahoe Beast
Spartan Sacramento Super
2017:
Spartan San Jose Sprint
Terrain Race 10K
Spartan Monterey Super
Spartan Seattle Beast
Spartan AT&T Park Sprint
2018:
Spartan San Jose Super
coming up: Hawaii Beast, Super and Sprint Trifecta weekend, and Seattle Beast and Sprint
What initially drew you into the world of OCR?

I wanted to try something that was wildly outside of my comfort zone. I wanted to prove that I could do anything.
Do you feel that due to strong women like yourself, that others are more willing to push their own limits?

Absolutely. I have been told on several occasions that my journey into fitness, running, and OCR has inspired other women to take control of their health, sign up for races, or try something scary or new- not even necessarily an athletic event, but something that seems too big to handle. Watching other women work hard toward becoming better athletes helps fuel my own fire, too.
What has been your favorite obstacle and why?

I love anything I can climb! My favorites are the tall walls, Stairway to Sparta, and the Bender. I also love the Herc Hoist, and typically do the men's side.. just because I can. 😉
What has been your least favorite obstacle and why?

I still struggle with my grip strength, so I have a tough time with the Multi Rig, Twister, and Olympus the most.
Is there is an OCR or endurance race that you will never do?

Never say never, but I don't have much interest in Tough Mudder. I have absolutely no desire to experience electric shock. I'm also not planning to race anything as long as marathon again (though the idea of an Ultra Beast does intrigue me).
If someone were to give you a plane ticket, and a paid race entry to any event in the world which one would you love to go and do?

I would absolutely LOVE to run Spartan in Ireland and Scotland. Those are two of my most favorite places I've ever been.
With so many amazing women on course this year, do you find yourself becoming more competitive, inspired or both?

Both, for sure. But I am mostly competitive with myself. I always want to do better than last time. However, I also want to enjoy racing, and the process, and not get too caught up in always chasing PRs. I was recently introduced to the idea of "soul running," running simply for the JOY of it. I love that idea and it helps me from getting too obsessive over my results.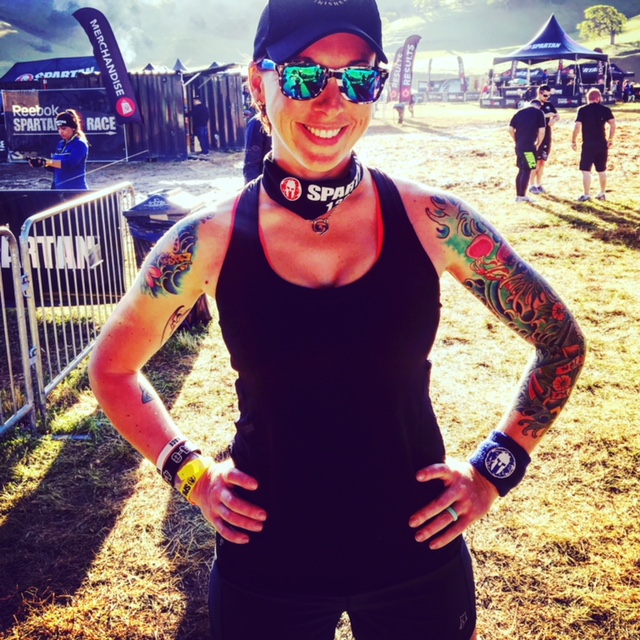 What type of training do you complete for OCR training?
I run a lot, and lift heavy stuff! I have a 60 lb bucket of gravel and a 50 lb WreckBag that I like to take for walks around my neighborhood. We have a tire that outweighs me, that I enjoy flipping up and down my driveway. My husband installed monkey bars and a thick pull-up bar on our garage ceiling, and we used to have an 8-foot wall in our backyard (sadly we moved, and had to dismantle it, and no longer have the room for it). I firmly believe that it is vital to be able to move your own bodyweight before you start trying to lift huge weights in the gym. I do a lot of bodyweight exercises like pushups, pull-ups (working on successfully mastering dead hang pull-ups at the moment), and everyone's favorite: burpees!
Who inspires you?

My Spartan team, Spartan 4-0, inspires me so much. We are a tribe of over 12,000 people who share a common love for OCR and fitness and do everything we can to lift each other up and support each other in this sport. The awesome friends I have made through this sport, and my amazing, hardworking husband, inspire me every day.
The most important thing about running and racing OCR is to always have faith in yourself. Every accomplishment starts with the decision to TRY.
What's the best way to reach you on social media if someone wants to reach out

I can be found on Instagram at ocr_wahine. I love connecting with people on that platform and sharing my passion!