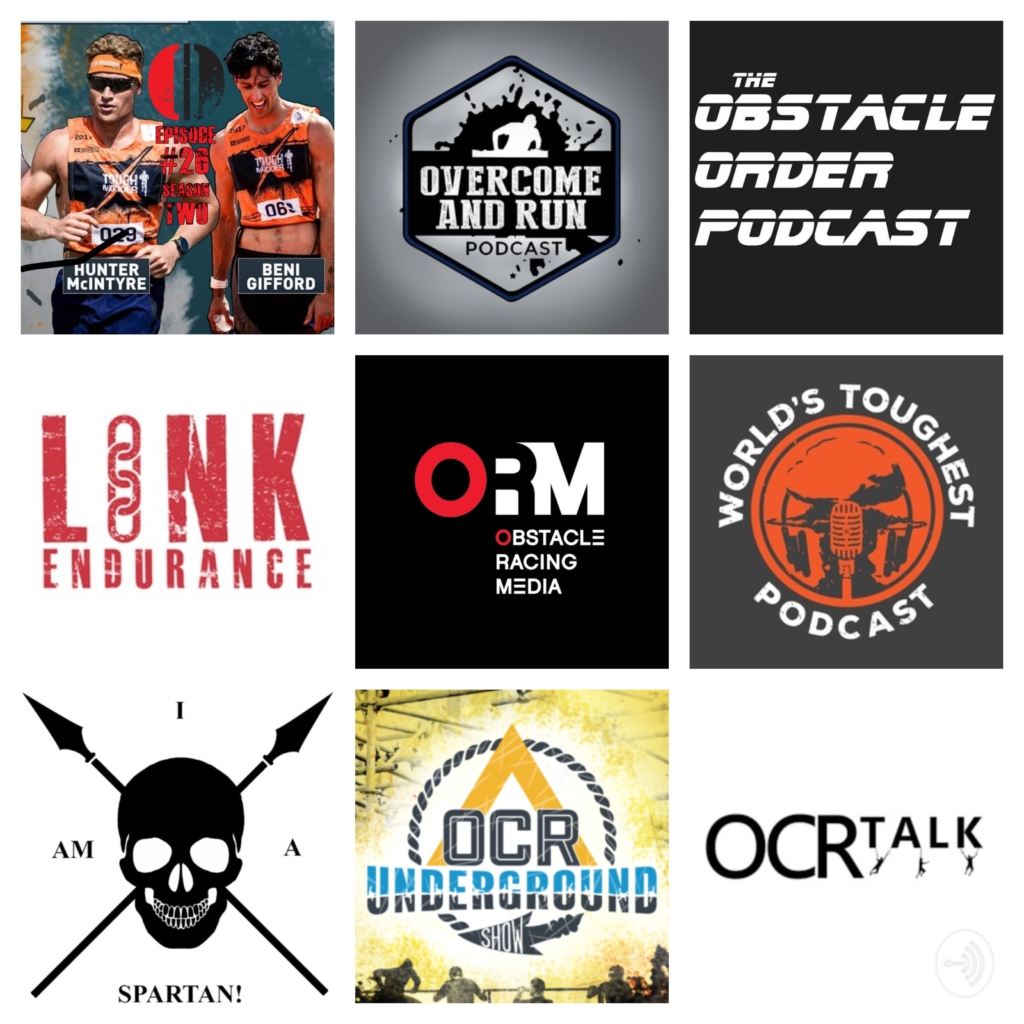 I spend most of my time in the car or on the treadmill (when I can't be out on a trail) listening to podcasts. More often than not, it's an obstacle course or mud run related podcast. There's a growing number of OCR podcasts that can make a long run or even a long commute home from work more interesting.
If you're looking for an OCR podcast to listen to (or to discover another), here's a nearly comprehensive list of obstacle course racing podcasts. I think this is all of them, but please let me know in the comments if I missed any. It's getting harder to keep track of them all!
In no particular order…
Phil and Eli are elite athletes that have a passion for helping other OCR addicts. Whether you're a first-time racer or a seasoned elite, there's something to gain from listening to this podcast. They're both coaches and often on their shows breakdown complex training and nutrition subject, putting it in easy to understand English.
Down to earth husband and wife team of Jay and Heather Bode ask elite athletes all of the questions that I wish I could ask. They often do interviews after races and get the competitors to talk about the races even while they're still breathing hard..
The two crazy kids, elite athletes Hunter McIntyre and Beni Gifford, take a fun, not so serious approach to OCR, yet always (and probably accidentally) leave the listener with something deeply motivating or insightful.
The grandfather of obstacle course racing blogging and podcasting. Matt B. Davis regularly talks to the biggest names in OCR, getting news and behind the scenes information before anyone else.
Mo and Miles are serious athletes that are serious about sharing knowledge about OCR training, mindset and just about everything else obstacle course related. Sometimes it's just the two of them sharing their own insights, other times they invite guests on. They know all of the right questions to ask to keep the show a happy balance of entertaining and informative. Once a week, Mo also shares the mic with his wife, Alix to discuss all things related to health.
OCR talk is a new podcast this year and one that quickly became a must listen to for me. Instead of focusing on news and interviews, Jason and Anna talk about all aspects of OCR in easy to listen to format. They're based out of Texas and Louisiana so I love that they talk about many of the same races I'm running. However, they also discuss topics that have a national interest.
Richard Diaz is the no nonsense, take no bullshit expert when it comes to running and OCR. Of course, his topics go to more than just running, but it's amazing how much wisdom he can share about a topic that is so visual. I can say that just by listening to his podcast, my running has improved.
Hosted by coach (SGX certified) Mike Deibler. The focus here is on proper training, whether that be specific exercises or equipment used to improve performance, prevent and or treat injuries. There's also a section where Mike invites other people to review their races. It's a mix of interviews and Mike sharing his knowledge. Solid show and I like how he makes it so that even the average joe like me can understand.
Strength & Speed podcast is hosted by OCR pro-Evan Perperis and sometimes co-host Brenna Calvert. This podcast is loaded with tips for training and racing. While a lot of the other shows focus on Spartan or Tough Mudder, Strength and Speed focuses on some of the smaller race series like Conquer The Gauntlet.
If you want to hear about events other than Tough Mudder, go somewhere else. This podcast is the home for everything Tough Mudder, from previews and recaps of races to interviews with the biggest names in the Mudder world. A great place to learn about Tough Mudder before your first time on the course or an even better place to get inside information about preparing for World's Toughest Mudder. Will gets five stars in my book.
Scott talks about all things OCR, Spartan specifically of course, but he doesn't limit it to just that. The focus here is on interviews, mainly to learn more about elite athletes, their mindsets and thoughts on racing.
This podcast follows the journey of the MStefano Running team. Hosted by Mike Stefano and featuring other members of the team. The focus is on recaps of races run by the team. In-depth, first hand recaps, as well as post-race interviews, some of the best I've heard.
Two more than are new to me, that I discovered when doing research for this article that I'm looking forward to learning more about are:
Honorable Mentions
Not exactly OCR podcasts, but from some of the most respected names in OCR:
This podcast hosted by Spartan Race founder & CEO, Joe De Sena is more about mindset than anything obstacle course-related and the episodes can be quite motivating if you don't watch out.
Each episode Margaret interviews women (and sometimes men) who refuse to follow the status quo. Each story ranges from inspiring to thought-provoking and a healthy dose of everything positive in between.
---
Disclaimer: The viewpoints expressed by the authors do not necessarily reflect the opinions, viewpoints and official policies of Mud Run Guide LLC, or their staff. The comments posted on this Website are solely the opinions of the posters.