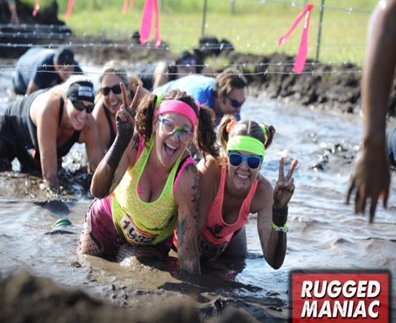 As a mother and an OCR athlete, Melissa Dagg knows the struggles of getting in time for training and being there for her family. At a young age, she was sick many times, and there were instances where she thought she wouldn't survive. It's tough for anyone having to deal with illness day to day, but Melissa has proven she is strong, brave and willing to be the best she can for her daughters. I am proud to feature Melissa in this article series, as she is another example of what you can do if you put your mind to something.
Please tell us a bit about yourself. 
I am 39 years old and I have been on my fitness journey for a little over 7 years. I am married with two beautiful girls aged 11 and 8. I work for The City of Calgary in the Real Estate Department as a Commercial Leasing Agent. I am known for my outgoing personality and infectious laugh. I love to motivate others and I try to always have a positive outlook on life and the challenges that we face every day.
Did you always consider yourself athletic? What is the definition of Athletic?
I am in no way an elite or competitive athlete, but I am in awe and truly proud of what I have accomplished. I played soccer for many years growing up, but I was the goalie. I played field hockey in high school but after that, I never exercised regularly to call myself athletic…jump ahead to the present I would consider myself an athlete.
How did you get into the sport of OCR?
After having my second child I was carrying a lot of extra weight and I was depressed. I stepped out of my comfort zone and joined an outdoor boot camp class and tried to get into better shape. I was a sick child growing up, I had severe asthma and was very limited in what I could do. Throughout my childhood, there were many times where I almost didn't survive, and I spent half of my childhood in the hospital. The attacks could have been brought on from merely sitting outside. Somewhere in my mind, I knew I had it in me to be better and to be a role model for my daughters. Looking back, if someone would have told me at the age of 15 that I would be racing up and down mountains for fun I would have laughed. I am grateful for what my body and mind have allowed me to do.
What was your first race like? Which one was it?
In 2013 a friend invited me to race a Spartan Sprint in Calgary, I was deathly afraid to sign up and I had no idea what I was in for. It was by far the hardest thing I had ever done but that was the beginning of a pretty amazing journey. That particular race is the reason I am still doing many races every year and encouraging my girls to race as well. This sport is full of such amazing people who have done such great things and the OCR community as a whole has brought me so much happiness over the last 5 years.
Tell us about the races you have done so far. 
2013
Spartan Sprint
2014
Spartan Sprint
2015
Eye ball the Wall – 15K
Calgary Scotiabank Marathon – 10K
2016
Spartan Sprint
Spartan Super
Spartan Beast
2017
X Warrior Stadium Race – Titan
Spartan Sprint
Spartan Super
Spartan Beast
2018
X Warrior Virtual Run – New Years
X Warrior Virtual Run – St. Patrick's Day
X Warrior – Stadium Race – Titan
Eye Ball the Wall – 15K
Spartan Sprint and Super weekend
Spartan Beast
Rugged Maniac
She is Fierce – 160KM Challenge
She is a Diamond – 160KM Challenge
A few virtual races as well
What initially drew you into the world of OCR?
I wanted a challenge and I wanted to prove to myself and to others that even though I grew up with a severe lung disease that it shouldn't stop you from pushing yourself to your limits and to train your body to be stronger and healthier. I am addicted to the sport now, I love all of the people and new friends I have made, and it fuels my fire to always work to get faster and stronger.
Do you feel that due to strong women like yourself, that others are more willing to push their own limits?
I believe that I have helped motivate amazingly beautiful and strong ladies to step out of their comfort zones and try. I helped my friend at work complete her first Spartan Trifecta in 2017 before she turned 55. She had never ever raced before, and she worked hard. My running bestie and I continue to motivate each other every day to work harder and to embrace how strong we are and how far we have come.
What has been your favorite obstacle?
My favorite obstacles are the bucket carry and sandbag carry. Those obstacles make me feel so strong and fierce!
What has been your least favorite obstacle?
My least favorite obstacle is the water crossing in Red Deer Super, I am afraid of water and as soon as I hit the cold water my lungs stop working. I am truly afraid of this obstacle, but you must overcome and face the obstacles that scare you. My running bestie yells at me to get my ass across and somehow, I get there, eventually.
Is there is an OCR or endurance race that you will never do?
I think that I am at the point in my life where I would try everything. I would accept the challenge and face it head on.
If someone were to give you a plane ticket, and a paid race entry to any event in the world which one would you love to go and do?
If someone wanted to send me anywhere in the world, I would choose the Spartan Trifecta weekend in Hawaii!! I think it would be an amazing trip in such a beautiful place doing what I am very passionate about.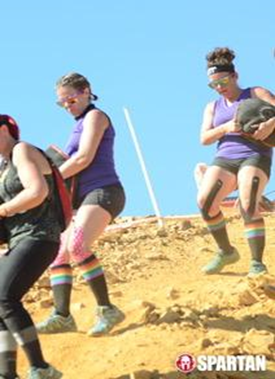 With so many amazing women on course this year, do you find yourself becoming more competitive, inspired or both?
I'm not sure that I have become more competitive, my mindset in these races is to HAVE FUN, I find these races both physically and mentally exhausting and I need to make sure that having fun is the #1 reason for me to be doing them. I hope that I inspire ladies and help them not only with my infectious laugh and smile but knowing that I may not be the most athletic person and I sure don't even come close to first, but I make every race my own and I will always have fun. I encourage every single woman out there to try this sport. The community is amazing and the sport itself is addictive. I have realized while training that strong is the new skinny and being a strong female and a strong role model is a great thing!
What type of training do you complete for OCR training?
I am a busy mom, I find it hard to get away to train. I spend most lunch hours either running hills and stairs. I have access to amazing pathways in downtown Calgary. I use weights at home and do a lot of body weight exercises. My dream would be to build a mini obstacle course in my backyard!
Is there anything else you want to share with us?
I want to shout out to a few people that have made this journey so amazing for me and who continue to motivate me:
Firstly, to my running bestie, Anita Thorsen, who never ever lets me quit and never leave my side in a race. It's one thing to race with a group of friends but the dedication she gives to the sport and to me is truly appreciated and I love that girl!!
Secondly, to Frankie-John Fuchs, he single-handedly was my motivator and the reason that I earned my Trifecta in 2016. He is such an inspiration to not only me but to the OCR community as a whole and I appreciate every kind word he has ever spoken to me and to every high five and hug that I have received!!
Most importantly, to my friends and family for all of their finish line hugs. I love every single one of you, the ones who stood for 10 hours waiting for me to come across the finish line at Sun Peaks in 2017 and the Kimberley Beast in 2018, I am always happy to have someone at the end to catch me and to wipe away my tears.
What's the best way to reach you on social media if someone wants to reach out?
I am on facebook and you can find me on Instagram @daggmelissa.