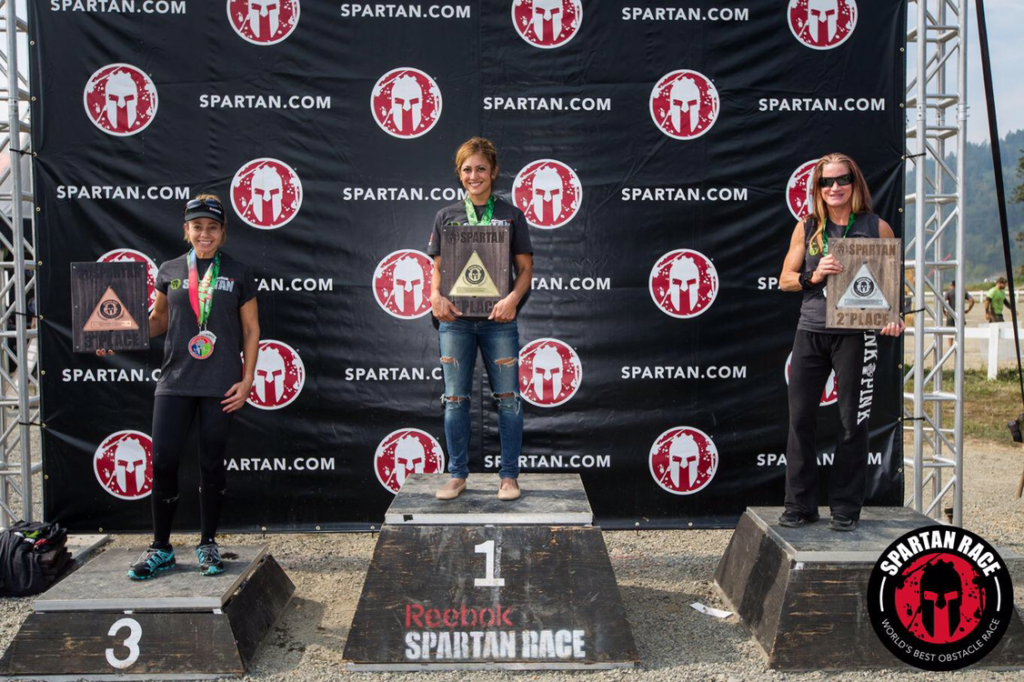 Tracy Murillo has quite the story to tell. Previously she was a distance runner but found that running wasn't lighting her fitness fire. After completing her first OCR race she was hooked and the rest is history. Read all about this Badass Momma who chases her goals and proves that if you have a goal, work hard and chase it, anything is possible. I hope you enjoy learning all about her journey into OCR.
Tell us about yourself
I'm a mom of four amazing children and a wife to an incredible and supportive husband. I graduated from the University of Washington with a Bachelor's Degree in Materials Science and Engineering and worked at Boeing as a Composites Engineer for three years. I left my career to raise my babies and it was during this time that I fell in love with exercising and becoming fit. Once they were old enough I decided to pursue my passion and become a group fitness instructor.
Did you always consider yourself athletic?
Yes, I did. Growing up I became involved in gymnastics and stayed in the sport for nine years. Throughout my childhood, I would try out different sports, whether in PE or just for fun, and they always seemed to come naturally for me. Because of the very demanding schedule necessary to be successful at gymnastics, I was never able to commit to any other sports.
How did you get into the sport of OCR?
Prior to getting into OCR's, I was mostly a runner. The majority of my races were marathons, but I also ran some half-marathons, 10K's, 5K's and a couple of triathlons. My good friend Ty Henderson had heard of OCR's and decided to put a team together for our first one. That team ended up being just me and him.
What was your first race like? Which one was it?
My first race was back in 2015 at the Seattle Tough Mudder.  It was quite the experience. I went into the race with mixed emotions. I was nervous, terrified and excited all at once. I had no idea what I was getting into, but I was ready to try out this new sport.  As soon as I finished the race, I couldn't wait to sign up for the next one.
Tell us about the races you have done so far. 
I've done ten Spartan races, three Tough Mudders, and two Terrain Races.
What initially drew you into the world of OCR?
As a distance runner, I was becoming a little bored with the monotonous training and also with the fact that all I was doing was running in these different road races. I felt a little burnt out and after I completed my first OCR, I fell in love with the variety of obstacles and excitement happening along the race course. I felt so strong and tough after crushing all the obstacles!!
I see you have quite the fitness background. Tell us a bit about how you fell in love with fitness.
It all started with my weight gain after having my second child. I gained 40 pounds and it did not come off after having my son. My brother was getting married and that was an incentive for me to lose the weight since I was in the wedding party. So I made the commitment to diet and exercise and once I started going to the gym on a regular basis, I fell in love with fitness, being healthy and getting strong.
What is your biggest achievement in the world of OCR to date?

Winning the Women's Masters Elite division at the 2017 Seattle Spartan Beast would have to be my biggest accomplishment. I trained really hard that year and I'm so glad that all of the blood, sweat, and tears that I put into training paid off. I finished fourth overall in the elite female division which also gave me my first coin and a spot to compete in the elite field at the Tahoe World Championships.
What has been your favorite obstacle and why?

My favorite obstacle is the Rig. Especially when its just rings. I love swinging. I can swing all day long and never get tired of that movement. As a former gymnast, swinging comes so naturally for me and it feels amazing.
What has been your least favorite obstacle and why?
Without a doubt, the SPEAR!!!! No matter how much I practice or how many tips and techniques that others have tried to show me, throwing the spear is my weakness. I'm not giving up though. Next year I plan on mastering the spear throw by practicing it more consistently even if I have to set up a permanent spear-throwing station in my backyard. I'm determined to master that obstacle.
Is there is an OCR or endurance race that you will never do?

I would probably say the most extreme Tough Mudder endurance event. I'm not a big fan of their water obstacles and the World's Toughest Mudder that goes on for 24 hours does not interest me even in the slightest. I think doing a Spartan Ultra would probably be the longest race that I would compete in. But then again, never say never lol. I don't think I will ever completely close myself off to doing a race especially when I'm pushed way outside of my comfort zone because that's when I know I'm challenging myself the most.
With so many amazing women on course this year, do you find yourself becoming more competitive, inspired or both?
I would definitely say both. It's such an amazing and encouraging thing to see more and more awesome women taking on the challenge to race in OCR's. Girl power!!! I'm definitely inspired by this and at the same time I do realize that I need to elevate my game to stay competitive in the sport.
What type of training do you complete for OCR training?

Very good question. I kind of do it all. I'm a group fitness instructor and I teach many different formats such as Cycle, Bootcamp, Kickboxing, Kettlebell, HIIT, and Spartan Strong. I teach 13 classes a week and I like to incorporate my OCR training in my classes in order to maximize my training time. Not only do I get plenty of cardio from these classes, but I will also include upper body strength, lower body strength, grip strength, core work, and of course plenty of burpees!!! I usually run at least a couple of times a week as well to keep my base mileage strong.
What is one solid piece of advice that you wish to pass on?
Each race is a learning experience. You probably won't jump into OCR's knowing exactly what to do, how to pace yourself, how strong your grip strength is, how to tackle all of the obstacles, but that's completely okay. We were all newbies at the beginning. The beauty of racing in OCR's is that there is such a tight-knit community of members who are willing to give you advice, help you train, and when you need it will even help you out on the obstacles during the race. With each and every race you complete, you gain the wisdom needed to strengthen your weaknesses and develop into a better racer.
What is one your one A race/bucket list race you want to do?
This year it was competing at the World Championships in Tahoe. I qualified to compete in the elite division last year two weeks prior to the race but hesitantly decided against doing it since I didn't feel that I was mentally or physically ready. I felt a lot of regret for not racing, but it made me more determined than ever to qualify and compete in the World Championships the following year. I fulfilled my bucket list race this year and I couldn't be more proud!!! I'm even considering doing the Ultra at Tahoe for next year.
Is there anything else you want to share with us?
Being on the Beasts OCR Pro Team has been an honor and privilege for me this year. I'm happy to have met so many incredible people and am blessed for the journey it has taken me on. Huge shout out to my sponsors GHUnders for creating an amazing product to race in. Their base layers are superb and they truly saved me in Tahoe as I took on the 39-degree swim!!
Whats the best way to reach you on social media if someone wants to reach out?
IG: contessatracy
IG: menacefitness