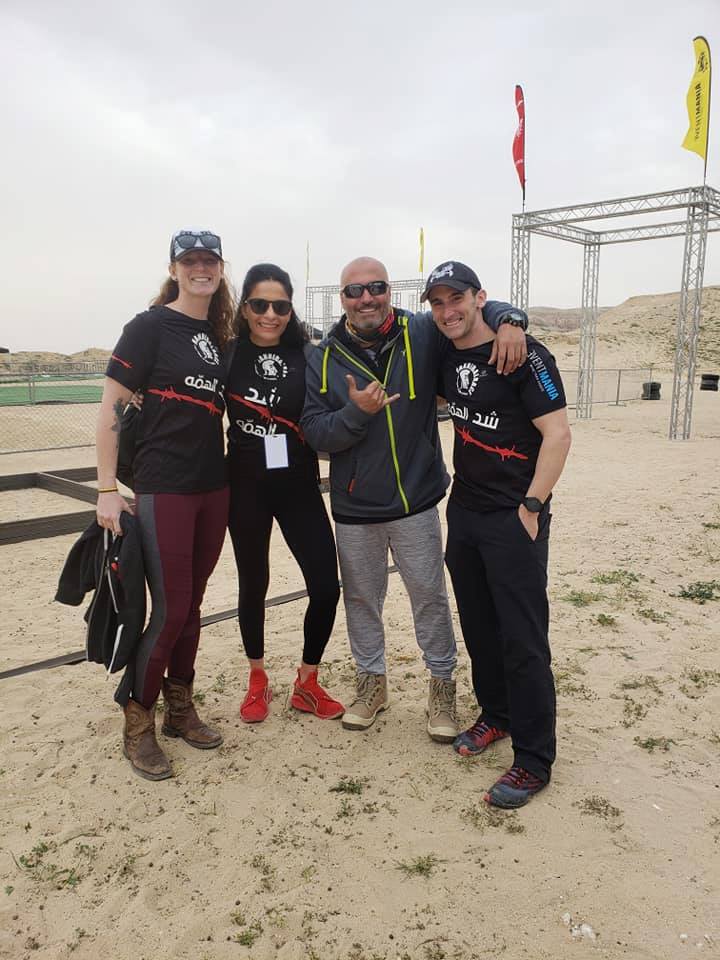 My Conquer The Gauntlet Pro Teammate Brenna "Red Beast" Calvert and I had the opportunity to travel to the OCR World Championship qualifying Hannibal Race again.  In 2017, we went to their first OCRWC qualifying event in Lebanon (read that race recap here) and this year, we were blessed with the opportunity to compete in another Middle Eastern country, Kuwait.  Here is what we thought of the race:
Safety:  The first question I get when traveling to the Middle East is always, "Is it safe?"  Yes, Kuwait is very safe.  Just like in America, the most dangerous part is driving to and from the race venue.  From a westerner's perspective, it's an upscale Middle Eastern city not much different than Dubai (although with a little less flare).  Furthermore, I felt more than comfortable bring my four-year-old and five-month pregnant wife with me for the trip.
Terrain:  The race took place in Kazma, Kuwait which is just west of Kuwait's only city, Kuwait City.  Basically, you drive to the edge of the city and get off at the first exit.  The course started with a steep climb up a large sand covered hill.  The 8km course ran along the top of this ridgeline on mostly flat terrain with gently rolling hills before descending back down.  Prior to coming back into the festival area, there was a lot of sand running on angled terrain making it hard to get to top speed.  Finally, you headed into the festival area for the obstacle dense, Battle of Cannae, finish.  I wore Merrell All Out Crush shoes and thought they were great for this environment.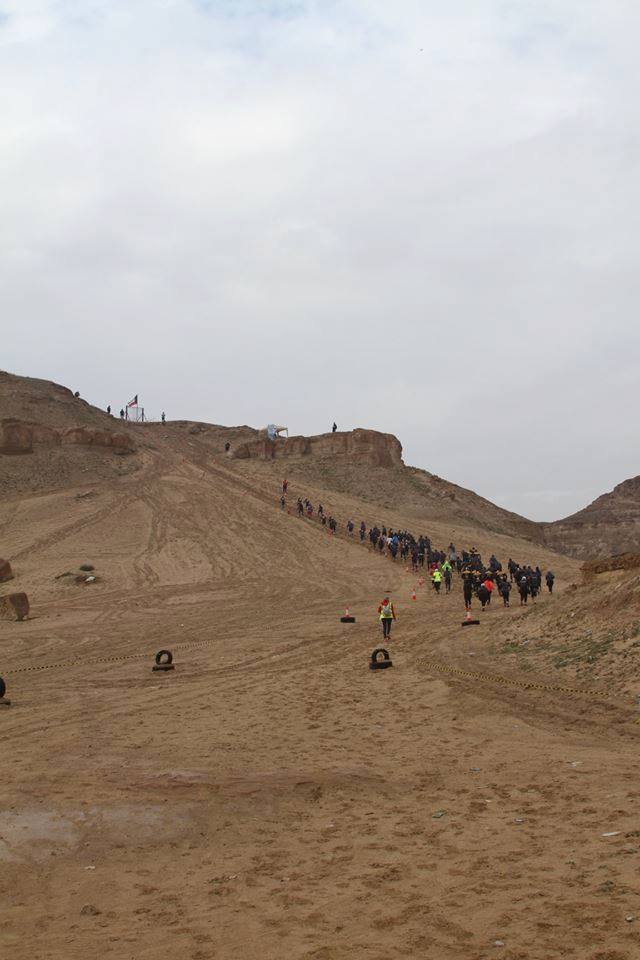 Obstacles:  Hannibal Race continues to make improvements to their obstacles.  They had many standard ones you will see at other races including a giant's ladder, a tire wall (similar to Conquer The Gauntlet's Rubber Roadblock), over/under/through obstacles, an eight foot wall, low crawls, mud mounds, ditches, monkey bars, a tire hurdle, fire jump and septuple steps (7 steps of what are usually called the quintuple steps).  Plus a rope climb with a thing rope making it challenging even for experienced OCR athletes.  My favorite obstacles were the giant A-frame cargo net, the rig and the water/mud crawl.  All of these took place in the final gauntlet of around ten obstacles called, The Battle of Cannae (named after the historic victory by Hannibal in 216 B.C. in which his smaller army killed 50k+ Romans using a double envelopment).
The giant A frame is just a big spectacle and makes for great pictures as people climb to heights above their comfort level.  Unlike cargo nets in the US, the nets in the Middle East have much bigger gaps making this obstacle a little more nerve-racking than ones I have done at other events.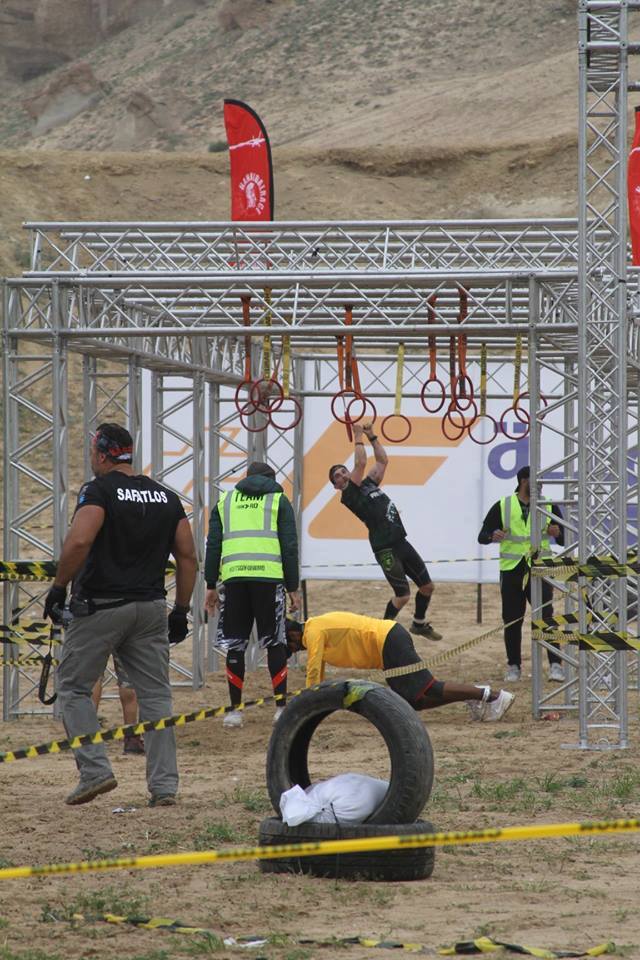 The rig, a newly added obstacle in the last year, looked easy at first glance since it was all rings.  However, the rings were far apart and offset.  The gaps between them was probably the equivalent of a Platinum Rig with every other hold missing, maybe a little bit further.  The offset rings meant you had to control your body and change directions mid-swing.  My teammate Brenna actually got stuck on them for a little while until she regained her momentum finishing the obstacle but giving me a strong scare.
Finally, the water/mud crawl was another obstacle they have improved.  It was almost overflowing with water and required athletes to full submerge to get under the ropes.  With a high heart rate and gasping for air, this obstacle was the final test before the finish and reminded me of Tough Mudder's cage crawl.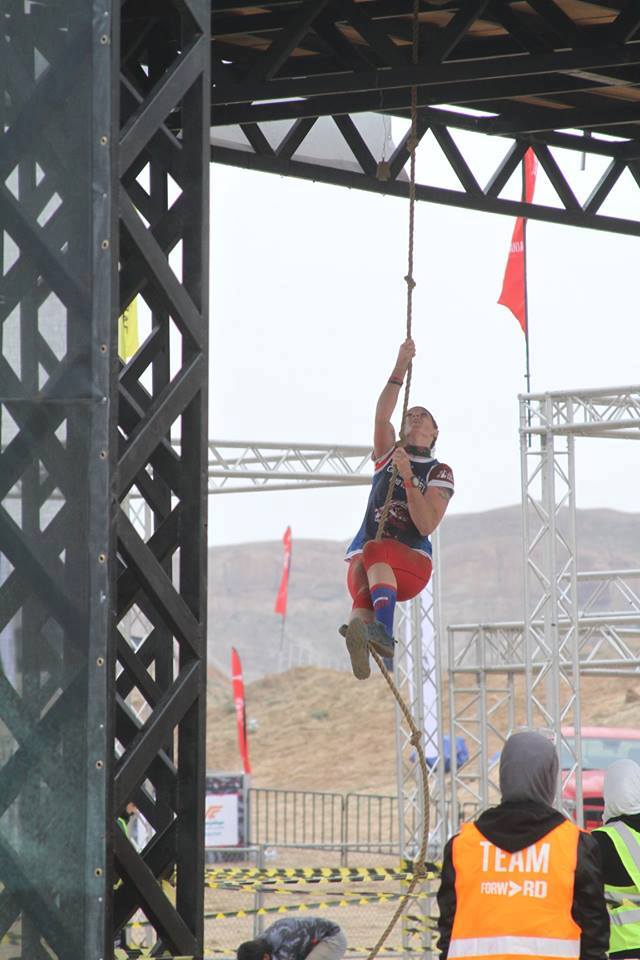 Awards:  The awards ceremony was held at the end of the day and there was still a large crowd present.  They announced the winners and provided them giant checks ($1000 for first, $750 for second and $500 for third).  I was impressed with the size of the payout but also how they distributed the money.  Despite winning, I like this distribution better unlike some other brands where the prize money drops in half every placement.  I've also been to races where the first place got $1000 and 2nd place got nothing….which I'm also not a fan of.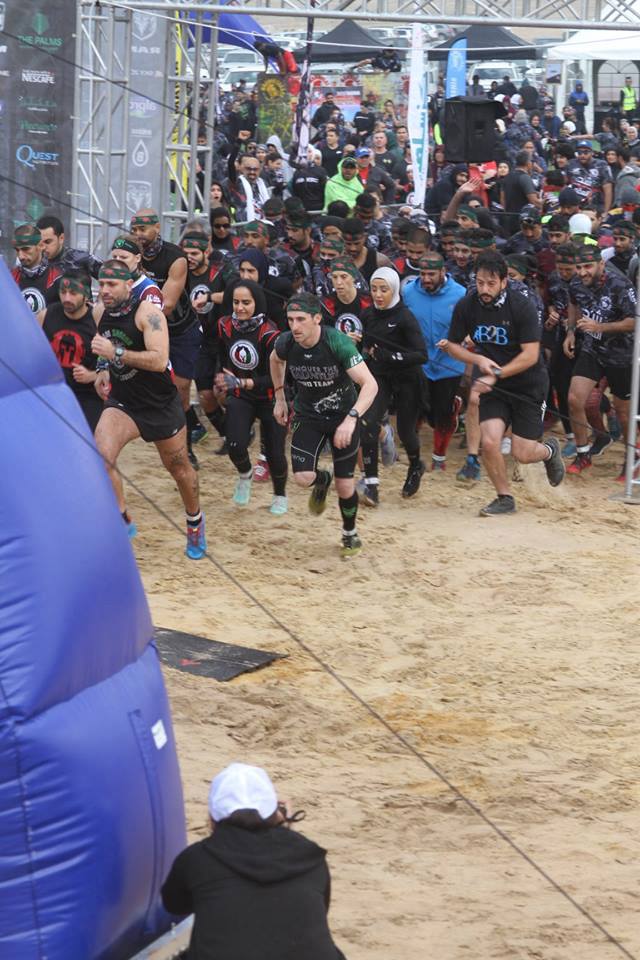 It is easy to say great things about a company when everything goes well.  However, you see what really makes a company when things don't go as planned.  The athlete listed as the "third place female" borrowed someone's bib instead of transferring their registration.  This resulted in a male technically coming in third and knocking the true third place women off the podium.  I watched the next day as the owner Amine Dib called the timing company, course officials and the correct third-place athlete Angelique Chetaneau to make the correction.  The attention to detail and follow-up showed how much they care about ensuring the correct athletes get their prize money.  This attention to detail and care for athletes can, unfortunately, be a rarity in our sport at times.
Swag: Hannibal Race improved their swag drastically in the last two years.  In 2017 there was only a finisher medal.  In 2019, we received a finisher shirt, a buff, a rubber bracelet, a cinch bag and a finisher's medal.  The finisher's medal is heavy duty with thickness similar to ones given out at Adventurey's championship events.  Furthermore, as guests of the event, one of the race organizers Hiba Chehayeb gave Brenna and me custom race jerseys with our names on it.  As an obsessive OCR athlete, this was one of my favorite parts of the trip and something I will always cherish.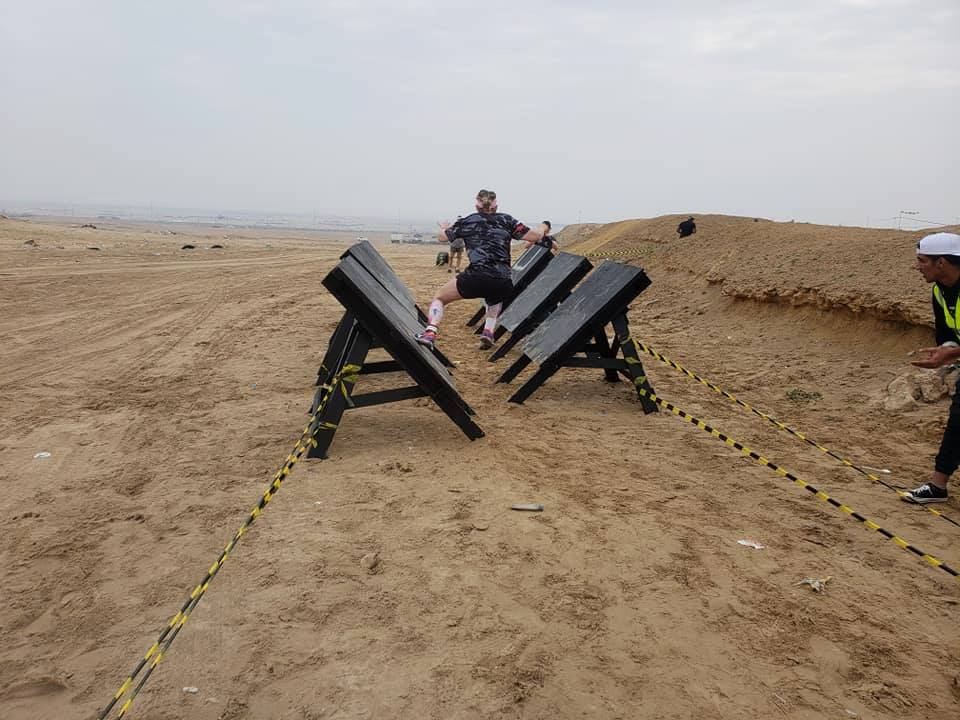 Changes:  This was my fourth Hannibal Race, with my first one in 2015 in Lebanon.  The coolest part of these races has been seeing the evolution of the brand.  I already talked about the new swag but other additions included a balance obstacle and a rig that were new obstacles for the brand.  The location was also new as their first event in Kuwait.  With a sold-out race that the organizers purposely capped at 1000 people to ensure a quality experience, you better believe Hannibal Race will return to Kuwait.  Furthermore, the course officials were next level amazing and better than any I have seen at previous Hannibal Races.  They were out there at every obstacle correcting people and ensuring everyone followed the rules.  I wish we could borrow some of them for races in America.
Festival:  The festival was fantastic and was a large party.  It reminded me of brands like Savage Race complete with a DJ, dance music, one of the owners Amine Dib sending off waves, a wall with giant Hannibal Race logo for pre/post-race pictures, vendors giving away free samples and a bag check tent.
Culture:  People frequently ask me how the culture affects the race.  It felt like a normal OCR to me with frequent announcements in Arabic.  There were also some volunteers and spectators wearing full hijabs or standing around with everything but their face covered.  My general rule for not purposely or accidentally offending other cultures is to mimic what they do.  When athletes were lining up to race, I noticed no one was shirtless so I left my race jersey on.  Brenna instead of wearing a sports bra style jersey went with a jersey also.  At no point did I ever feel unwelcome, in fact, it was the opposite.  People were asking to take pictures with us pre and post-race, they asked us questions about training and were just all around amazing.  Brenna and I even had a woman in full hijab and her husband ask to take a picture with us, which is definitely a first for me.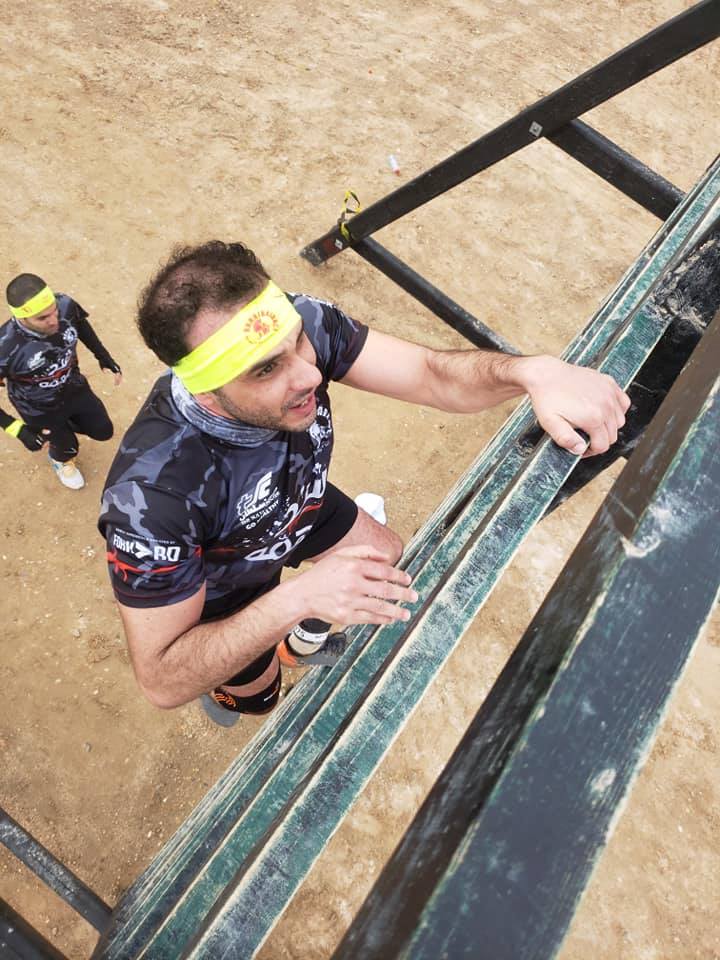 Overall:  What an amazing way to start off the year.  If you have never taken a race-cation, you need to throw one on your schedule for 2019 or 2020.  Experiencing OCR in a different culture on the other side of the world was a memory I will never forget.  Races like Hannibal Race, give us a chance to explore cultures and countries the average American would not visit on vacation.  The race was a ton of fun and the experience was amazing.  I'm hoping to make it back to another Hannibal Race in the future.
If you want to hear more about the experience, check out the pre and post-race Strength & Speed podcast where Brenna Calvert and I talk about everything including the race, the culture, traveling the world with oversized checks, our hotel and the unbelievable hospitality of the experience.  Final shout out and thanks to the race organizers Amine Dib and Hiba Chehayeb for hosting us.