Bill and Valerie Spata, Co-Founders of Cool Events, talk about their personal connection to event-planning as they tackle their biggest year yet.
[April 8th, 2019] When Bill and Valerie Spata began planning events, they had one goal in mind: to give back to Phoenix Children's Hospital. The hospital had done so much for them after identifying a very serious misdiagnosis of Acute Lymphoblastic Leukemia in their eldest daughter.
"There just aren't words for the positive impact they have made on our family," Bill Spata says.
Though they started with small scavenger hunts, their company, Cool Events, has since exploded onto the event-planning scene. In 2019 alone, it will run 160 diversified events across the country, each centered on giving back to children and families, with a focus on children's cancer and terminal illness.
Giving Back and Managing Growth
Since its first event in August 2013, Cool Events has donated over $1 million to Phoenix Children's Hospital and the Children's Miracle Network Hospitals.
"One of the blessings of our company's success is that we've been able to do more and more," Bill Spata says.
To keep up with their growing business, the Spatas turn to ACTIVE for help, specifically in managing an overwhelming amount of past participant data. They say the CRM tool has been crucial for maintaining important customer relationships.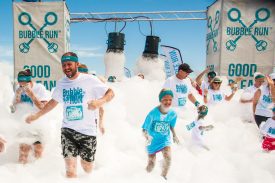 "There are a lot of customer relationship management tools available today, but they tend to be super expensive or focus on fancy bells and whistles that most event organizers just don't need," Bill Spata says. "ACTIVE's CRM gets the job done."
Bill also notes that ACTIVE's account managers are top-of-the-line and have no problem jumping in and getting directly involved when needed.
"Because of our growth, we ended up with needs in areas we didn't even have before," he says. "That's where our account manager, Eric Turner, comes in. He'll even come out to our events and help out on the ground just to ensure they're a success."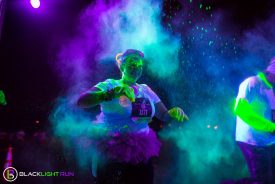 Meeting the Need for Human Connection
The Spatas credit their organization's success to addressing people's innate desire to connect, and they encourage other event planners to zero-in on the same thing.
"I don't think there's anything better than getting together with family and friends and having a good time," Bill Spata says. "As society dives deeper into social media and their phones, there's more of a need to connect with each other in real life."
Cool Events will continue to provide that connection—Terrain Races, daytime Bubble Runs and nighttime Blacklight Runs are just a few of the races planned for the upcoming months.
"With people wanting those opportunities, Cool Events is there to provide great experiences," he says. "Plus, your pictures will look good on Instagram!"
By Jackie Veling for Active