Spartan RD PRO by CRAFT Sportswear Designed Specifically to Meet the Needs of OCR Athletes
BOSTON, MA (May 14, 2019) – Spartan, the world's largest obstacle course race (OCR) and endurance brand and CRAFT Sportswear, a performance apparel and footwear brand have created the Spartan RD PRO by CRAFT, an OCR shoe created specifically to address, endure and advance the needs of the sport's athletes.
"For the first time in the Sport's history, we've created a high-performance shoe built for OCR athletes, by OCR athletes designed to address their specific needs," said Spartan Founder and CEO, Joe De Sena. "Together with Spartan's athletes, CRAFT Sportswear's team of designers engineered and tested the RD PRO to ensure it stands up to the rigors and obstacles racers encounter on the course. We're excited to continue our partnership with CRAFT Sportswear as we develop footwear and apparel that enhances the performance of Spartans across the globe."
Designed for the rigors of the Spartan race – capable of attacking any obstacle course in the world, the shoe has superior benefits for the OCR athlete, including:
Superior Drainage: One of the biggest pain points in OCR is soggy shoes. CRAFT has engineered Hydrain™ technology to quickly and effectively evacuate water from the inside of the shoe. This allows athletes to traverse any water obstacle and transition to dry ground seamlessly.
Total Grip: In OCR, great grip needs to come from every angle. The OBSTA-Tech™ outsole system was engineered to conquer. The lug system provides traction on varying outdoor terrains while the X shaped design pattern on the forefoot and upper ensures optimum grip at the unique angles created by uneven terrain. The midfoot area is reinforced in order to give stability and traction for climbing.
Built for Speed: OCR athletes demand speed. The RD PRO comes loaded with a speed lace closure system and ARC-Foam™ (Active Response Cushioning) technology. ARC was developed to provide an optimum ride for runners. The foam perfectly responds to heel impact, absorbs shock, and rebounds energy through toe-off giving spring through each stride.
Built to Endure: Where the race destroys most shoes, the RD PRO is virtually indestructible. The quick-dry and easy-clean nylon upper gets you to the next race while the ObstaTech™ KPU engineered cage adds enhanced mid-foot flexible ribs, heel stability layer, durable toe cap reinforcement and added lateral durability to prevent blowouts.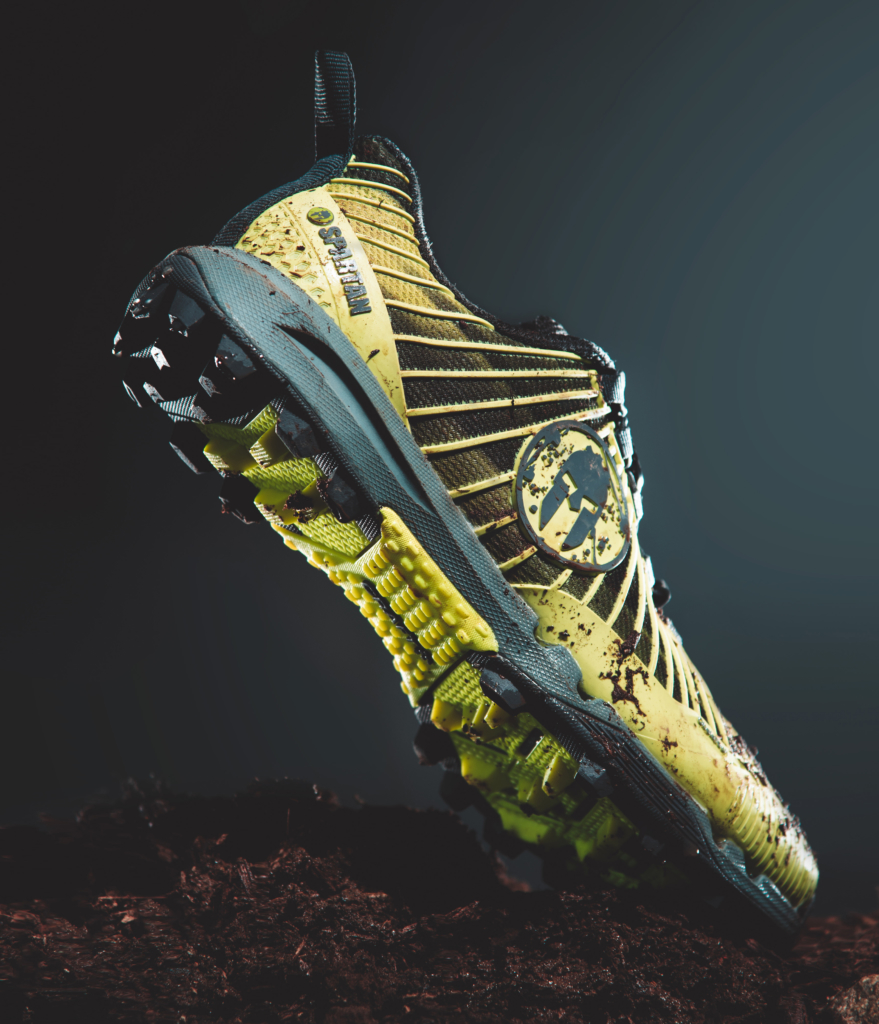 With a variety of colorways for both male and female racers, participants can take on the course in their preferred style. The men's shoe will be offered in Black – Bright Red (reflecting Spartan's "Sprint" colors), Blaze – Lush Lime (reflecting the brand's "Super" colors) and Monument – Black with a sole reflecting the brand's iconic "Trifecta" colors. The women's shoe will be available in Monument – Hot Pink, Snap – Monument and Monument – Black, also with a sole reflecting the brand's iconic "Trifecta" colors.
Spartan stands behind the durability of the RD PRO and is confident the shoes will last through its toughest races. Therefore, if the shoes are damaged or destroyed, customers may return them within one year of purchase for an exchange.
CRAFT Sportswear was named the "Official Performance Apparel and Footwear" of Spartan in the spring of 2018 as part of a multi-year global partnership that brings the two brands together to create high-performance technical apparel for obstacle course racing and training.
"We've applied the same experience, passion, research and technology CRAFT uses to outfit our professional and Olympic athletes, to the Spartan RD PRO to bring the Spartan experience to the next level," said CRAFT Sportswear North America CEO, Eric Schenker. "CRAFT is known for its foundation of developing, designing and providing cutting-edge apparel and accessories for world champions and through this partnership, we can bring this level of performance to Spartan competitors across the globe."
The Spartan Craft RD PRO will be available for pre-order on May 13, 2019 for $140 on Spartan.com and at Spartan events across the world by early summer.
About CRAFT Sportswear
CRAFT Sportswear is a Swedish brand specializing in clothing and footwear for endurance sports where performance and comfort are crucial for a good result. With a passion for sports and a commitment to innovation, design and performance, CRAFT Sportswear offers tools for sport achievements that inspire and enable athletic progress for world champions and everyday heroes. For more information, please visit www.craftsports.us
About Spartan
With more than 250 events across more than 40 countries on six continents, Spartan is the world's largest obstacle race (OCR) and endurance brand. Providing transformation through sport, Spartan attracts more than one million annual participants across all fitness levels, from beginners to elite. More than five million participants have finished Spartan events, creating a lifestyle that extends beyond races including health and wellness products, training and nutrition programs, and popular media content, which has made OCR one of the fastest growing sports in the world. Spartan events feature races at various distances: Stadion and Sprint, 3-mile/5-km and 20 Obstacles; Super, 8-mi/13-km and 25 Obstacles; Beast, 13-mi/21-km and 30 Obstacles; and Ultra, 30-mi/50-km and 60 obstacles. Visit Mud Run Guide's Spartan page for more information and registration.