"Send me photographs and souvenirs
Just remember when a dream appears
You belong to me."
"You Belong to Me"
Songwriters: Aristides Giosasi / Arthur Zwirn
Six years ago I began a relationship with Spartan Palmerton. This past weekend was my fifth time on the mountain, and this time I decided to make a full weekend of it. The idea was to fully immerse myself, my son, and my friend John in the behind-the-scenes operations of the Spartan volunteer system.
Volunteering
It all started the same way that anyone can join the volunteer corps. You sign up online and choose a race, a shift, and a specialty area. My trio selected the full-day registration. Spartan volunteer director Lizzy and coordinator Gigi set it all up from there via email about a week before the race. They sent us our volunteer parking passes, waivers, and check-in information.
Our adventure was supposed to start Friday evening with the Spartan athletes' dinner. Unfortunately, that event was canceled about a week before the race due to logistics issues. So we woke up at 0400 Saturday morning, parked in the designated volunteer lot, and arrived at the specified time of 0530 in the volunteer tent. Gigi greeted us, gave us our assignment, and handed us each a nice Spartan Volunteer tech shirt. Other volunteers showed us our choice of food and drink options. Then we proceeded to the registration tent where our supervisor Lauren met us.
She showed us how to use the computerized registration system. The entire area had about twenty lines just for advance registration check-in. There were separate tents for day-of, kids' race, and the Spartan Trail race. The system was simple and it worked flawlessly all day long from 0630 to tear-down around 3 pm. Throughout the day volunteer staff members came by to check on us, bring us water and additional food, and just chat.
The three of us had a blast. I loved talking to all the first-timers who came to Palmerton by choice, coercion, or con. Whatever the case, we helped calm their nerves with a little fun chatter before they toed the line. My son asked everyone what their favorite flowers were. He then promised to bring plenty to their funerals. His humor was morbid, but newcomers and veterans alike appreciated it, knowing the reputation this mountain has for scattering bodies along its steep terrain.
When our shift ended we broke down the system and changed over the signage for the Sunday Sprint. When everything was weatherized and secure, Lauren sent us back to Gigi to check out. She entered our free race codes into the system so that we could race the Sprint the next day. (Volunteers can opt to use their free race code at another Spartan race of their choice.)
Around 3:30 we were done and spent of few minutes talking with Gigi. She started Spartan racing a few years ago. Like so many of us, she immediately caught the bug. But she wanted more of the experience so she volunteered at some races. She liked it so much that she went online to see if Spartan had any jobs. They did. She was in. She covers about fifteen or more races a year all over the country. Spartan covers her travel costs and pays her wages. I could tell by her smile and enthusiasm that she loved this job. It was a pleasure to work with her and her staff. They made the whole day easy and fun.
And with that, our Spartan volunteering adventure was over. All that was left was to come back the next morning and race. For the rest of the afternoon, I grabbed my Spartan Media Pass, and the three of us headed up the mountain to take photographs of the racers still out there on the Super course.
The Course
The course designer did a fantastic job of loading the lower elevation area with lots of obstacles. This made for plenty of opportunities for up-close spectator viewing. At Palmerton, a free ski lift ride to the top of the mountain was also available where another handful of obstacles lay in wait.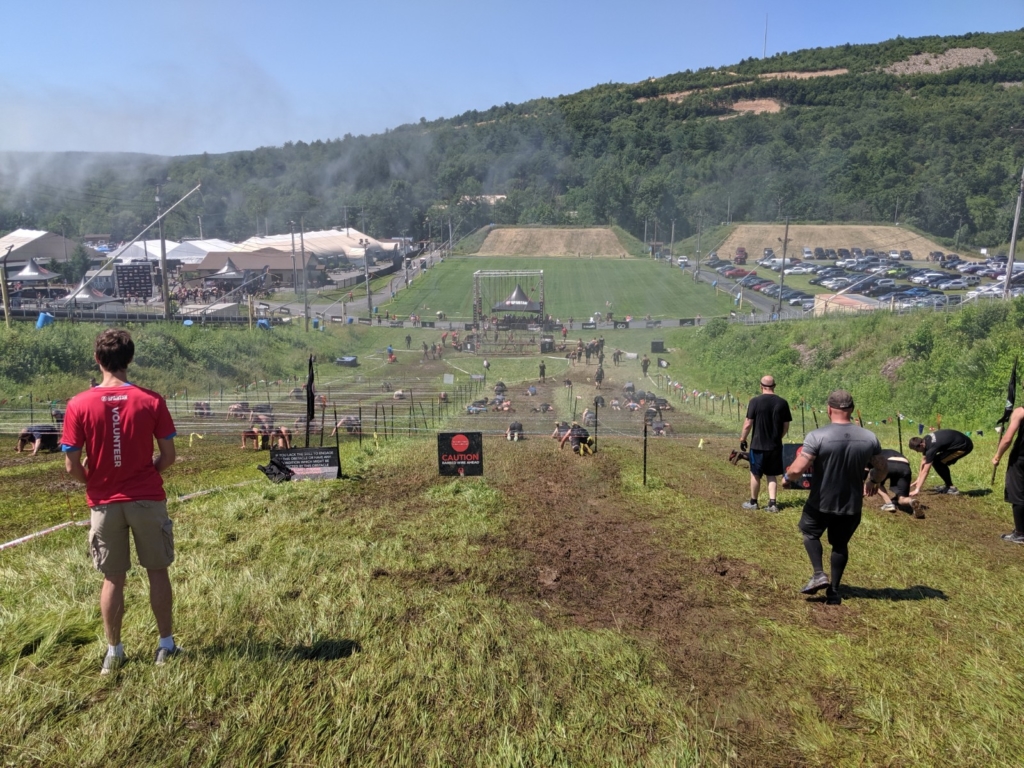 We arrived Sunday morning and reported to the Volunteer Bibs check-in tent. Lauren was there again and whisked us right through. All we had to do was pay the $14 insurance fee, fill out the waiver, and get our timing chip.
The Race
Palmerton is very different than it was six years ago. First, it's a lot more popular. The obstacles are a lot different and much harder. It's just the mountain that remains the same with its unforgiving terrain and exposure to the elements. The only things new this year for me were having my son race with me for his first ever OCR, and my second 100% completion clean race, both on this mountain.
Most of the fun this weekend was building up the excitement for my son. Although he was a seasoned runner (cross country and track), he had little experience in the mountains. So after he ran his familiar 800 meters out of the starting gate, he walked the rest of that mile up with the rest of us. I didn't see him again until the Bucket Brigade. I passed him and then he passed me at the uphill barbed wire crawl. He beat me by about thirty seconds. John crossed the line about ten minutes later.
Volunteering is not just a way to earn a free race. The work is not easy. Those who volunteered on the course might have spent a full day on the mountain in the sun and heat. There were also morning and afternoon only shift options. Other areas of opportunity included parking and traffic, course setup and teardown, obstacle referee, merchandise, and many others. If you want to do this as a more full-time thing, then go online like Gigi did to find your gig.
Overall
My trio and I agreed. This event, the whole volunteer process, and all the people at Spartan who made the weekend possible were outstanding. There was nothing that we would change. We had no negatives. This time we have our photographs, we have no souvenirs (cuts, bruises, flesh wounds, or other Monday morning reminders), the dream is fulfilled, and we say to this mountain, "You belong to me."
Rating: 5/5
---
Have you done an Spartan Race?
Leave your own Spartan Race review and feedback...