100 Meter Champs "Grows Up"
Just a few weeks after the debut of the 100 Meter Championships at the OCR World Championships (results) held in Essex, UK, Adventurey, the company behind the OCRWC, announced today some changes to the event to provide its own presence during the 2020 OCR World Championships next October 2-4 in Stratton Mountain, VT.
During its debut at Words in 2019, the 100m course was a trial of sorts, slightly removed from the action of the 3k, 15k, team, and charity events going on around it – literally sandwiched between OCRWC's signature obstacles Triumph and Skitch to the north, and the Finish Wall and finisher's line just to the south. The 100m participation format was wide open – you signed up for 2 shots at the course and decided when you wanted to show up.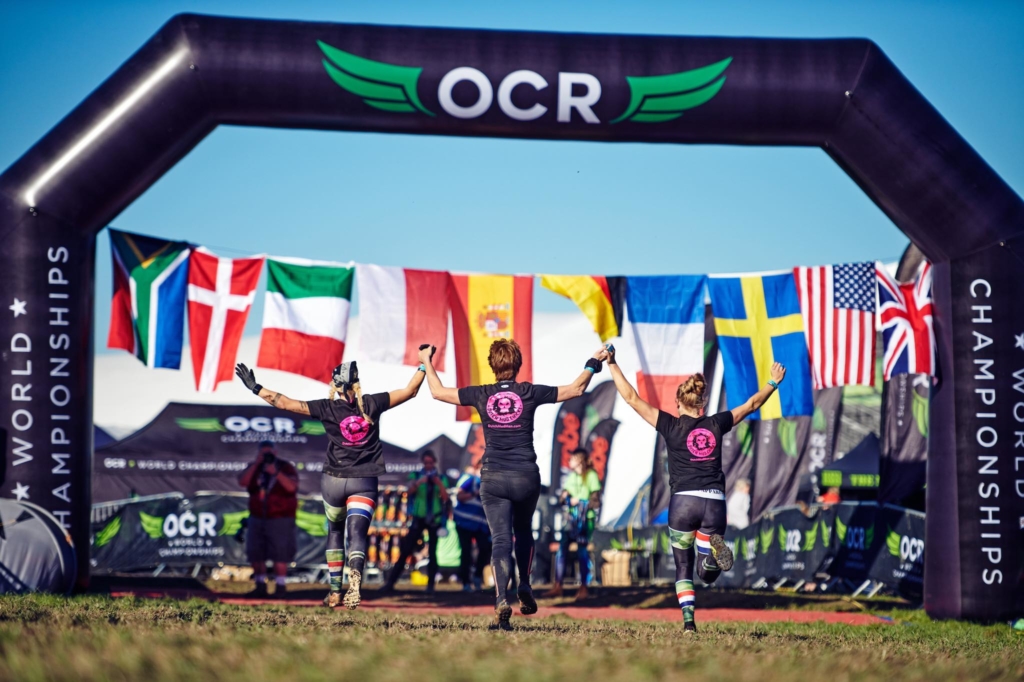 The Adventurey team took this opportunity to answer a bunch of questions: Who'd be participating, when they'd take their two attempts at the course, and get their feedback on the "super sprint" format. The 100m obstacles were provided by Urban Sky and featured some unique challenges that focused on speed, agility, and technique – a proving ground to evaluate the event for inclusion in future years.
Based on the feedback from participants, Adventurey refined the format for OCRWC weekend in 2020:
2020 100 Meter Championships Format
Four Divisions: Pro Men, Pro Women, Open Men, Open Women
Top 8 Times In Each Division Advance to Semi-Final Round
Semi-Final Rounds For Each Division Consist of Two Seeded Heats
Top 2 Times in Each Divisional Semi-Final Heat Advance To Head-To-Head Final
Limit Of One Online Registration Per Athlete
Two Course Attempts Per Registration
Athletes Must Compete During Time Windows Selected During Registration
Semi-Final And Final Times Will Occur On Sunday, October 4th (Times To-Be-Announced)
No Qualification Necessary
(more info on ocrworldchampionships.com)
While there are a bunch of tweaks to the format, the major ones are the addition of (4) Categories – Pro Men, Pro Women, Open Men, and Open Women as well as a Semi-Final based on seeded heats and a head-to-head final on Sunday.
Inside Info on the 100 M Champs Course
From inside the Adventurey production team, the preliminary plan for the 2020 100 Meter Championships course layout is to place it right in the center of the action in the base area of Stratton Mountain to optimize spectator engagement. The obstacles themselves are currently under development and promise to feature elements from OCRWC's signature obstacles as well as new and exciting twists.
"We're developing an exciting, fast and furious course to play out right in front of an energetic audience, but we're absolutely not intending to build a "Ninja Warrior" experience and instead we're developing a unique OCRWC spin on super-spring and head-to-head obstacle courses."- Brett Stewart, Event Director
2020 Registration Opens November 1
The OCR World Championships returns to the USA for the first time in four years at an amazing venue in Stratton Mountain, VT; a ski resort in the Green Mountain range featuring nearly 4000′ in elevation and the highest peak in Windham County. Previously home to the North American OCR Championships in 2018 & 2019, the Adventurey team is extremely familiar with the terrain of the mountain and what Stratton has to offer.
"While NorAm in '18 and '19 used a good portion of Statton's terrain, there is so much more to the mountains than most athletes have seen – and we absolutely plan to use every drop of it to create a dynamic World Championships course that is distinctly different than athletes experienced at NorAm." – Brett Stewart, Event Director