UPDATE 7/21/20: Donations to Operation Enduring Warrior hit $2698.00 for the CANDOR Guitar and the winner when "lucky #27" was picked is Mary Arehart from Spotsylvania, VA.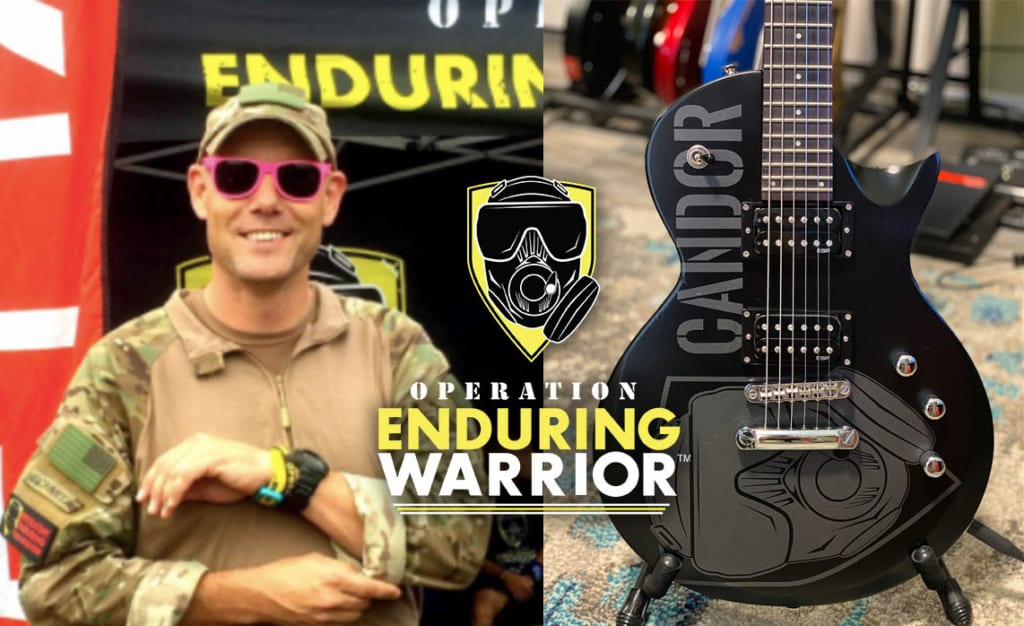 Any athlete participating in the OCR World Championships and dozens of other obstacle course races all over the USA have surely seen Operation Enduring Warrior take on the course as an unbreakable team, supporting each other with the spirit of bravery and camaraderie that is deeper than friends or co-workers and is truly a fraternal bond that makes OEW a family.
The unexpected loss of their President, Eric Schmitz, delivered yet another impact on the lives of the OEW family dedicated to empowering our nation's wounded military and law enforcement veterans to overcome adversity and created an outpouring of support from across the sport of obstacle course racing. Mud Run Guide's co-founder Brett Stewart, along with veteran and OCRWC build team Bobby Shelton and Jake Moore and the team at WarX partnered up with OEW to create a fitting honor and remembrance of Eric – who loved hard rock – by building the CANDOR Guitar through Brett's side project, Punk Daddy Guitars, who recently created an OCRWC-themed guitar raising funds for OCR Gives Back.
CANDOR Guitar – Donate to WIN
Sporting Eric's callsign, CANDOR *ALPHA* speaks to grit, honor, and fortitude – hammered metal paint over flat black, dents and dings from years of service churning out rock 'n roll, loud and aggressive ESP humbuckers pumping out distortion while honoring Eric with the OEW logo and CANDOR emblazoned across the body, and an authentic OEW challenge coin on the headstock of this ESP LTD EC-50 donated to PDG from the collection of John Matthew, WTM & OCRWC athlete. *ALPHA* harkens to Eric Schmitz's position at OEW, and also certain elements inside the guitar and another surprise announcement that I'll leave up to Bobby and Jake Moore at WarX.

**100% of the proceeds go directly to Operation Enduring Warrior
CANDOR *ALPHA* was created and donated by PDG and all involved to raise funds for Operation Enduring Warrior in Eric Schmitz's honor, with an online raffle with a winner chosen live on Facebook on Monday, July 20 at 7:30 pm EST. Entries in the raffle are gained by making a donation to OEW:
(1) Entry into the CANDOR Guitar Drawing: $50
(3) Entries into the CANDOR Guitar Drawing: $125
(1) Additional entry for each $25 over $125, simply type any custom donation amount
Donations are now open and available to receive entries into the CANDOR Guitar drawing until 5:30 pm EST on Monday, July 20.
Drawing will be held live on Punk Daddy Guitars' Facebook page on Monday, July 20 at 7:30 pm EST
About OEW
Operation Enduring Warrior (OEW) is a veteran-founded non‐profit 501(c)(3) whose mission is to honor, empower, and motivate our nation's wounded military and law enforcement veterans through physical, mental, and emotional rehabilitation. Our programs help participants overcome adversity and hardship through innovation, teamwork, and perseverance. This ultimately enables the lives of our wounded military and public service veterans to go in directions they may have once thought were impossible.
OEW is a 100% volunteer-run organization. All donations go directly towards our various programs and operational support of the organization.
About Punk Daddy Guitars
Founded by Brett & Kristen Stewart of Mud Run Guide, PDG creates custom-built guitars for charities and individuals that are one-of-a-kind and totally unique! Check out punkdaddyguitars.com to see some of their wild creations like the OCR Gives Back "FrankenStrat", Punisher, Old Glory, and more!