As a male Obstacle Course Racing (OCR) athlete, I've been itching to get back on a course.  I had my opportunity recently at Kansas' first post-quarantine OCR, the women's only Wild Women Timber Challenge at the permanent venue KC Timber Challenge.  Yes, you read that right, it's a women's only race but men are allowed to run as long as they are in drag (teaser article OCR in Drag).  Here's what I thought about the course, the event and why you need to add a KC Timber Challenge event to your schedule:
The Terrain
The terrain has a nice mix of everything ranging from technical parts to flatter well groomed trail.  The constant variation of ups, downs, turns and flat straightaways make it interesting.  The course keeps you engaged using terrain and obstacles that I usually don't bother checking my mileage at any point cause my mind is occupied doing other things.  Despite running the course at multiple of their events they still changed up the route providing a unique path that I had not run before.
The Obstacles
The benefit of a permanent course is it's always there, the downside is the obstacles are also always in the same place.  However, they made good adjustments.  Despite doing this course 2-3 times a year and always running multiple laps, I was pleasantly surprised at how different things appeared to me.  Multiple obstacles now had difficulty lanes with harder/easier variants, the wooden hurdle obstacles were also in a new place on the course, the heavy carry section was no longer part of the course and a new balance beam was added that I had never seen before during any of my trips to the venue since 2016.
My two favorite obstacles by far were the low rig and the zip line.  The low rig is an obstacle that will challenge even experienced OCR athletes proving both taxing on the grip strength and awkward for movement.
The zip line is so much fun I took an extra turn on it during one of my laps.  Riding it was almost as much fun as watching other people go down.  Honestly the ladies were a lot more adventurous than most of the men I've seen, choosing to fly into the padded ending with a decent amount of speed.  (The venue also has a huge zip line which requires its own guided tour, see Zip KC.)
The Wild Women Challenge
What was different besides their normal course?  Actually, a lot more than I expected.  It was run in the opposite direction of their wintertime Yeti event (KC Timber Challenge 2019 Yeti Review) and several of the obstacles had tiered difficulty lanes including:
Longer or shorter section of trail run
Harder or easier vertigo bus (instead of doing both like normal)
Harder or easier section of technical terrain
Obstacle difficulty lanes on:
Low Rig
Monkey Bars
Balance Beams
Tire Flips
Rope Climb
Overall, it provided a good way for ladies to push themselves or take it a little easier while having fun in a friendly non-competitive environment.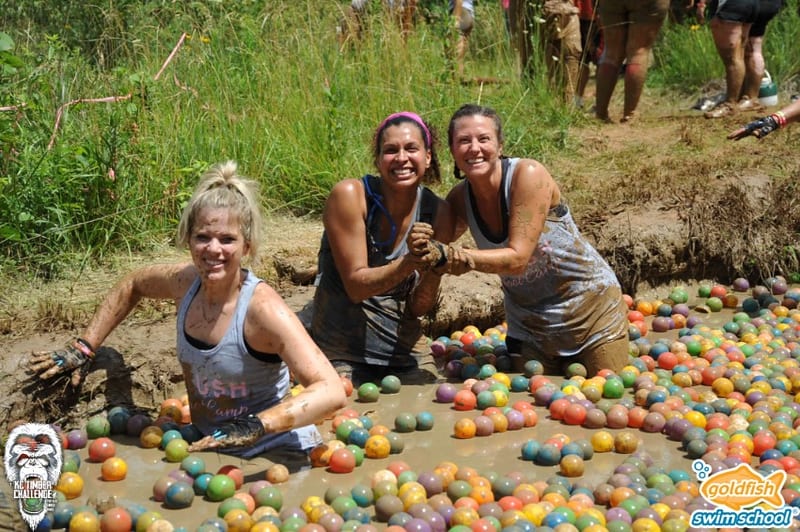 The Atmosphere
I think a quote from the filmmaker, Bobby Ross of Stoke Shed can sum up this paragraph, "This was the easiest event to shoot ever because everyone was smiling and having a good time…all the time." The non-competitive nature of the event and the fact that the only men that were there were in drag (a sign they weren't taking things too seriously) meant everyone was having a great time.  Don't believe me? Check out this Stoke Shed recap video!
COVID Adjustments
The KC Timber crew took adjustments to account for COVID including having packet pickup the day before where they asked only one person per group to come to an outdoor booth at Nebraska Furniture Mart (an event sponsor) to pick up the group's packets.  They also had hand sanitizer in every port-a-potty and a special hand sanitizer/wipes station near the bathrooms.  Waves were adjusted to smaller groups set off at wider intervals.  Plus, if all of this didn't make you comfortable enough, I saw several athletes who chose to wear their masks on course.  Their adjustments worked since I rarely saw more than one group of people waiting at an obstacle despite myself running multiple laps.  Even the people waiting around kept their social distancing.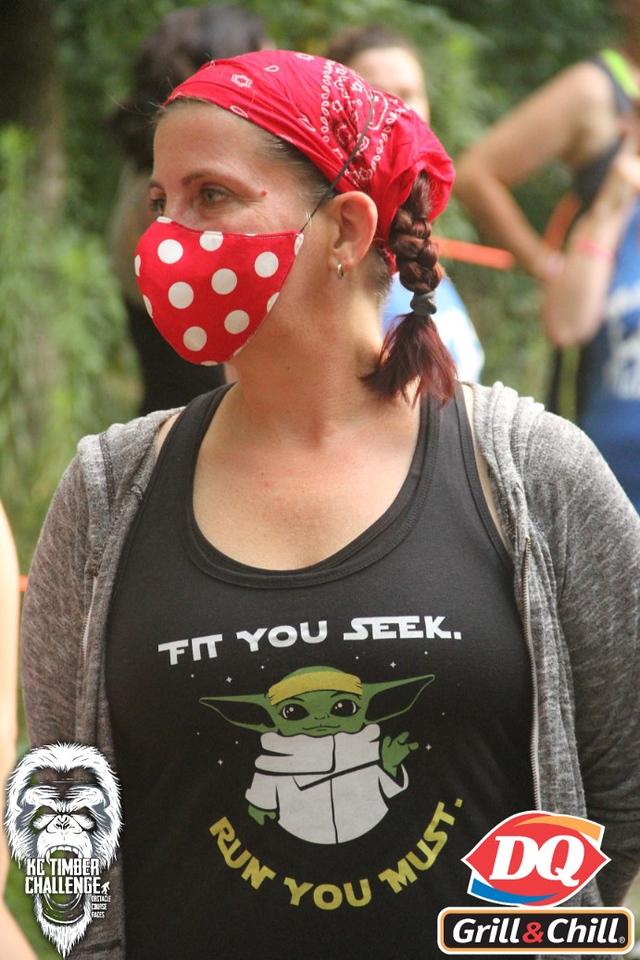 Not required but some athletes chose to wear a mask in the festival area and others chose to wear them for the entire event.
Overall Experience: 
After being at so many of their events I was expecting this to just be another one that would blend into the mix, boy I was wrong (or maybe I should say "girl was I wrong" to fit with the theme). The event was a ton of fun made better by the obstacles, a great announcer/emcee sending waves off and a fun festival.  Instead of getting venue fatigue at KC Timber Challenge, I'm enjoying it more and more with every event making it feel like I'm returning "home" for another uniquely styled event.
If you haven't made it to one of their events, now is a good time (the 2 mile Family Timber Challenge is Aug 2 and the OCR World Championships qualifier 4 mile Xtreme Timber Challenge is Sep 6).  Their events are always on a Sunday so if you are traveling from out of town, you can even double down on races in the Midwest running some other one on Saturday and KC Timber on Sunday.  With few other races going on it's just one more reason to drive out to the middle of the country to visit this awesome venue.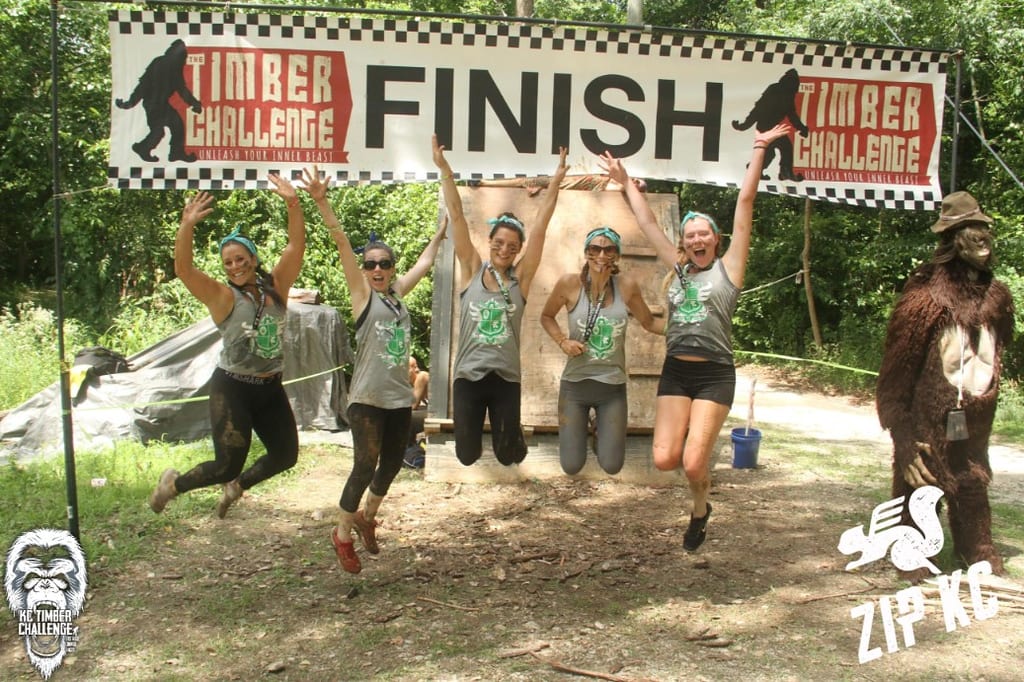 5/5 stars