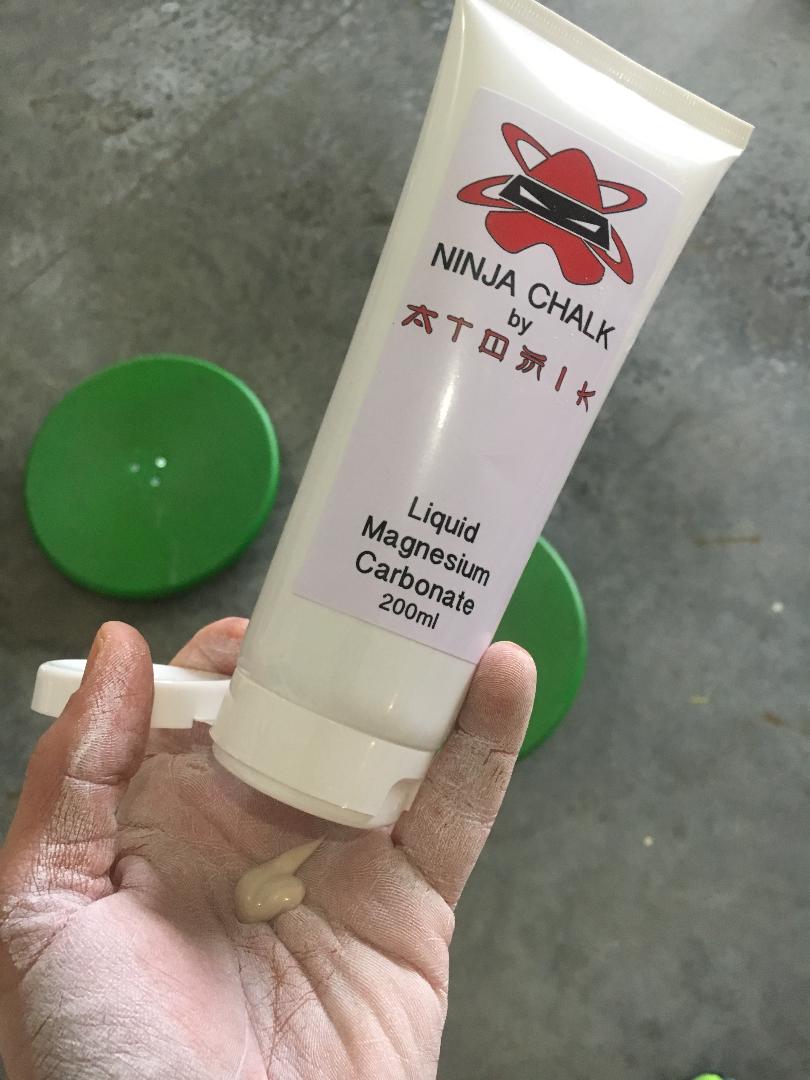 Chalk is a great tool if you want to rapidly improve you grip strength by drying out your hands and creating a surface with more friction.  Although, in most Obstacle Course Races (OCRs), chalk is not allowed as per the rules.  However, I still think it can play an important role in your training on preparing for OCRs or if you are competing in ninja competitions (which is basically very short OCR).  Due to this I picked up some Atomik Liquid Chalk to see if it was worth the hype:
Product:  The chalk comes in 100ml or 200ml tubes that you squirt onto your hands into about a dime sized blob.  Rub the liquid onto your hands thoroughly and then allow to air dry for about one minute then your hands will be chalked up and ready to go.
Feel: I've used normal chalk before when doing some training in a ninja gym on obstacles that required a very high level of grip strength.  However, this was my first time using liquid chalk.  The initial feeling seemed weird like "why am I putting a liquid on my hands for better grip" but fast forward a minute and it was like spider-man level grip on my palms/fingers.  I couldn't believe how rapidly it dried and made it look like I had a lot of regular chalk on my hands.
Advantages:  The biggest advantage was honestly the lack of mess.  Normal chalk gets everywhere on your clothes, in the air, on the ground and generally makes a bit of a scene if you are the only one using it.  The liquid chalk stayed almost completely on my hands and didn't really get anything dirty.  I know most normal gyms don't allow it, but if you were going for a personal record (PR) in your traditional weight gym, you could definitely get away with putting some on your hands without anyone in the gym noticing.  After getting a new PR you could put the weights back without making anything dirty or people noticing your chalk use.
Uses for Ninja Athletes: Chalk is fair game in the ninja world at every competition I have seen.  I think this is a great product that you can pack easily and avoids a mess.  Use it for training, use it for competitions and avoid failing obstacles.
Uses for the OCR Athlete: As already stated, chalk is banned for most OCRs.  However, I do think it has a role in training.  If you are learning a new hold and lack the grip strength to hold onto it, using some Atomik liquid chalk can help.  When I brought my new Atomik Climbing Holds Ninja Book to the gym (a hold that looks like a thick book that hangs vertical from chains).  Conquer The Gauntlet Pro Jenny Overstreet was having trouble making the transition off the hold.  Add in some liquid chalk and she completed it on the next try.
Today's #TechniqueTuesday is brought to you by Atomik Climbing Holds. If you are having trouble on a specific obstacle try using Atomik Liquid Chalk on your hands during training sessions until you get used to the new movement. After a couple of failed attempts. Conquer The Gauntlet Pro Jenny Overstreet threw on some liquid chalk and did this…Filmed at Apex climbing gym in KC. Previous attempts are below in the comments.

Posted by Conquer The Gauntlet Pro Team on Tuesday, March 10, 2020
This is exactly what you should use Atomik Liquid Chalk for, learning a new hold or new skill.  As your grip strength and obstacle proficiency improves, I would reduce the reliance on the chalk to better simulate race conditions.  However, continue to use it when practicing on new skills that are at the edge of your capability.
It also has great uses at the end of your workout.  As your grip fatigues, using chalk allows you to complete obstacles that are now outside your capability.  It is like giving you grip a boost allowing you to train longer and harder for each training session.
Uses for Gym Owners:  Atomik's liquid chalk is much less messy and avoids getting chalk dust all throughout the gym.  If you want to allow athletes to use chalk without all the dust in the air, you may want to consider switching the entire gym to liquid chalk.  Atomik even has bulk options allowing you to buy cases of Atomik Liquid Chalk 100ml (Case of 70 bottles) for $311 and Atomik Liquid Chalk 200ml (Case of 50 bottles) for $402.
Today's #TechniqueTuesday is all about incorporating chalk like Atomik Climbing Holds liquid chalk into your training. Even though OCR athletes aren't allowed to use chalk for most races it still can play a valuable role in training. Conquer The Gauntlet Pro Evan Perperis like to use it for tricky obstacles or holds that he is still working on. It allows you to have a better grip creating the muscle memory needed for success. As you improve you can reduce your reliance on chalk to better simulate race conditions.

Posted by Conquer The Gauntlet Pro Team on Tuesday, March 31, 2020
Price:  A 100 ml bottle costs $5 and a 200 ml bottle costs $9, which is a great price.  I recommend buying the larger bottle to save money in the long run.  When I brought my bottle to Apex Climbing Gym in Kansas City for the first time everyone wanted to give the liquid chalk a try.  The bigger bottle lets you share with everyone that wants to give it a test run.  Plus if you travel via air for ninja competitions, buying a larger bottle allows you to refill a small travel size bottle (that most normal people use for shampoo or conditioner) so you can take your chalk in your carry-on bag.
Overall:  Atomik's Liquid Chalk is a great product that I'm glad I now have as part of my training tools.  After trying liquid chalk and given a choice between traditional or liquid, I'll go with the liquid chalk every time.  Keep training and finding those limits.  Then, slap on some liquid chalk and push those limits just a little bit higher.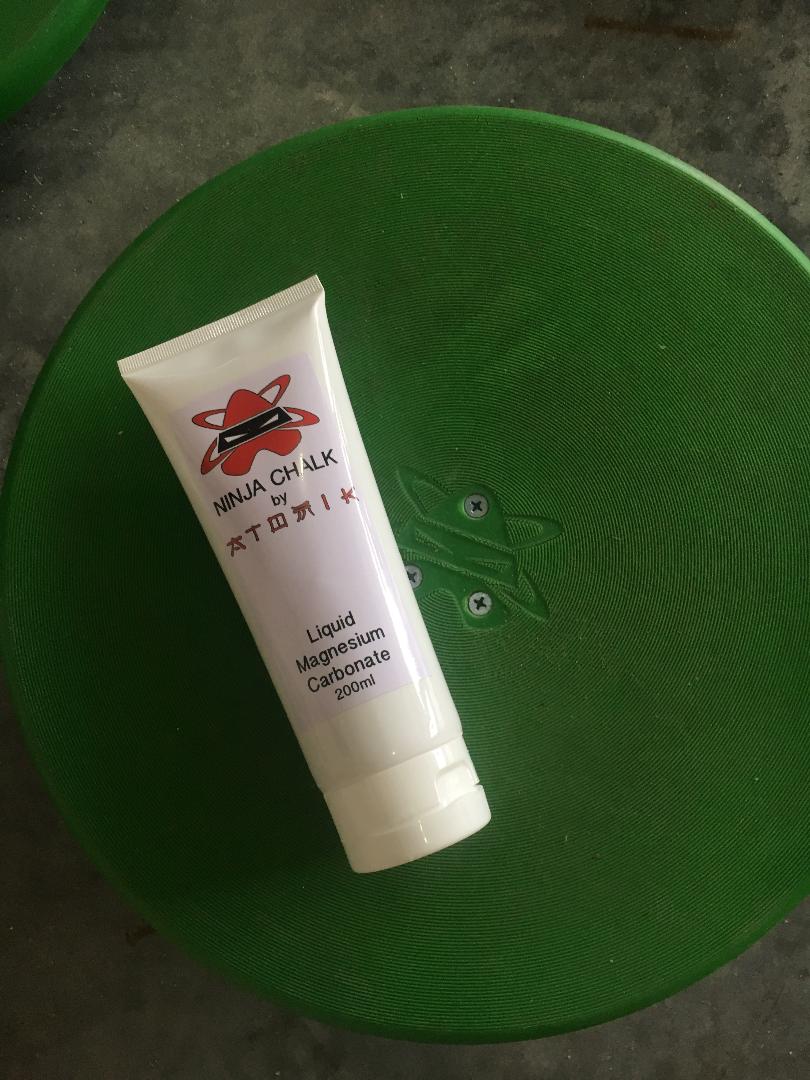 5/5 stars
Pictures provided by Strength & Speed