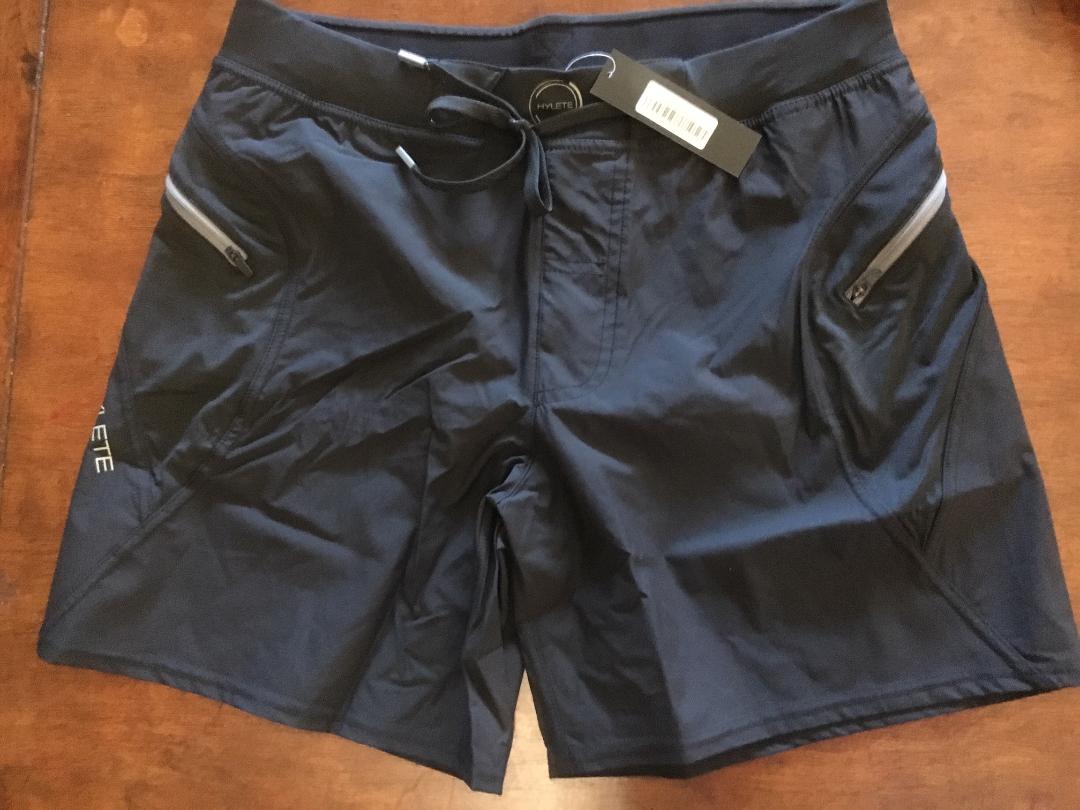 After wearing HYLETE Helix II shorts for the last couple of years (read the Mud Run Guide review here), I decided to try out some of their other shorts.  The first new style of shorts I tried for them was the Verge II.  Here is a quick rundown of the shorts and why it may be time to pick up a new style of HYLETE's famous workout attire.
Style:  The biggest difference that I noticed between the Helix II and the Verge II was the liner.  The Helix II has no liner making them the most comfortable for everyday wear, climbing or going to the gym for strength training.  The Verge II has a built-in liner making them more versatile.  Both sides of the shorts have pockets with zipper closures making it one of the only pair of running shorts I own with zipper pockets and the only pair I own with two zippered pockets.
Length: The length comes in three options: quad cut, above the knee and normal.  As a runner who is used to short shorts I went with the quad cut and don't regret the decision.  If you were going to wear them as a versatile short that you would use for training sometimes and day to day other times I think the above the knee might be a better option.  If you were going to wear them primarily as a day to day pair of shorts then normal is probably more your length.  Whatever length you choose, the website physically gives you the dimensions (inseam, outseam).  I would recommend finding a pair of shorts you already own to compare the lengths using a ruler to make sure you get the exact length you want.
Waist:  The 85% nylon, 15% spandex shorts are super soft and come in six waist options from XS to XXL.  Plus, each one has a drawstring allowing you to cinch the pants as tight or as loose as you want.  Perfect whether you are in peak running shape or if the limited season of racing has got the best of you.  With no elastic in the waistband, these shorts are in it for the long haul (I've had other brands of shorts lose their elasticity after extended wear).
Color Options:  Besides black, the shorts come with a wide variety of options including Sienna (red), Cool Gray, several Navy variants, three light blue variants (Azure, Trellis and Delta) and Olive.
Price:  The price of the shorts is around $70, but the value of the shorts is definitely there.  Plus, if you pay attention and sign up for their mailing list you can get some sweet discounts that allow you to reduce the cost.  They also have discounts for military, first responders, students or teachers or personal trainers.  If you don't have any of those, you can get some credit by simply referring a friend.
Use:  Out of the four different type of HYLETE shorts I own, I think these are the most versatile.  They are comfortable for every day wear, they work great for strength training like at a normal gym, flexible enough for climbing or even work well on a run.  The day after I got them I took them on a 13 mile run with zero chaffing.
For the OCR athlete I would highly recommend picking up a pair as a versatile training short regardless of what you are working on that day.  Plus, if you are like me, you probably want to go play on the obstacles after you finish your race but change out of your muddy race clothes.  The Verge II provides a great option since they are stylish enough for normal wear but still have a liner to keep things secure if you jog the course and the zipper pockets means you won't lose your key/phone/wallet regardless of what you are swinging from.
Overall:  HYLETE has such a deep line of products but I have yet to find something I don't absolutely love from their website.  I own four different styles of their shorts, two different styles of their pants, t-shirts, tanks, polo shirts, two different types of their backpacks and even a button-down shirt.  They always do a great job.  The Verge II falls in line great with all their other products.  If I had to use one word to describe these shorts I would go with "versatility" because you can use them for almost anything.
5/5 Stars
Pictures provided by the athletes pictured.