There was something strangely familiar about Limerick Athletics, though I'd never been there before.  Was it the direction across the Delaware River through Center City Philadelphia to the western suburbs?  Was it the equipment in the gym with that combined smell of rubber mats, hand chalk, and sweat?  Surely it was the people of Philly Spartans, the team who started me on my MRG gig journey.
Turns out it was all the above.  Alex Schwab, a Philly Spartan and leader of the RaceDay5K here at Limerick confirmed my suspicions.  This place is the son of iMettle.  No wonder it felt so good and comfortable.
But then the training started, and things got mighty uncomfortable.  It reminded me of other bygone days in another gym no longer there, another place way ahead of its time.  It's gyms like these that make training days harder than race days.  That's a winning formula Alex uses at Limerick Athletics.  Many of these Philly Spartans are regular podium finishers.
Alex gathered us around the whiteboard to start the event.  We grabbed our toys, laid them out in our work areas, and received our starting positions.  There were about fifteen of us so the staggered starts across the stations kept everyone from piling up.  We all started with a 400m run.  Then did the two assigned workouts at the station.  Ran another 400m.  Next station.  Repeated for twelve rounds, finishing out with the spear throws.
Limerick Athletics is filled with all the equipment needed for OCR, CrossFit, Tactical Games, Deka, heavy lifting, and other workouts.  They also host competitions for some of these events.  It's a classic gym for spreading outdoors on days like yesterday or staying indoors when things get nasty.  The rules for keeping things clean and orderly are obvious as everyone pitched in to pull out and set up and then later stow the gear.
Once Alex blew the whistle, we took off.  Some, like Dub, did the whole event carrying a sandbag.  Others wore weight vests for TG training.  Most like me ran unweighted.  But that was enough given the scheduled work.  Each station was a double, like drag a 60-pound sandbag for twenty meters.  Then cross a high rope rig after your shoulders were shot.  The combinations Alex came up with were devilish.  The order of stations was even tougher.  Towards the very end was a heavy sandbag carry for 100m followed by Olympus.  No big deal by themselves.  But after ten previous stations with a lot of grip intensive tasks, Olympus suddenly became a problem for me.
This is when technique really becomes important, especially in a race.  Brute strength is no longer enough.  It becomes mental.  I tried the brute method on the first pass and kept slipping.  Never mind that this was only the second time in my life I'd done this obstacle (not counting the one I built in my backyard after failing it miserably at the Palmerton Super 2018).  On pass two I got efficient.  Fast.  Light on my feet and quick with my hands.  Much better.
These are the kinds of techniques you'll learn at a place like Limerick Athletics.  Alex is a certified SGX Coach with plenty of other qualifications to help new and seasoned athletes.  He keeps a watchful eye on the participants and provides guidance when needed.  He also takes lots of photos and videos.  Thanks for the contributions while I was busy running Alex!
On the drive home, I called one of my friends who lives on the Main Line and told him that I found a great new gym for him.  Years ago I introduced him and another bud to iMettle and now that it's gone, we needed another place to train for OCR and prepare for the Citizen's Bank Park Stadion.  I told him what a great time I had, and he was super pumped to join me the next time I come out.  We'll bring our team.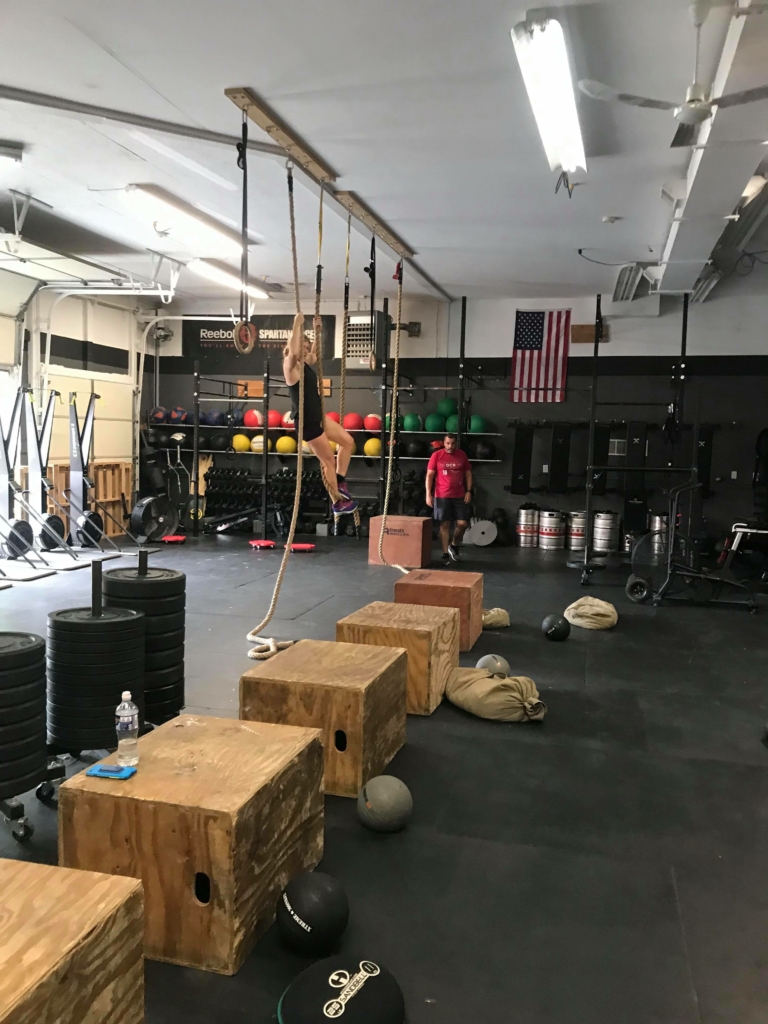 I was glad to see that the gym had an official FitAid refrigerator well-stocked with my favorite recovery drink.  The kitchen area also had another regular fridge where members could keep their drinks and fuels.  The building also had a nice restroom and changing area.  I loved it.  Felt like all the gyms I grew up with.  Except this one is a jawn.
For that, Mud Run Guide awards Alex Schwab and Limerick Athletics five out of five stars.  Thanks for bringing the joy and pain, Alex!