Update:
3/4/16, 3:31pm MST: We heard back from the Down & Dirty team, and they confirmed to me, although it is missing from their statement on facebook a few moments ago, that the Los Angeles event will be held as scheduled; they were forced to cancel the other nationwide events due to sponsorship issues:
Hi Brett, Unfortunately we were not able to get the necessary sponsorship to put on the quality of event that is consistent with our standards [nationwide]. Hopefully we will be able to return [to multiple venues] in 2017. Please let me know if you have any other questions.
Thanks, DD Team
7 D&D Cancellations – What's Going On?
The MRG crew has been receiving emails and facebook messages all week from athletes wondering what's up with Down & Dirty (sponsored by Subaru in 2015) cancelling events all over the US. Early this week we checked their site, where they had quietly removed the following events from their website (downanddirtyobstaclerace.com), but not providing any additional information:
Miami (5/15)

Dallas (6/4)

Hartford (6/12)

Philly (7/10)

Detroit (8/28)

New York (10/2)

Sacramento (10/23)
Waiting For Updates
We've reached out to MESP via phone, email, and through facebook to give them the opportunity to explain the changes and give us all an update on their 2016 schedule. With no answer after multiple attempts to contact, we can only provide the information we have so far without the actual reasons for cancelling all the events on their calendar except for Los Angeles.
Athletes have received the following email alerting them to cancellation of the event they had registered for: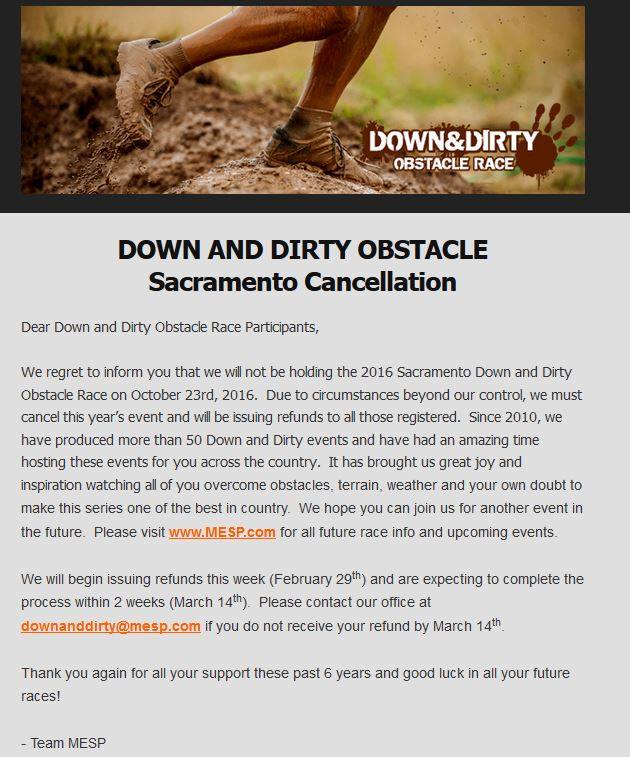 If any of you were going to do the Down and Dirty in Dallas this year, I just received an email saying it has been cancelled and they are sending out refunds. This makes me sad. It's a fun race. – Kelly Renee, Lone Star Spartans Facebook page
Just got an email about Philly being canceled, what gives? Was looking forward to killing this course on my 3rd run. – Rob Quinn, Down & Dirty Facebook page
While MESP is not responding to our repeated inquiries about these cancellations, they have updated their facebook profile photo to remove Subaru, then minutes later changed back a logo including Subaru. Just 3 weeks ago, they were hyping their 2016 schedule in a facebook post (below), that post itself has become somewhat overrun with disappointed fans asking for answers about their event cancellations.
Reading Between the Lines
As of this morning, it appears all Subaru logos are being removed from their website, leading one to speculate their cancellation was due to sponsorship issues. In 2014, the series was branded Merrell Down & Dirty before switching to Subaru for 2015. Merrell is now a sponsor of Tough Mudder. As referenced in the email above, use "MESP.com" and "downanddirty@mesp.com" for correspondence & updates – so it appears MESP may be distancing themselves from the brand, and that leaves everyone to wonder what the future holds?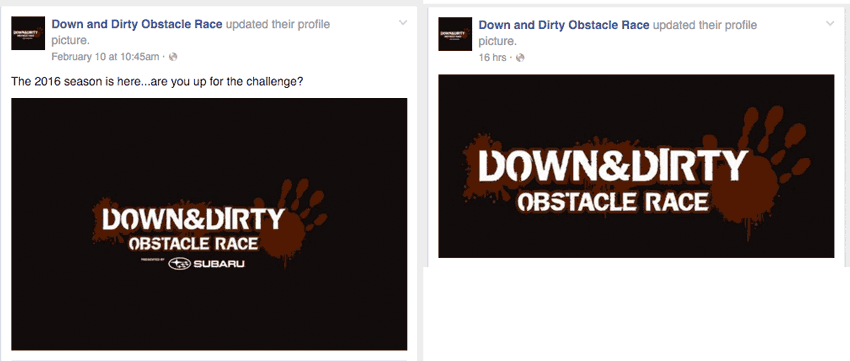 We'll keep you updated when/if we hear back from MESP on the condition of Down & Dirty, and if they have any plans of reinstating other events across the country aside from the Los Angeles event they are still promoting.
No Reports of Refund Issues So Far
According to their cancellation email, they've given themselves a 2-week window to complete all refunds, so we've yet to hear of any issues. Contact downanddirty@mesp.com after March 14 if you have not received a full refund.