"Movin' right along, footloose and fancy free. Getting there is half the fun, come share it with me"

– Kermit & Fozzy, 1979
Why Do We Run?
Running is a means to an end; simply locomotion from Point A to Point B, start to finish, fat to fit, impossible to possible, beginner to seasoned, "oh shit" to "oh yeah."  We obscure the essence of our runs by tangential terms, like PR's, pace, podiums. We purchase tons of running-related products, some we need like fuel, shoes, or blister protection, and many others we convince ourselves we have to have like heart monitors, GPS watches, compression socks, and the latest-greatest gizmos. Our love of running is often buried by the pursuit of being faster, running farther, or setting another new personal best.
Running: My Sweatitation
I'm not casting shade on any of these things, I've done 'em all, countless times. Running became a passion of mine "later" in life, I didn't run my first mile until I was in my early 30's, my first 5k in 2002 or so. Over the years I've fallen in love with running dozens of different times in various forms; trails, roads, obstacle course races, ultras, stage races, cross-country relays, etc. I've even fallen prey to the running demons that often plague us all; overuse, injury, self-doubt, DNF's, failures in all shapes and sizes. I've cared way too much about certain runs that didn't matter and dismissed some very valuable ones as unimportant; A races that I'd spent months training for became B or C races on a whim, while I turned simple training sessions into do-or-die battles with running partners. I've driven 7+ hours to a marathon only to realize I've forgotten my shoes at home in the garage – well after all the stores had closed for the night. Missing the start time? Yup. Whether I was visiting a port-o-john when the gun sounded or overslept in my RV just 100 yards from the start, it's always an adventure to just get on-course on-time. Running has also my source of solace and springboard for epiphanies over the past dozen years; occasionally where I seek to push myself, but always where I ultimately find myself.
Running has been my source of solace and springboard for epiphanies over the past dozen years; occasionally where I seek to push myself, but always where I can ultimately find myself.
Running is my spackle, squeezing into any voids in my schedule, while consistently providing me the time to reflect on life and projects. Sweatitadion? Sure. I've broken down sobbing during runs, solved all the world's problems, made friends for life, sparked competitive fires I didn't know existed; both within myself and with others, made mistakes, lost friends, lost arguments, gotten lost, lost gear, forgotten drop bags, and completely lost myself on the trail, path, road, and even during races. With running, I've lost more than I've "won", and I've gained more in life experience from those losses than I ever thought possible.
7 Weeks to a 10k is a Lie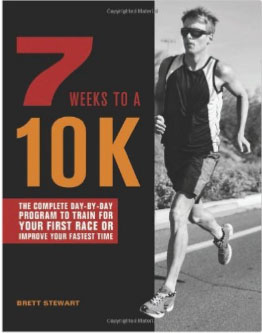 For nearly three years from 2010 – 13, I continually pitched different versions of a running book to my editors at Ulysses Press, and was repeatedly rebuffed as there wasn't adequate "shelf space" for another training resource on running. It was easy to get Ultimate Obstacle Race Training on the shelves as it was the first OCR book to make it to print in the USA and beyond. It wasn't until I relented on the title that "For the Love of Running" became 7 Weeks to a 10k and made it into print; and therein lies the lie: 7 Weeks to a 10k had barely any more to do with the 6.2 mile distance the name implies versus any other distance from a singular mile to 50. Readers agreed, and despite having an amazingly talented runner (and my 7 Weeks to a Triathlon co-author) Lewis Elliot on the cover, the book never even made a blip on the radar in the world of running, and that's a huge bummer. I'd sincerely hoped that people would look past the cover and see a book that encompassed one short, fat, slow, lazy smoker's journey to getting fit and active, and how running was the not only the vehicle, but the glorious journey that won't reach the finish line anytime soon.
I've been chased by zombies. I've run past rattlesnakes, crossed the raging Colorado River, circled a baseball field repeatedly for over 50 miles, sprinted past world-famous athletes (only to be left in their dust shortly thereafter), and watched a world-record ultramarathon distance get shattered. I've been lucky enough to run alongside Dean "Ultramarathon Man" Karnazes (one of my running heroes and a fantastic guy) in the middle of nowhere in Globe, Arizona, and got lost with him on a trail in Austin, Texas. Heck, I even got to run my first ultramarathon by Karno's side for the first few miles. 

Running has taken me to the Outer Banks of North Carolina and all the way to San Diego, both times to run some of the most exciting marathons in my life. I've enjoyed running down the middle of the Las Vegas strip under the Sin City lights past all the billion-dollar hotels, and in the middle of, well, nowhere in Montana. I've seen more places across the United States with running shoes on my feet than I can count, and each experience has been special to me because there's no way I should ever be a runner—I'm just a fat kid from Connecticut.

– from 7 Weeks to a 10k download a free PDF copy here
Aside from a startling lack of readers, 7 Weeks to a 10k was one of my favorite books to write. In it, I covered something that is near and dear to my heart in terms of running; developing a relationship with places all over the country or even in your backyard while on the run. Destination marathons are awesome, but it is so easy to be overwhelmed by your marathon goals and distracted by all the runners around you to pick up the intimate details of the road's flow, the scenery, the signs and fences, forgotten places and new curiosities, all parts of the tapestry that surrounds you mid-run. Unless you're as dedicated a runner as they come and can participate in a trans-con, relays and ultras are far and away the best chances you'll ever get to experience several hundred miles of an area and develop a curiosity for, if not a full-blown relationship for a series of places.
Ultras: Hundred (or so) Miles with Crazy Friends
This is waaaay too big of a topic to cover here, so I'll let our bud Jamil Coury (yup, the same dude from the Drop Bag Challenge link above) from Aravaipa Running explain a little bit about a 100-mile party that just happens to include a trail run,  Javeliena Jundred (pronounced Havaleena Hundred):
We've got a little overview of ultras here and why they are swiftly becoming the NBT in endurance sports, and also started covering Antelope Canyon 50 in a review last month, and that's totally due for the final installment about running while stoned. Soon-ish.
Trust me, if you think OCR junkies are the weirdest, wildest, most fun-loving athletes in outdoor sports you'd be shocked to find out that it's pretty difficult to compare with ultra runners.
Relays: Hundreds of Meaningful Miles with Friends
I have no clue how or why I signed up for Ragnar Relay back in 2008, and I can barely remember what pitch I used to pull together a team of runners from all over the country to attempt this 204-mile Del Sol as an "ultra" team – meaning we only used 6 runners instead of the 12 to cover the distance. Based on the rules at the time, ultra runners must complete 2 legs back-to-back while covering double as many miles overall. With some legs over 18 miles and nearly all of us logging over 38 miles, this would be all 6 members of our team's first ultramarathon, and we were tackling it together. Somehow.
Mikey D flew out to join from CT, and as my ESPN Triathlon Team co-founder and all-around badass athlete, I knew he'd be up for the challenge. Steven "Tex" is a buddy from high school who was just coming back from a knee injury, but figured he'd completed a marathon so it was a good excuse to visit AZ in February and skip a weekend of Boston weather. My co-author Jason (Ultimate Jump Rope Workouts, FXT, 7 Weeks to Getting Ripped, Paleo Fitness) hated running, and had never done more than 5 miles at a time, but he wouldn't miss this adventure for the world. Laura was a co-worker with Jason and I in Scottsdale, and an accomplished marathoner, now with several Boston Marathon finishes to her credit. Our 6th runner was a last-minute replacement, and I can't remember who dropped out or why, but we ended up with a woman named Shelia who had seemed to have the gift of getting "lost" for a couple hours at a time, and her legs seemed to take forever. To say Shelia and the rest of the team never connected would be an understatement, I'm pretty positive she never made it to the finish line with us, but that's another story. No matter, we all had an unbelievable time, and discovered as much about ourselves as we did of Wickenburg, Prescott, Phoenix, Scottsdale, and Mesa Arizona.
Over the years '09 to '14, the team members and routes changed, as did the rules and every different Del Sol Ultra created their own memories. Bennett, B2B, Soto, Cookie, Manoj, Rick, Reagan, and Joseph all combined to log over a thousand miles under the harsh AZ sun and brilliant canopy of stars. Our pace and overall time faded nearly as quickly as the funk of 6 runners in a minivan, but the memories remain.
Ragnar Relay puts on these life-changing relays all over the USA in iconic places like Cape Cod and along the Florida Keys, and also a not-to-be-missed off-road version Ragnar Rugged – oops, I mean Ragnar Trail Series.
Trans-Con & Trans-Relays: Running Long – For a Purpose
You don't run cross-country solo unless you really, really want to make a big statement, set a new world record, raise awareness or funds for a charity, or all of the above. From Dean Karnazes' multiple trips across the USA to Patrick Sweeney's long, strange trip across America, each of these adventures starts with one goal and ends up with a million new stories, adventures, and opens up a whole world of exposure to back roads, small towns, and bustling cities. Earlier this year we covered Adam Kimble's endeavor to break the Guinness World Record for fastest run across the USA. Though he wasn't successful in setting the new record, he raised awareness and funds for charity and experienced something that very, very few of us have. Make sure to check out his video post-run interview for much more than you'd expect!
Trans Con Relay: One Run for Boston – 2013
In the wake of the senseless Boston Marathon bombing on April 15, 2013, Brits Danny Bent and Kate Trealeaven responded to the terrorist attack with love and support for the people of Boston and to a greater extent, all Americans by harnessing the power of runners. Passion followed purpose, and One Run for Boston was born. On July 1st 2013, One Run For Boston made running history by becoming the first ever non-stop relay to run across America from Los Angeles to Boston. Over 2000 runners helped complete the 3300 mile journey.  They raised $91,000 for the victims of the Boston Marathon bombings and an inspirational running community was born.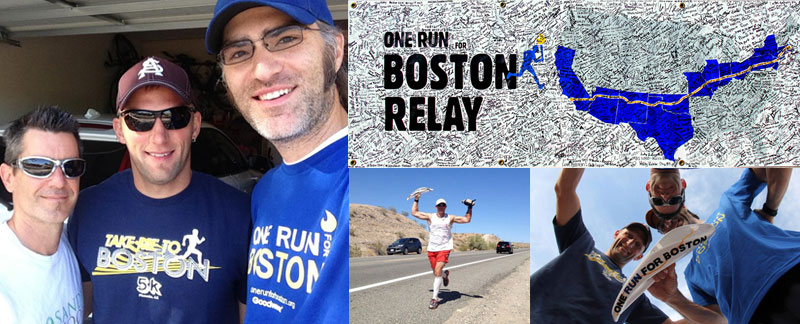 While it was an absolute honor carrying "Miles", the official baton for 30 miles from the California border into the heart of Lake Havasu City, Brian, Dan, and I battled 128º pavement temperatures and extreme heat fatigue for the better part of 6 hours to keep up the "non-stop" part of the relay and keep the run on-track for athletes across the country, some of whom were flying in from all over the globe to meet up with the relay at very specific places & times. The size & shape of Miles made it somewhat difficult to hold while running, yet it seems many automobiles thought we were part of an Olympic torch relay based on the number of honks and cheers we received along the route. One note when sharing a baton with 1999 other runners: bring along Clorox wipes. At some point, the sweat and heat knocked out the first GPS and after our section Miles I was retired for a backup, which was good considering it had already seen blood, sweat, and vomit on it with barely one state under its belt!
The One Run for Boston crew held One Run For Boston II in 2014, raising nearly half a million dollars for Boston-based charities. In 2016, the ORB proudly threw their support behind United Relay of America, three unbroken chains across the USA to raise money for 16 different charities seeking to make a positive change in people's lives.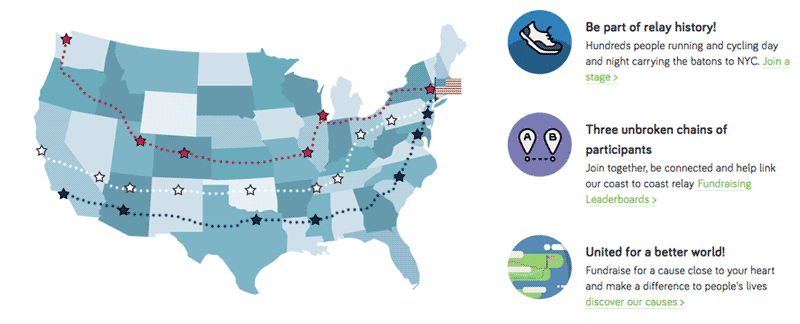 Trans Con Relay: Run 2 Respond Relay 2015
Arizona is perfectly situated to take part in many trans-cons as LA to NY is considered the traditional route, skirting just below the highest of Rocky Mountain peaks. In 2015, Eric & Nina Acuna shared a link to Run2Respond Relay and I immediately jumped onboard along with Jason Farmer, who I'd just met a week or so earlier when we squared off at his first triathlon. Unfortunately, food poisoning knocked out Team Acuna, and Jason and I were tasked with 40+ awesome miles under the AZ stars taking us from Wickenburg to Peoria; a route I know well after a half dozen Ragnar Relays using most of the same streets. One extremely interesting note about the R2R route – it's not the shortest across the country, and even goes "out of the way" to place the checkpoints at fire stations across the country. In 2016, nearly ALL waypoints and interchanges will take place at fire stations across the USA, this year traveling from Bar Harbor Fire Department in Bar Harbor Maine all the way to Los Angeles Station #5 on Venice Beach California.
While Scott Allender followed along to keep us safe and on-track as well as locating the other runners before & after us, Steve Bender kept tabs on our progress, tracking hundreds of runners across the country. Bender is a bit of a celebrity in his own right; aside from creating Firefighter 5 Foundation, Steve is easily recognized at marathons by his chosen attire – running 26.2 miles in a full fireman's suit, 50 pounds in total, complete with helmet. He's a pretty special dude, and the Mud Run Guide team is on-board to help raise awareness and fill all the open spots to keep the chain unbroken from Atlantic to Pacific!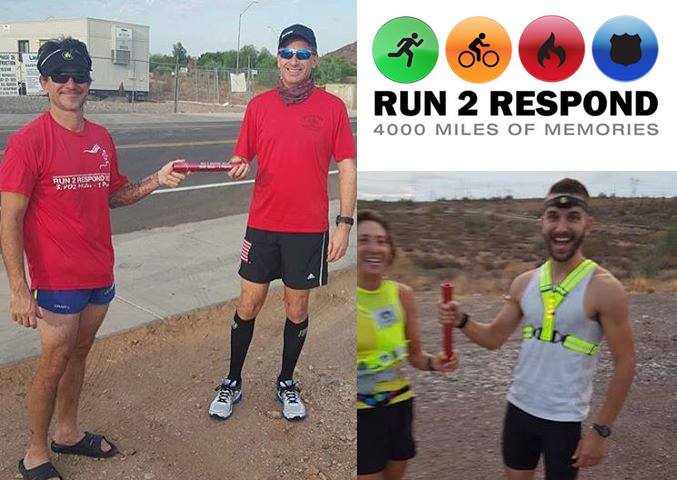 2017 Changes – How About Winning a Car?
Aside from the direction swap and addition of hundreds of fire station checkpoints across the country, Run2Respond Relay 2016 has added Virtual Legs so you can take part wherever you are in the world! Another exciting upgrade is the pace vehicle, but I'll let Steve tell you:
Last night we announced some big news. Today it has been confirmed so why wait. The #run2respond relay will have a dedicated support vehicle this year following the participants.

That's not the big news though, the news is that the support car will be given away to one of the participants – including virtual – after the relay! More details to follow. Remember, everyone registered by June 1 will receive an extra ticket.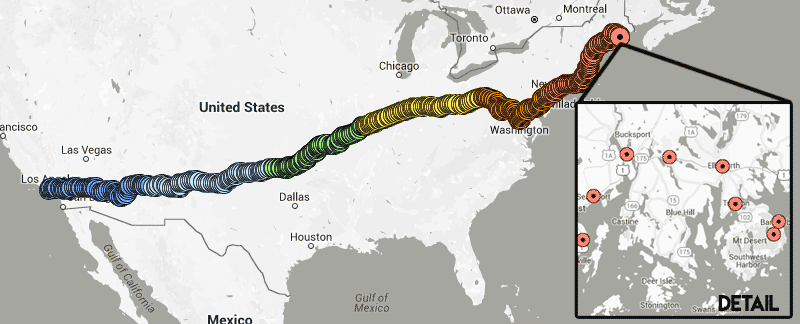 Please help Mud Run Guide support Run2Respond Relay 2016, grab an open leg or a virtual leg now!
Run Until Life Makes Sense
Sometimes life doesn't seem to make sense, so go out and run (or laugh, hike, love, fish, etc.) until it does; I fully endorse living your passion and Run Until Life Makes Sense.
---
Disclaimer: The viewpoints expressed by the authors do not necessarily reflect the opinions, viewpoints and official policies of Mud Run Guide LLC, or their staff. The comments posted on this Website are solely the opinions of the posters.