Be sure to check out the bracket of results each week, and our behind the scenes interviews, news, and more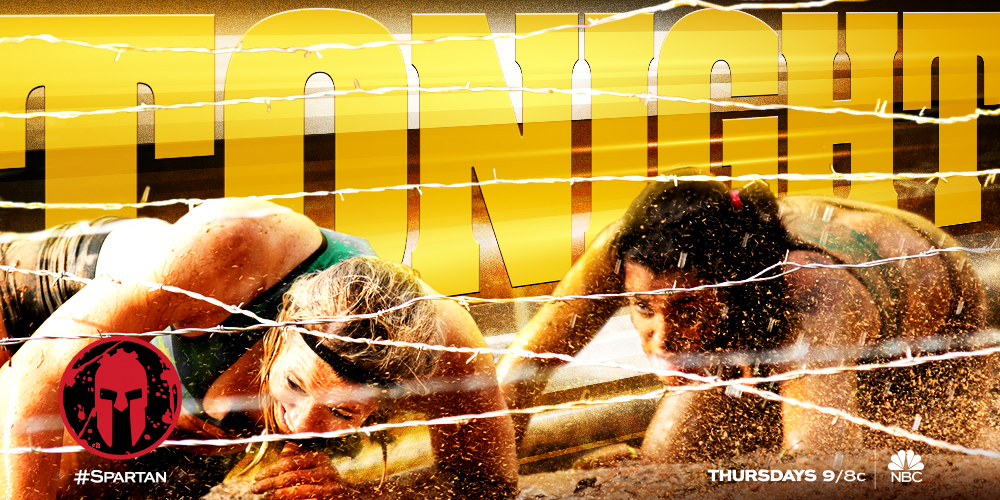 The Spartan: Ultimate Team Challenge aired their second episode on Monday night after American Ninja Warrior. The show moves to its new home at 9pm on Thursday nights on NBC. Before the show airs on its new night, Mud Run Guide brings you behind the scenes from Monday's episode with interviews from Bounce Squad and the rest of the teams.
This week we asked participants about the obstacles and their experience overall. Watching at home the audience only catches a glimpse of the trials and tribulations of the teams. Today we bring you behind the scenes and behind the episode with first-hand accounts from participants.
Tune in tonight at 9pm eastern time on NBC. Six more teams face off tonight in the hopes of making it to the championships. Tonight's episode features some very familiar faces in the OCR world; Hunter McIntyre, Amy Pajcic, Amy Winters, David Magida, Jackie Landmark, Andrew Jones, and Stephanie Clements. Until then enjoy a look behind the scenes of Monday's episode.  
Bounce Squad
Amiee Flint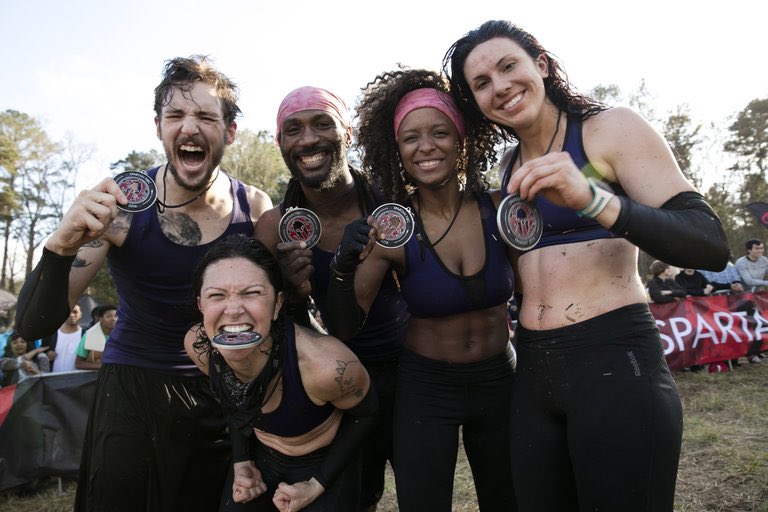 The Spartan: Ultimate Team Challenge is different from the Spartan Races mostly because those courses are meant for you to conquer each task as an individual. Although teamwork can be used in the races, many obstacles in the SUTC took working as a unit, communication and understanding your weakness & strengths and what role you and they played in the group. 
Spartan Race working together with American Ninja Warrior took every obstacle you've ever known and cranked it up. Like the rope climb, I've never had to deal with the energy of another person on my line, let alone 4 separate people. I remember holding on, sitting above a knot with my thighs locked in and doing my best to maintain my position. And then when getting off the rope climb, you had to ensure you didn't land on anyone, again this is where communication was key. Or the Traverse Wall, that was one of my personal favorites and I think one of the more difficult obstacles. Since I'm short there are several obstacles where I am easily at a disadvantage, and even though there was a platform, I still needed a boost to just to reach the timber. Once you latch on, one must prepare to hang until everyone else locks in. As you begin to progress, everyone's legs and feet start kicking everywhere to keep the momentum and if anyone were to fall off, you needed a massive log to create a step/platform to jump up from, meanwhile all the other teammates are hanging until the team is complete and can continue to move forward.  
Even though I run Spartan Races and can do well on my own, it was magical forcing myself to keep going because my team was going. When coming up to the Dunk Wall at the end of the course, you're completely gassed  & out of air, jumping into the 55-degree water which compressed your lungs and required you to hold your breath to go under water. Here is your moment you make the decision, do you allow the fear of "what if" to set in or do you let go of your inability to breath and just keep moving? At that moment, I made the best decision I could think of and with not an ounce of air in my lungs, I dove in because my team was on the other side waiting. 
Amber Johnson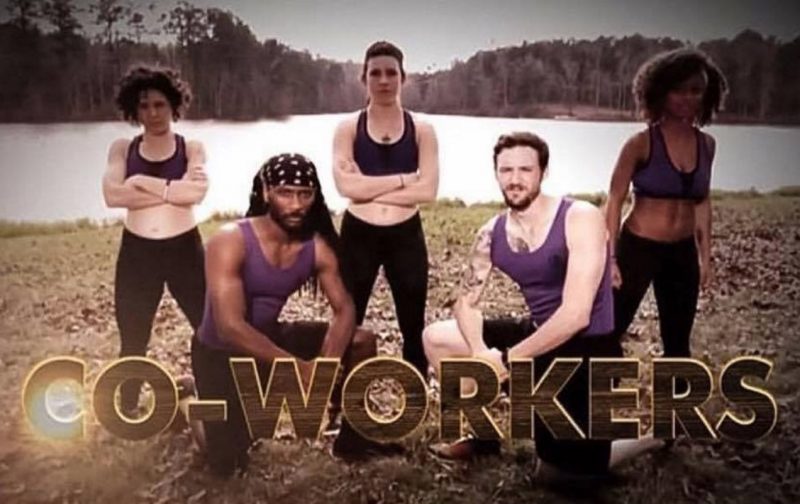 Spartan: Ultimate Team Challenge, a race that brings out the primal, resilient, adaptive nature that lies at our core. It is a rare occasion where our basic need to fight and survive can emerge without true endangerment of life. In this way, the ultimate team challenge course is very much like standard Spartan Race courses.
There were familiar obstacles such as vertical walls, barbed wire crawls, and rope climbs that gave the course a sense of familiarity. Having raced multiple Spartan Races, this familiarity with the obstacles gave me a sense of confidence that I could not only conquer what was ahead but could also coach and guide the team effectively.
Apart from the inspirations drawn from Spartan Race, I found the team challenge course to be a much bigger beast altogether. It was a hybrid between Spartan Race and American Ninja Warrior with an added team element that would make or break you. It was a short, fast course that not only took the speed and strength needed for Spartan Races but also the tact, skill, and finesse needed for American Ninja Warrior. The team element, however, was the biggest difference when comparing the courses.  Constant, effective communication was needed between all team members at all times. With the exception of a few, most of the obstacles required the cooperation of all five team members to complete them. To name a few, the 600+ pound totem poll or the 300-pound log carry would be all but impossible alone.
Poor team communication on obstacles of that size would easily cost you valuable lead time. One of the hardest obstacles was the dreaded slip wall. The towering 18-foot wall was slick and unforgiving. Here, a strategy was the key component to its completion and rarely brute strength. Each of the five team members overall strength, height, and size had to be accessed to build an effective human ladder. Displaying our team's effective communication can be seen on our very first attempt at the slip wall.
A quick re-assessment of our strategy was all that was needed when our first ladder fell, and we assembled the ladder again, this time with Solomon as the base. It worked like a charm! With all of that being said, the Bounce Squad remained true to nature: upbeat, trusting, and just a plain old good time! Despite being frigid from the December air and icy water, bruised and beaten, I would drop everything to do it again. It was a life changing experience that connected me with some of the most amazing and inspirational athletes from around the country.
Each episode tells of hardships overcome, and new found strength and resilience that is put to the test of that course. Best of all, Bounce Squad is no longer just a team, but family. And a family that suffers together stays together. In that way, the translation from Spartan: Ultimate Team Challenge and Spartan Race is clear. It is a chance to find out who you are, what you are made of, and if your WHY is big enough to endure. 
Team Grey Guard
Deborah Arrieta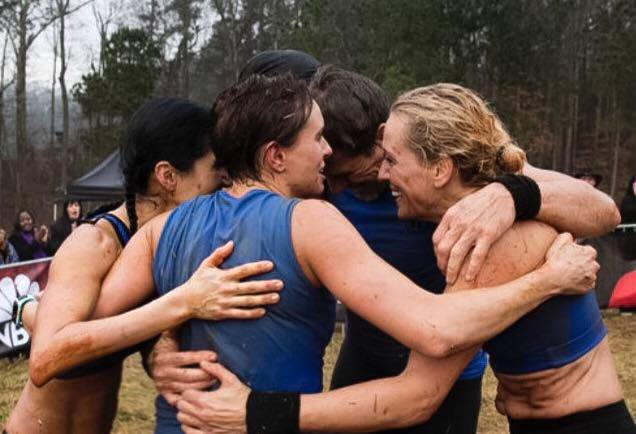 What made this so much different than a standard Spartan Race?
When you are going into a standard race, you only have to answer to yourself. You can own your strengths and weaknesses. With this challenge, it's different, as an obstacle cannot be completed unless we are all working together and trusting that each of us is going to perform. Communication is integral, as is not having any ego. When you are faced with lifting a 200lb log and subsequently required to walk 250 feet, climbing up two platforms then lifting it onto brackets to immediately jump on it to zip 60 feet across a mud pit you realize it's not about you.
Obstacles (difficulty vs standard race and most difficult in the event), collaboration, atmosphere and even pacing?
The obstacles are nothing like a standard race as this was a demanding course in that everything was done on a larger scale and within a short space of each other therefore the pacing you would have at a Sprint, Super or Beast is thrown out the door. The only pace is "GO"! And while any racer will tell you, freezing water comes hand in hand with what we do, imagine carrying a shield as freezing water is being pelted on your face and fans are blowing what feel like hurricane force wind in your face in December! I am sure there were many "beeps" covering up the choice words coming out of my mouth as one point I couldn't even see!
There are some of the traditional obstacles that Spartans are used to seeing, such as the barbed wire crawl, herc hoist, dunk wall and spear throw however I liken them to wicked incarnations of the originals as the bar was raised in both the difficulty level but also sheer size.
And while the slip wall seems to be everyone's most difficult obstacle that was actually my personal favorite. The team practiced scaling walls in the parking lot by our hotel and at the Bradley Frost Compound, so we went into our race with a solid plan on the order we would mount the wall. We actually currently have the fastest time up the wall and scaled it without any falls. It's the one obstacle I wish they had shown us at especially during our first heat as we were in perfect sync and flew up the wall. I can still remember the crowd going crazy as they watched us flash it.
Which brings me to what we felt was the most difficult, and that was the Log Traverse. Coming up to the obstacle, we all had to jump on the log and then utilize feet to scale horizontally across vertical walls that were side to side with space breaks while hanging. For some reason, the team despite pushing and moving in sync couldn't get any movement. At one point, I was starting to slip so had to wrap my legs around Tony in order to stay on the log. But that comes back to knowing and trusting each other without egos, as I knew I was struggling to hang on and rather then drop I went for the assist.
And when I say none of these obstacles could have been achieved individually I mean it. From the Timber Drop to the Totem Climb nothing could have been accomplished without each of us working together.
What made this really stand out, and how do the two translate to each other?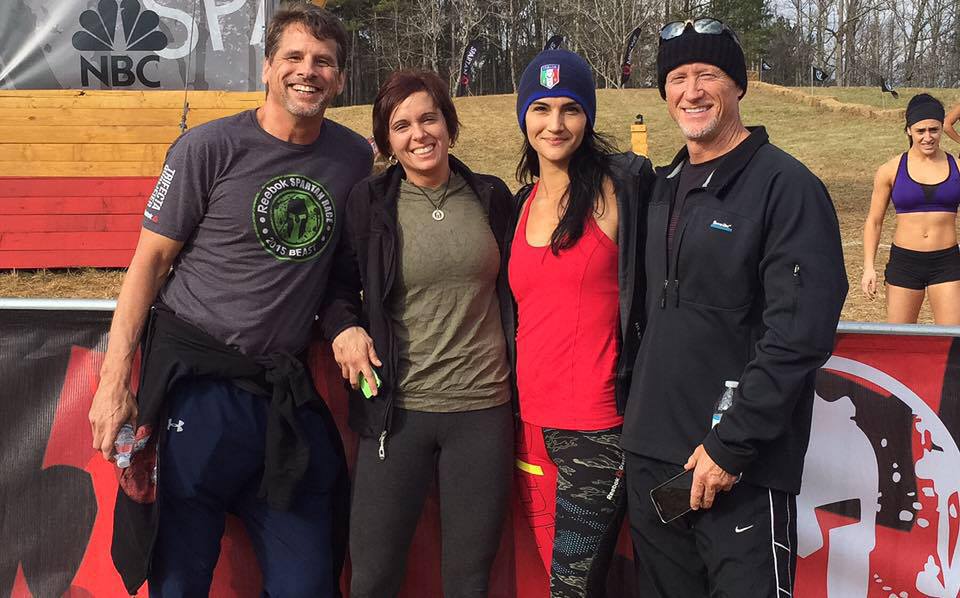 My first Spartan was Wintergreen, thanks to someone challenging me to Spartan Up. I thought after finishing the race that nothing would ever compare to the experience of conquering the Death March and crossing that finish line. I was wrong. To call this race epic, is almost an understatement. The scale of the obstacles and the momentum from start to finish, coupled with having four of the most amazing athletes next to me is almost indescribable.
And that is what stands out the most, being able to share this experience with April, Richie, Tony and Ramona. We genuinely love each other and run races together and when we aren't in a team competition and running solo still have each others back cheering for one another. You ask any of us and we will tell you, we imprinted on each other and it translates into what you saw on the show. As this course strips you down and really forces you to push past any limit your mind is creating so that raw emotion isn't fabricated for the show, it's real.
It is also what translates between the two races, as Spartan is truly a community of athletes who support and understand each other. We all walked away with new friendships as there is this special bound amongst all of us similar, albeit more intense, to what one experiences on a regular Spartan. I will forever be thankful that I was given the opportunity to be a part of Season 1, and its also why you hear so many of us saying we can't wait to be given an opportunity to come back for a Season 2.
Unique Memories:
The pre-race training with the team and April are some of my best memories. I'll never forgot April telling Richie, to "Quit F* Around" while we were running OCR drills. To this day this is our catch phrase to one another when we are on a course or are simply training together. We liken it to STFU but Grey Guard style!
And the team the night before the race, scaling a wall at the Frost Compound…we were there well into the night but I remember looking at the team and knowing that I would go into any battle with them, especially ones that include mud, water and epic obstacles.
My two cents:
I know there is a lot of commentary regarding regular individuals doing this course and not being athletes that it isn't Spartan, where are the burpees. But what needs to be remembered is that what makes our sport so incredible is the fact that anyone can truly do this. Many of us were competitive athletes in other sports but due to injuries or other exterior factors we couldn't continue. Spartan, like other OCRs gives all of us the opportunity to be athletes and make positive all around choices to better our health and it has never been just reserved to those who are elite or former star athletes. Anyone can do this whether they are adaptive like I am, young, old, or someone who simply wants to make changes in their life but have never attempted an OCR. And teams such as Farm Strong, prove that. From talking with them during the week of filming, I learned they had never done a Spartan previous to this race but look how incredible they were. I was so inspired watching them! So this show is 100% Spartan as we were all tested and pushed beyond all of our expectations and came out stronger because of it.