(Brett's email this morning)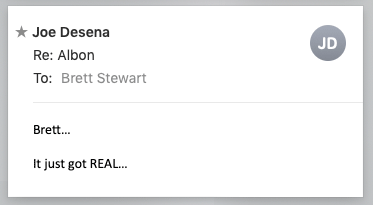 Earlier this year Joe De Sena, founder of Spartan, reached out and asked our advice on the new idea he was kicking around – creating a $1 Million Spartan Challenge – an athlete would have to win the Spartan World Championship in Lake Tahoe, CA, Trifecta Weekend Championship in Sparta, Greece, and  Ultra Championship in Iceland (and run 100 miles there)… and Brett's feedback was pretty straight-forward:
"You'd be writing a check to Jon. There are only a few athletes in the world that can hang with (Jon) Albon at sprints through ultras, Ryan (Atkins) may be the only one who has a shot, first he'd need to take Tahoe" – Brett Stewart
Our team chatted, and we really didn't think he'd move forward with the challenge, much less put up $1 million of his OWN MONEY… we've also learned better than to bet against Joe taking some huge risks to grow the Spartan brand worldwide.
With Jon Albon edging out Ryan Atkins by less than 20 seconds in Tahoe at the Spartan World Championship, the first die was cast.
Let's Go Home – to Sparta!
Winning the Trifecta Weekend was not just a single race, but the average finish time of all three Spartan Trifecta distances – Sprint, Super, and Beast – all taking place in less than 30 hours!
Saturday 11/3/18: Spartan Sprint Trifecta World Championship Results
Jonathan Albon 38:46 – Janka Pepova 49:10
Sergei Perelygin 39:51 – Zuzana Kocimova 51:05
Albert Soley 40:07 – Nicole Mericle 53:35
Saturday 11/3/18: Spartan Super Trifecta World Championship Results
Albert Soley 1:26:10 – Zuzana Kocimova 1:43:11
Richard Hynek 1:26:31 – Nicole Mericle 1:44:35
Jonathan Albon 1:26:54 – Janka Pepova 1:47:34
Sunday 11/4/18: Spartan Beast Trifecta World Championship Results
Jon Albon 2:34:26 – Zuzana Kocumova 3:06:46
Richard Hynek 2:42:40 – Nicole Mericle 3:11:31
Albert Soley 2:46:35 – Janka Pepova 3:22:47
Overall Spartan Trifecta World Championship Results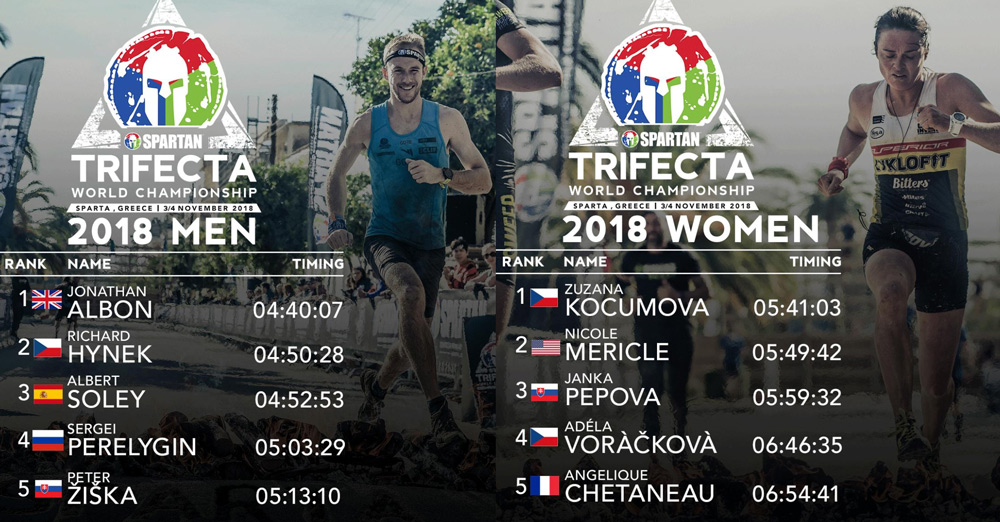 Joe Weighs In
Brett had a quick chat with Joe this morning after his red-eye from Greece and he confirmed his mash-up of excitement and fear with Albon controlling his own destiny en route to a 7-figure payday:
"Jon reminded me in Sparta that he'd done 104 miles at WTM (sic – during a sandstorm) and if it's warm in Iceland – I mean, if the sun comes out at all – he has a shot of passing 100 again." – Joe De Sena
Next Step, 7 Figures?
After this weekend Albon is one step closer to the $1 Million dollar prize winning the Trifecta Weekend Championship in Greece. Lindsay Webster, who won the women's Spartan World Championship in Tahoe opted out of the weekend and is out of the running for the unprecedented prize purse. However, as we noted in nearly a month ago, Albon's road to Iceland is not entirely clear as he has yet to QUALIFY to complete in Iceland.
How do I qualify for the Ultra World Championship?

You must finish any regular-season Spartan Ultra in the world with a finish time of less than 10 hours.
As we reported before, Albon has not run a Spartan Ultra to date in 2018. The clock is ticking as Albon must decide where in the world he wants to travel to in order to qualify. from our Oct. 9 article:
In order to fill the Ultra requirement… Albon will have to travel to… Bright – Australia or Carolina's Ultra (USA) on November 17, or San Luis Potosí for the Mexico Trifecta weekend on November 27, or finally travel to Malaysia on December 1-2 just a week before the Ultra World Champions to get that final piece of the qualifying puzzle.
So now the obstacle racing world waits as we see what race Albon will tackle in order to continue his quest for $1 Million. As Mud Run Guide learned last week, the money is coming personally from De Sena as the insurance company deemed it too much of a risk.
Next Steps
As stated above Albon needs to run one of four remaining Spartan Ultras in order to qualify for the Championship. If he is able to find, travel, and run an Ultra in under 10 hours he will be one step closer to the prize purse. However, it will still be a long road. Albon will not only have to win the Spartan Ultra Championship in Iceland but also run over 100 miles in order to make history and capture the largest prize purse in obstacle racing history.
The Final Word From Joe
"He loses because of the double sandbag and got "struck down" a few years ago… I had no idea he would become 'more powerful then I could ever imagine'" – Joe De Sena