Overview
We've reviewed a handful of other Salming trail models already, including the Elements 2 and Pro Comp OT (men's / women's), as well as Speed 6, one of their lightweight road running / racing shoes. In all of the models we've tested (with rave reviews for each, by the way) a pattern has emerged that sets Salming apart from some other international footwear manufacturers: they are dedicated to incrementally improving their off-road and road running models independently without a true "crossover" that comes from 'just sticking some treads on a road shoe and calling it a trail runner'. While I do believe that can have some merit and yield positive results to runners that can easily slip into a road and trail model with the same fit and function by merely adding more traction (see 275's), I've slightly panned other manufacturers where their trail shoe seemed to be a lackadaisical attempt to turn a blah road shoe into a decent trail runner. (I just re-read that review and it seems I was a little more positive when I wrote it as the AOC fell out of my shoe rotation fairly quickly).
Salming Greyhound: What They Say: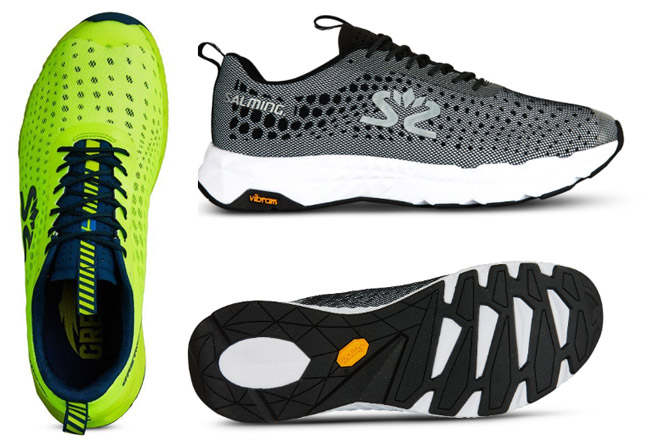 Crafted for hard-surface running – unleash the Greyhound in you!
Salming latest addition to the road segment is a road warrior – a shoe tailored for hard-surface running and the impact forces that comes with it.
Outsole
COMPOUND
25% more durable – this is Salmings most durable performance outsole material to date, developed by long term partner Vibram – the world authority in terms of performance rubber outsoles.
DESIGN / CONSTRUCTION – A racing slick design with minimized outsole pattern for excellent traction on dry and wet hard surfaces such as tarmac, asphalt and concrete.
Midsole 
COMPOUND – Recoil PLUS – provides an incredible 20% higher energy return, making it Salmings most reactive compound to date! (Compared to Salming standard material).
Upper 
DESIGN / CONSTRUCTION – Less is more – the Greyhound upper has an advanced simplicity to it, both visually and performance wise. The main body upper contains a lightweight one piece 3 layer construction that holds the foot in place, provides great breathability and a snug fit. The tongue construction features a gusset construction to add to the comfortable wrap-around feel and the laces are racing thin.
Stack Height: 28mm
Drop: 6mm
Weight: 9.8 oz (US size 10)
Midsole: Recoil PLUS
Outsole: Vibram
Pro Tip: I can't stress this enough – Salming USA's website features an online outlet with shoes constantly on sale where you can find some great deals on high-performing road and trail shoes. At last glance, there were 32 different men's and women's models available!
What I Say
Based on my experience with the Salming Speed 6, I came into this test with high hopes and was horribly disappointed…. nope – I can't even joke around – I was once again very pleased in the fit, function, and performance of the Greyhound. The upper is flexible and vents nicely, stretching to fit without feeling tight across any areas of the toebox while also being pretty damn attractive. Friends, who constantly see me testing new shoes all the time have given a few "Oooh, what are those?" based on the leopard spots across my feet that follow almost a wave pattern. While the Speed 6 are probably the wildest-looking road shoe I've ever worn (and love) due to the highly reflective uppers, the Greyhound are sleek and sexy. (Note: I have the gray model yet would totally rock the screaming neon yellow ones as well)
Pros/Cons:
Pro-ish: While a little heavy for a true "lightweight" road runner, the majority of their weight seems to come from the very durable Vibram sole. So, while they are not really a racer, the upper and midsole are of a high-performance shoe that yearns to break free while being weighed down a bit by a utilitarian high-mile sole. Put a wafer-thin racing sole on 'em and you've got a 6mm drop, 8oz shoe that'll run like… well, a greyhound.
Con: I hate the spaghetti-thin laces. Seriously – why??
Pro: The "Recoil Plus" foam seems to be even softer and more dynamic than the previous version of Recoil foam in last year's Speed 6; I find them comfortable and responsive for tempo runs as well as easy slow miles.
Neither: At the tip of the toes there is a clear plastic wear guard that I just don't think is necessary in a road running shoe – it belongs in either a trail shoe that'll see more contact with the terrain or in a cross-training shoe that'll see toe contact in calisthenics. Initially, the tightness across my big toes was slightly distracting but seemed to go away after a few miles. While it doesn't bother me at all right now, I still am a teeny bit irked that it's there at all.
Neither: The upper is a bit stiffer than the Speed 6 – which it should be for a middle-of-the-lineup "trainer that you can use for long miles or racing" model, providing a wee bit of stability in an otherwise neutral-ish cushioned shoe.
Neither: The tall stack height (28mm!) makes me feel taller (which is a plus!) and doesn't diminish the wearability of the shoe by feeling clunky or blocky underfoot. Even with all that foam underfoot, the Recoil Plus is firm enough that they never feel like a mushy marshmallow either.
Final Word
Another win for Salming, although the Greyhound's addition to an already chock-full lineup makes picking a road running or trail* runner quite difficult – which is sorta a good problem to have with so many good models: Racers, EnRoute, Miles, Miles Light, Speed, Distance – there are a lot of models to choose from in order to snag a specific tool for your specific miles. Were the Greyhound designed to be the all-around catch-all shoe for a comfortable, durable, no-nonsense runner? Possibly!
*Salming's trail shoe lineup is equally difficult to pick out the specific model as they are all quite good as well, if I were to make a guess at the shoe that most closely resembles the all-around goodness of the Greyhound for trail running, I'd probably choose the T5 Trail.
Salming Running Greyhound Men's & Women's shoes are available now at shopsalming.com for $155.