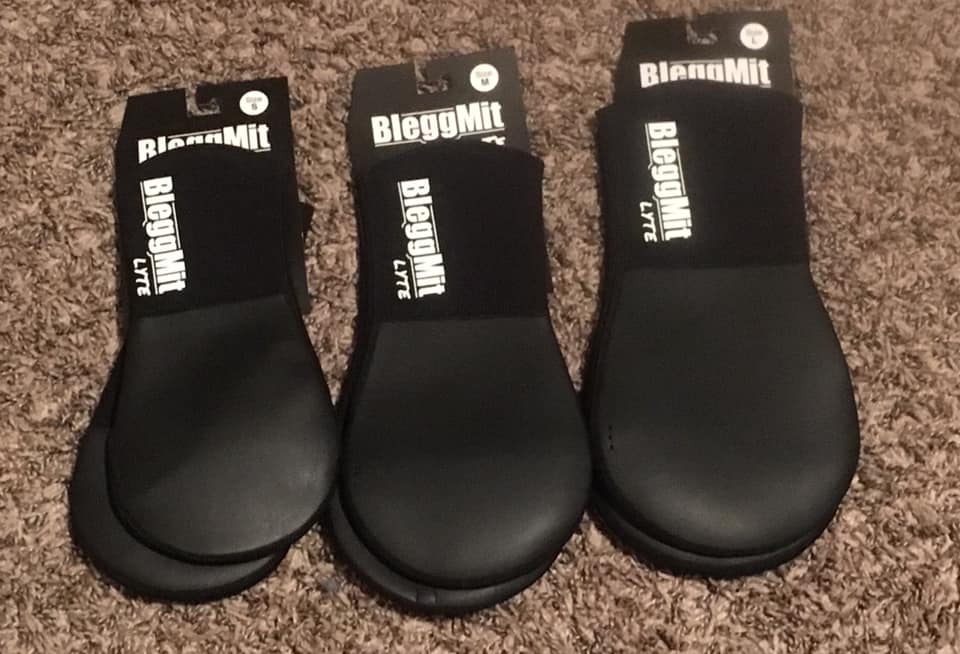 World's Toughest Mudder Champion Deanna Blegg knows what athletes in our sport need.  Several years ago she created the famous "BleggMits", neoprene gloves that allow you to easily expose your hand to complete obstacles without removing your mittens.
At the end of 2018, after several years of keeping athlete's hands warm and helping them crush their goals, she unveiled the BleggMits Xtreme (3mm) and the BleggMit Lytes (1mm).  As of now, both are now available shipping from the USA.  This is the third iteration of the BleggMit.  The original version had a vertical opening and was 2mm in thickness and is no longer on sale.  It has since been replaced by the two new options, the Xtreme (3mm) and the Lyte (1mm).  This review is focused on the Lyte, to read the Xtreme review check out this previous Mud Run Guide article.
Warmth:
The 1mm keep your hands warmer than any pair of glove I currently own, especially when wet.  I found that when doing training runs in the 3mm, even in very cold temperatures, my hands would get warm requiring me to vent them frequently.  With the 1mm, I find them much more comfortable for training runs.  In fact, I plan on keeping the Xtremes with my Obstacle Course Racing (OCR) kit and keeping the 1mm with my cold weather running gear during the off-season (Mid-November to March).
Design:
Just as with the 3mm Xtremes, the design on the 1mm Lytes is much improved over the original BleggMit.  The 1mm version has a top opening flap (like the 3mm version), which is proven to be easier and more user-friendly the vertical opening on the older model.  On the Lytes, there is no adjustable wrist band for tightening nor is there a watch flap, it just uses friction/fit to stay on your wrist.  As long as you buy the right size, I haven't had any issues with them despite the lack of wrist strap.
Fit: 
The fit is noticeably tighter than the 3mm Extremes.  I normally wear medium in almost everything.   The medium on the Lytes felt snug for me.   Since I often run with my hands balled up, especially in cold weather, the snug fit didn't bother me.  However, if you like to run with your hands open or fall on the border between sizes, I would go up a size.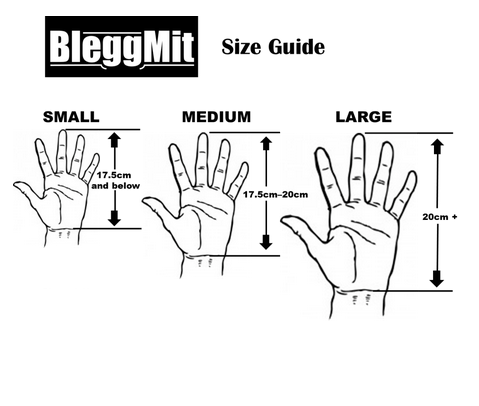 Benefits:
The big question is who should get these and if I already own a pair of the Xtremes, should I get the Lytes too?  Well, the answer depends on your goals for this year and next.
For the Ultra-OCR Athlete:  Yes, they are definitely value-added.  I now own the old model, the Lytes and the Extremes.  For this year's World's Toughest Mudder and other cold Ultra-OCRs, I plan on using an alternating system for each lap.  Basically, run a lap with the Lytes then switch to the Xtremes for a lap before flip-flopping each lap.  While I'm running, my pit crew will dry the insides and keep them close to their body.  This will give me a dry/warm pair of BleggMits at the start of each lap.
For the Elites:  Yes, whether you are running an Ultra-OCR or just a bad weather Spartan Race, you want the best possible gear to help you win.  Having the right gear could make the difference between a podium and 4th place, which is the difference between a payday and no money.  In that instance, the gloves pay for themselves.  I like to steal a lesson from cycling for this example.  Cyclists are very concerned about rotating weight (i.e. shoes, wheels, gears) since it is more costly than static weight (i.e. the bike).  Putting weight on the distal end (like by your hands) is more costly than on your hips.  I believe in the racing philosophy of ounces make pounds and pounds slow you down.  Therefore, I try to keep weight to a minimum and having an unnecessary 2mm of wet neoprene at the end of my hands is costly if not needed.

For the Open Wave Athlete:  Depends on what races you are doing.  I personally think the Lytes are more versatile than the 3mm Xtremes and thus the better fit for most races that aren't Ultra-OCR.  They still provide the benefit of neoprene at a lower price point, with less weight and allow for a more comfortable hand temperature in my opinion.
Overall: 
So how did Deanna do in her latest creation of gloves made by an OCR athlete for OCR athletes?  It's an easy 5/5 stars.  Deanna continues to innovate creating products that are designed specifically for our sport.  While I have heard of people using them for things like hunting, water skiing, camping or any other outdoor activity in cold weather, the bottom line is they were created specifically with us in mind.  I love that Deanna found success in our sport and continues to invest back into it.  I'm hoping that other athletes continue to follow her example not only as an athlete but also as an inspirational person and entrepreneur in OCR.
Where to Buy:
If you live in the Western Hemisphere, you can order them from Strength & Speed, which ship from the US.
If you live in the Eastern Hemisphere, you can order them directly from Deanna here, which ship from Australia.
Pictures from the BleggMit website or provided by Strength & Speed.