The bad news about 2020 is many of our usual races are getting canceled and postponed.  The good news is this is leaving some room and opportunities to run more local brands.  I've run a version of almost all of KC Timber Challenge's events:  The wintertime / snow themed Yeti (2019 and 2020 for OCR America 2), the Extreme Timber Challenge race (their competitive one in the fall for the last two years, which is now an OCR World Championships qualifier) and even their OG Timber Challenge race.  However, there is one that I may have been avoiding…the Wild Women's Timber Challenge.

This is one of the most unique OCRs because it is a female-only event.  As a male that excludes me…but I can still run the event if I dress in drag.  Well…desperate times call for desperate measures and I've been itching to get back out on another obstacle course.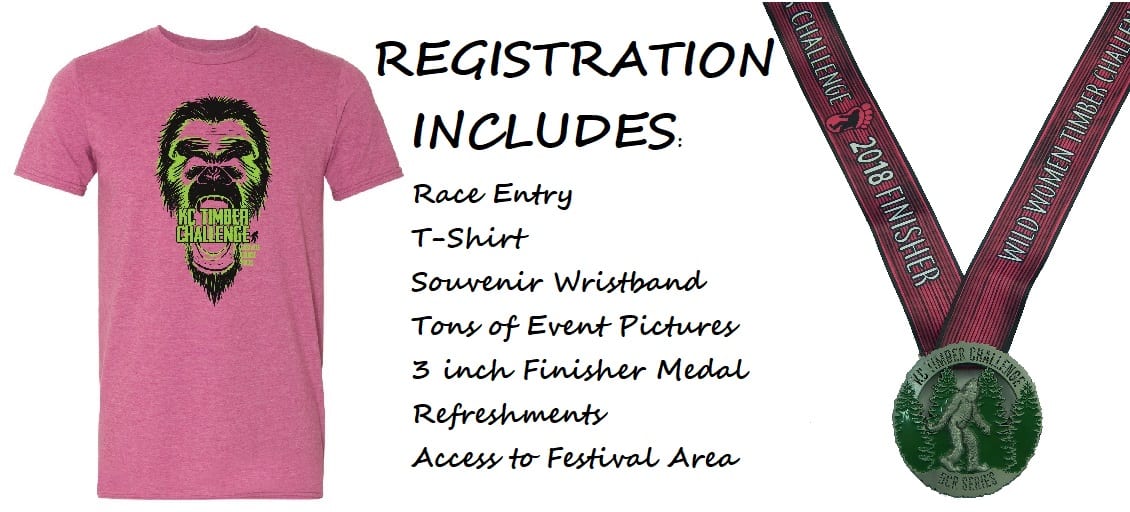 So…I'm throwing on my pink MudGear socks, VJ Shoes, rummaging around my wife's closet/old Halloween costumes, smearing on some extra Squirrel's Nut Butter because I don't know what the chaffing situational will be like and I'll be running with the ladies for 5k of fun with some awesome obstacles on this permanent course (reference some of the ones they had at XTC).  I would like to tell you this is my first OCR in drag, but I did Tough Mudder TN as Wonder Woman back in 2016.  I expect next weekend to be just as memorable and hoping to see some of you at KC's first post-quarantine OCR.  The event is non-competitive so if you are worried about placement don't be, you can run as hard as you want or take it easy.
Grab your girlfriends or some adventurous male friends and get signed up.  With fewer races going on in 2020, it is more important than ever to support brands (as I talked about in Supporting OCR Brands in 2020).  If it's anything like my last OCR in drag (see highlights below), it's going to be an epic amount of fun.  I'm all about competitive racing, but just enjoying the course once in a while is a nice change of pace.  Check back on Mud Run Guide's Instagram for some pics/stories from the event.  Then the week after, look for a post-event recap here on Mud Run Guide.  Hope to see you on the course on June 28th.
Below are some of my favorite highlights from my last OCR in drag when I was dressed as Wonder Woman:
Go Wonder Wom…eh..er…Wonder Man?
Guy: Did you shave your legs?
Me: Yeah. I shaved my arms too.
Guy: Wow. That's commitment.
(As I run by dudes on my mile 18, after I assume he checked out my ass)
Mudder to his male friends: That was a dude.
Woman Post Race: I loved your costume from across the field, but once I realized you're a man it is even better. Come over here and take a picture with me so I can update my profile pic.
Mudder: Where's your lasso of truth.
Me: It's in my invisible jet.
Volunteer: You're the second guy I've seen dressed as Wonder Woman.
Me: Nope that was me….this is lap 2.
Volunteer: I can't decide if your the first place female (pointing at me), or if she is (pointing at actual leading woman)
Pictures from the KC Timber Challenge Facebook page
Wonder Woman pic from Evan's Facebook page