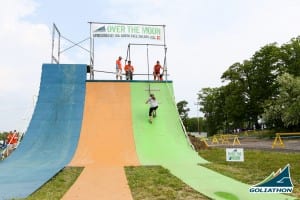 Often in the world of obstacle racing those who have been racing for years start to see many of the events as essentially the same. There will be a few walls, maybe some barbed wire or other low crawl, fire, and probably something tall to climb or hang from. There is water and mud. Whether the event is timed or untimed overtime many of the events start to blend together, it is that one obstacle that stands out the masses clammer over online. Those races and events are fun but after thirty, forty, fifty or even one hundred obstacle races finding a truly unique race format can be challenging. However, Goliathon and the team are doing something completely different and other race series could take a page from them.
About Goliathon
Goliathon is an untimed event held on a semi fixed course in southern New Jersey at a 4-H fairground. The organization is run by a core group of 12 who manage and function as a unit; building, promoting, marketing, and handling logistics and registrations. There is no corporate team behind this event, in fact everyone at Goliathon is a volunteer. Goliathon is 100% a charity organization. Listening yet?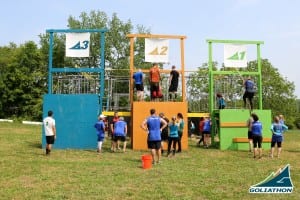 Other than the unique structure of the staff, the event itself is completely out of the box. Although the event is untimed, it is still a competition. Instead of competing to be the fastest of the day, scores are calculated by obstacle completion. The course covers about four miles and consists of just over twenty obstacles. Of these twenty obstacles twelve of them are scored. These twelve obstacles are unique as participants have the choice of three different routes through the obstacle. Goliathon classifies them as G1 (easiest), G2 (medium), G3 (hard). It's easiest to classify them as easy, medium and hard, although in reality they can feel more like challenging, really hard, and nearly impossible. Completing a G1 gains the participant 1 point, G2's are 2 points, and G3's are 5 points. G1 & G2 obstacles participants are encouraged to help each other, G3 you are on your own. It really is like the Choose Your Own Adventure books of childhood.
Running up to these obstacles the three lanes are color coded and the participant has one shot at their chosen path. Pick the wrong obstacle, or fall off half way, no points. Pick the easier path, miss out on valuable points. It adds a mind element to the event. Every successfully completed obstacle gains you a wrist band – G1= grean, G2=tan, G3 =Blue also a judge marks your number down as a backup.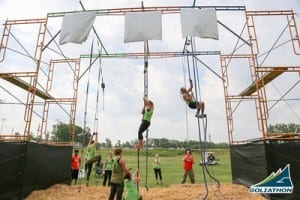 An example of these tiers might include the rope climb obstacle; G1 is a rope ladder about 10 feet high, G2 a knotted rope about 15-18 feet high, G3 an unknotted rope and you must wear 40lbs of chains over your shoulders as you climb and use the chain to hit the bell at the top. These tiers result in an option for everyone. Complete all G3 obstacles and earn an #IAMDAVID t-shirt. Only two participants have received this shirt after three events.
Charity
As mentioned before Goliathon is a charity event. No staff members receive a salary and other than leaving aside some money for obstacle upgrades all the proceeds from the race go directly to their charity partner Charity:Water. This past event a few weeks ago with about 850 participants, will donate around $14,000 split between two Charity: Water projects in Nepal and Ethiopia.
Race Weekend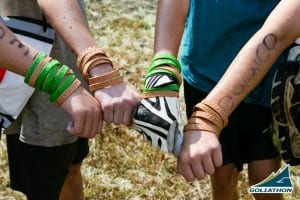 I was first told about this event last summer when running BattleFrog in Pennsylvania, a racer mentioned this new tiered obstacle course and told me it was like no other. Later the opportunity presented itself to see this race for myself and entrench myself with the crew behind the scenes. Could it really be true that this group did all this work, received no monetary compensation, and put on a stellar event. It just doesn't happen that way in this industry. I arrived and immediately was entrenched in the Goliathon team, lived, ate, worked, and slept along side them for three days. They welcomed me into their homes and into the inner workings of the race series.
On race day, it happened to be friend and fellow racers birthday and we had agreed to run the race together. Although Goliathon is most known for their team format consisting of a minimum of three men and three women upto some teams over thirty people; we ran as a pair foregoing that aspect of the race. The course consisted of wooded trail, open fields, and a sandpit. Obstacles took a note from the parkour community as well as traditional OCR obstacles, many of which were multi-step and were more like 4 obstacles in a unique series. We ended up playing it safe all day and choosing the G2 route, helping each other through obstacles, because why not!
While a few of the obstacles ended up with hefty lines, people around didn't seem to mind and since there was no clock, really there was no rush. Often it was a large team that held up the flow, however watching a father coach his 11-year old son through a G3 obstacle is completely worth the extra 5-10 minutes waiting. The people cheered each other on, and the mood was high throughout the course. The Goliathon crew already has been talking about building more lanes so future races won't have these backups.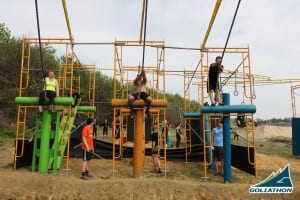 It's hard to say much negative about this event, other than lines, which happen. The team has a passion behind what they do. The tiered obstacle system let all abilities compete on the same course, and finally the swag was great, a nice t-shirt, medal, gift bag with sponsors goodies, and the bands to prove what you accomplished. Although Southern New Jersey is not normally a place one thinks about vacationing at with the race about an hour from Philadelphia it can be turned into a nice racation.
MRG Rating:  5/5
---
Have you tried Goliathon? Share and Rate Your Experience…