Savage Race stages events twice a year at this permanent venue in rural Georgia, they succeed in making each race unique and different. Familiarity may breed contempt, but every time a racer hits this course they are sure to experience something different from what's happened before. The team of imaginative course designers once again added obstacles, found new trails and hills, and changed up the running direction and order of obstacles to keep it all fresh, fun, and exciting.
Race Day
Saturday was relatively warm, but the constant rain made the trails more like muddy slip and slides. Every footstep was a challenge not knowing exactly which way it would slip and slide on parts of the course. Buttprints, sliding board routes, and mud angels decorated the thick mud all over the course.
Parking, Venue, Registration, and Festival Area
Proactive planning did a good job of keeping people from parking in areas where their vehicles would get stuck in the mud and wet grass, and it was a nice, short distance from the lots to Registration.
The Registration process went very smoothly. The early packet pickup on Friday streamlined the race day process as well.
A soggy and rainy Festival area is never the greatest place to congregate before going out on a race course or afterwards. Savage Race let us bring in outside tents accommodating places to gather together when the raindrops got too aggressive.  A big stage, lively music, beer and food vendors made a rainy day much more enjoyable.
Savage Georgia is one of the most Spectator Friendly Venues. Many of their best obstacles are within sight of the Festival Area. The racers walked around and assessed the soaking wet challenges building excitement around the race itself.
The Race
Savage Race was one of the Pioneers in the mandatory obstacle completion for those running for the money in the Savage Pro Heat. No burpees or penalties allowed if you want to be considered for a Cash Award. On a wet, muddy day this humbled plenty of people who are not used to failing obstacles.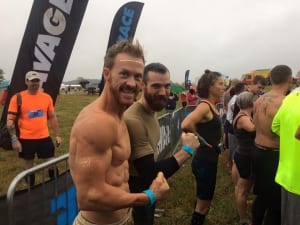 The course was 5.6 miles, and there were 25 listed obstacles. Raise that number into the thousands if you think about struggling to remain upright and functioning with practically every step a challenge. It was.
The Pro Heat racers gathered in the corral to compete for cash prizes, the fantastic Savage Axe that's awarded to the First Place Male and Female finishers, and the chance to race for glory. A celebrity sighting of Ryan Stratis and Neil (Crazy) Craver of American Ninja Warrior added to the excitement. Craver captured Second Place and a $500 Big Check, but Yuri Force once again won the coveted Savage Axe. (I nominate the award be renamed the "Yuri Force Memorial Wood Chopper")
The Obstacles
There were the usual and customary wall climbs, barbed wire crawls, and muddy pits to negotiate. Savage Race also adds it's own flavor of obstacles that make this race just a little more challenging and exciting. Below are a few of the obstacles that stood out.
Davy Jones Locker is a high jump into a pool of water. Some other races may do this, but Savage always makes sure that there are divers and lifeguards available to help mitigate the fear factor just a bit for those who don't want to jump. And there are always a lot of those folks
Kiss My Walls, a traverse wall, but just to make things more challenging it's built on a wedge. Each wall tilts BACKWARDS toward you, and your feet and hands are on rock climbing cleats. This one was a killer under these conditions.
Sawtooth is a signature Savage obstacle with monkey bars going up, down, up, and then back down again over water. An enormous degree of difficulty and a great place for a theatrical splash down and swim.
Shriveled Richard is a dumpster filled with ice water and a barrier that forces you to become fully submerged. Many, many people HATE this one, but the best thing I can say about it is that it's over pretty soon.
Wheel World is a new Savage obstacle with spinning pentagonal metal wheels that you have to negotiate over water much like monkey bars. This is an incredibly challenging obstacle, but the elation of completion was pretty fantastic for those who were good enough to get across.
Teeter Tuber was my favorite newer obstacle. Huge Sewer pipes are set up like see-saws with a fulcrum in the middle so that you crawl inside.  Then you have to pull yourself up inside the pipe far enough past the balance point that your body weight causes the pipe to tip over and slide you out the other end. There are ropes inside, but wet and covered with mud, sometimes the ropes ended up being practically worthless. Having lots of people to lift one end while others pushed down on the other made this quite a bit of fun.
Colossus is the massive quarter pipe obstacle at the end of the race with a water slide on the other side to the Finish Line. Covered in mud and with the ropes wet and slick, this was an incredibly difficult challenge. Major Props go out to the people poised at the top of the wall to help pull racers up. They worked extremely hard, and many people would not have gotten to the top without assistance. Personally, I was glad there was a ladder so I could at least enjoy the water slide.
Adaptive Athletes
The conditions made this course practically impossible for an Adaptive Athlete to negotiate in a wheelchair, with a prosthetic limb, or on crutches. But, there was one Adaptive Athlete that I have to single out by name. Peter "Blind Pete" Cossaboon is an incredible athlete who gets out there and competes even though he is blind. He refuses to let his visual limitations keep him from experiencing all that life has to offer.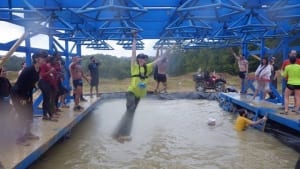 He was led on the course by teammates who he held onto like seeing-eye dogs, and then he negotiated every obstacle through verbal directions. Pete even crushed Wheel World unassisted! Imagine running an OCR with your eyes closed. Imagine completing a balance beam obstacle when you can't see it, or jumping off a platform without actually knowing what you're jumping into or when you'll hit the water. Imagine the courage this takes, and the trust and confidence he has in his teammates. Watching this man complete this tough course was a blessing I will never forget.
After the Race and Impressions.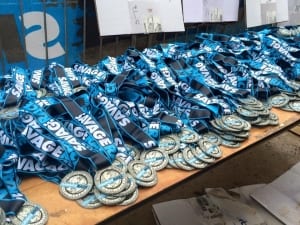 Crossing the Finish Line was a real pleasure. Savage Race was a long and challenging course, but so much laughter and incredible feats were enjoyed on the course. This race was another huge success. Savage has re-designed their medals, and they're larger and much more impressive than in the past. The t-shirt was pretty nice, even if I did get it immediately filthy when I grabbed it while covered in mud.
Savage Race is a great race series, the quality of their obstacles and race courses rivals anything else the industry has to offer. I highly recommend that you try a Savage Race if they're coming to a town near you, and taking a racecation to one of their venues is a must.
Savage Race gets a solid 5 out of 5 stars.
---
Have you done a Savage Race?  Leave your own Savage Race review and feedback…