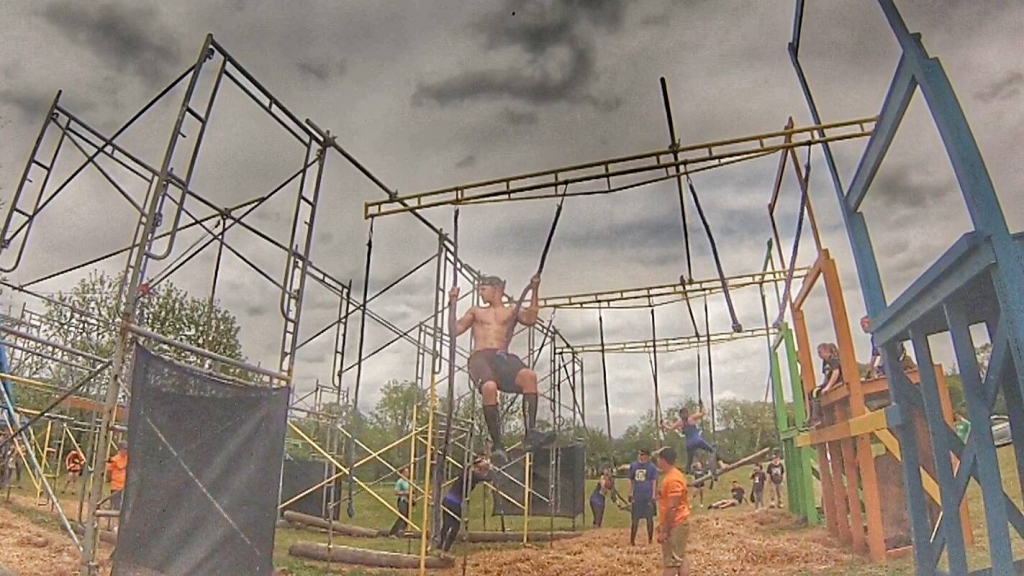 Having done Goliathon twice so far I was once again looking forward to another great event, and once again the Goliathon team came through.
From the point when you started getting closer to Goliathon you knew where you were going, plenty of signs, so you knew where to go. Upon pulling up to park the volunteers were in full force and excited to greet you with a smile, and to have you there. Since I have done this race before I knew where to go for registration, but even if I didn't signage, markers, lead you right where you needed to go.
Once signed in my son Derek and I met up with the rest of the team, Scruffy Mudders (3rd place in the team standings). For those with kids 10-14, they can do the race (at a flat fee of $55) so you can get out there with your kids. We warmed up a bit, chatted and got ready to take the course. At 9:45 we took to the course, after Goliathon Co-Founder Doug Horton gave us a quick rules recap, got us revved up and sent us out.
Goliathon V

12 tiered obstacles over about 4 miles (in order Water Carry, Slippery Wall Monkey, Skyclimb, Circus Maximus, PPK Ninja Killer, Leap of Faith, Rope Cross, Balancing Act, Half dome, Hangman, Scale the Walls, & Over the moon), each separated into 3 levels, G1 doable by everyone and you can have assistance, G2 a challenge that you can't have any help on, and finally G3, extremely challenging with no assistance. The event is not timed, so your performance is based on how well you do on the obstacles. Each one you complete, you receive a colored wristband, G1 green 1 point, G2 brown 3 points, and G3 blue 5 points. Most points wins. Choose wisely as once you choose a level that is the only one you can do, also you only get one shot (with the exception of Scale the Walls and Over the Moon where you get 3 attempts), to complete.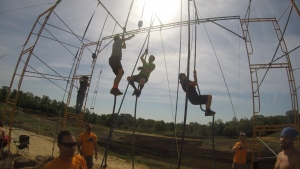 The course is extremely friendly for spectators to follow along and view almost every obstacle, so if you want to have others come to take videos and pictures, bring them along (no charge for spectators just need to sign in and a spectator waiver). I think most will be a spectator once, as the next time they will want to join the fun. If you didn't get a chance to take pics along the way or have someone follow don't worry plenty of photographers on course and some of the best in the OCR business were shooting here today, so you know you'll get some great shots.
With the race not being a timed event meant that you could take your time going in between obstacles, which meant that you could recover your grip, as that is the main thing that you will feel getting hit. The course was well marked and it was very easy to follow where you needed to go to get to the next obstacle. As we participated as part of a team we moved through the course together so it took a bit longer as we waited for others to finish, but gave you a chance to see how great the different obstacle levels were, as well as how involved the volunteers were. Making sure that if you completed an obstacle your number was marked down as well as if you failed, so that points could be verified.
As you made your way to the final obstacle, Over the Moon, 3 different levels of warped walls (ala Ninja Warrior), you realize that you are coming to the end and many spectators are around to watch this one. Once you get Over the Moon, you are guided to the finish line. Here you get your finisher's medal, total up your bracelets for points, grab your swag bag and t-shirt, water and banana.
Overall this is one of the best races around, aside from a great race, the proceeds go to providing clean drinking water to areas of the world that are in need. Aside from a few waits at obstacles, and with selling out 1,000 racers that can be expected, really can't say anything negative about this race.
This scores 5 maple bacon donuts out of 5.

Rating: 5/5
---
Have you done a Goliathon?  Leave your own Goliathon review and feedback…
Use discount code MUDRUNGUIDE for $5 off your Goliathon registration!