This year we put it up to you, the OCR Community, to tell us what you loved about 2015. We started with a nomination process where you told us who was deserving in each category. We got thousands of responses in the process, showing how much the industry has continued to grow. Our team at Mud Run Guide, pulled together your nominations then opened the voting.
The OCR Community Spoke
We asked you all to vote, and you answered with over 60,000 submissions over 27 categories from over 5,000 voters. You cast your vote from all corners of the globe and told us what you liked, didn't like and who you found most influential. Some of the categories came down to as few as five votes separating the winner and runner-up, each vote mattered in this poll.
Mud Run Guide Gives Back
In the process of voting you also helped Mud Run Guide contribute over $5,000 to these non-profits; The Malala Fund, American Diabetes Association, For Those Who Would, Global Giving, Operation Enduring Warrior, and the American Red Cross. Learn more about these charities here and why they were picked by the MRG staff.
2015 Best of OCR Winners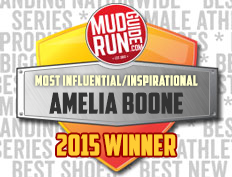 Some of the big winners of 2015 were Spartan Race, Amelia Boone, Ryan Atkins, and Matt Novakovich. You voted, and shoes were definitely on your mind when it came to the best new product of 2015. Tough Mudder's King of Swingers was your favorite obstacle out there to conquer. Be sure to check out all the winners on the Mud Run Guide Best of 2015 Results Page.
Thanks to everyone who voted this year, your votes not only tell us who you thought were the best in 2015 but also helped some great causes in the process.
If your favorites did not make the cut this year, be sure to voice your opinion next year when we will be recounting the best of 2016. Thanks for a fantastic 2015 and we look forward to an even better 2016!