.
If you haven't noticed, Obstacle Course Racing (OCR) seems to get more competitive every year. Athletes become better trained and race directors think of new challenges. In order to try and stay ahead of most of the field, you may want to look at adding some of Sinergy Sports products to your home gym. I tested some of them out and this is what I found: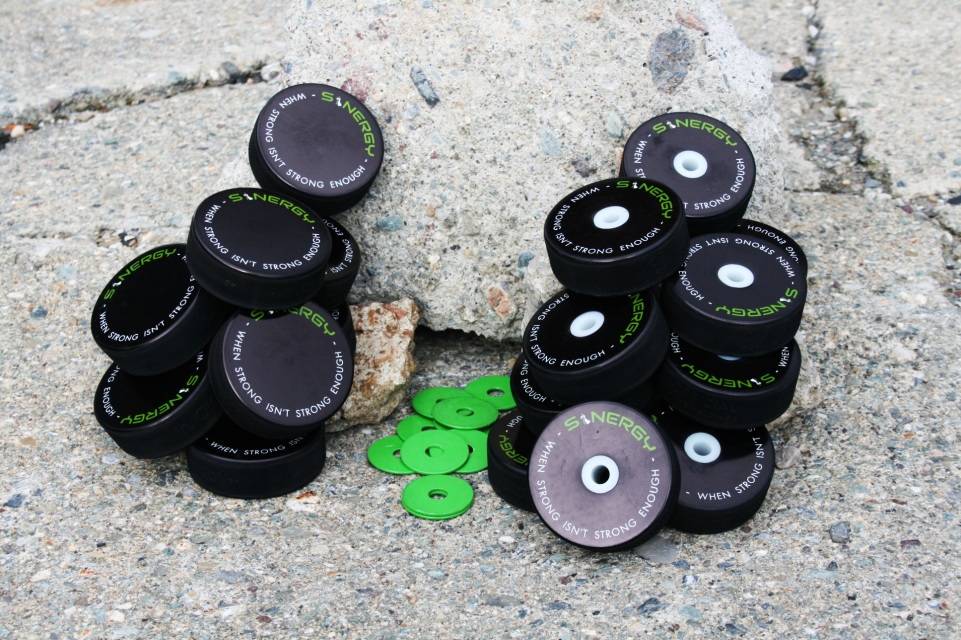 Application:
If you have ever had a problem on the Traverse Wall, pick these up now. After practicing on them you will view the normal traverse wall in most races as a joke. The smaller and narrower grips on the pucks will improve your open palm grip strength along with your technique for moving.
Setup:
Well-made and easy to setup. They don't come with the bolts but a quick trip to the local hardware store solved that problem.
Cost:
Starting price of $55 for a pack of 10 or $80 for a pack of 10 with bearings. I went with the ones with bearings in the middle and was happy with that choice so I didn't have to try and make a hole in the puck.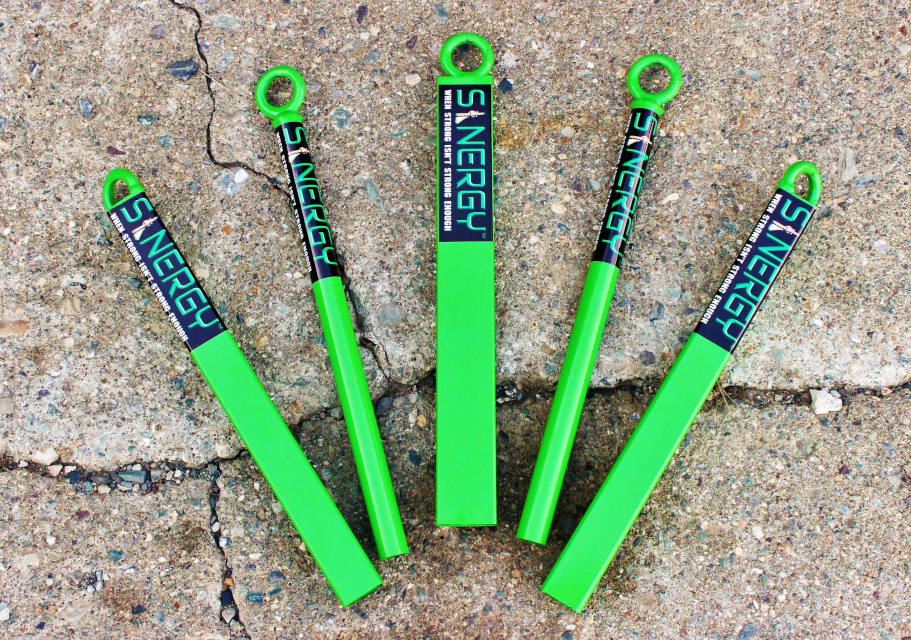 Application:
The Rig. There might not be an obstacle in OCR that causes as much trepidation. With seemingly infinite ways to setup the rig it can challenge anyone. Grip Stiks are rig grips that will test you via various shaped nanchakus (cylindrical, square and rectangular). The coating on these grips is definitely slick. This is great for training, because if you can hold on to the these while training, then holding on to the ones in an actual race will become no problem.
Setup:
If you have a home rig or eyelets screwed into your ceiling or garage you simply clip them into the pre-existing holds. If you don't but have access to a playground or monkey bars you can pick up some fabric runners and after a simple girth hitch, hang them to make your own rig. If all of that is too complicated, just bring them to the gym and attach them to the lat pull-down machine for training.
Cost:
$22 for a single stik (any style) or $75 for a pack of four. The pack of four is much more cost efficient and provides you with any four of your choosing. Definitely a bargain for high-quality grips.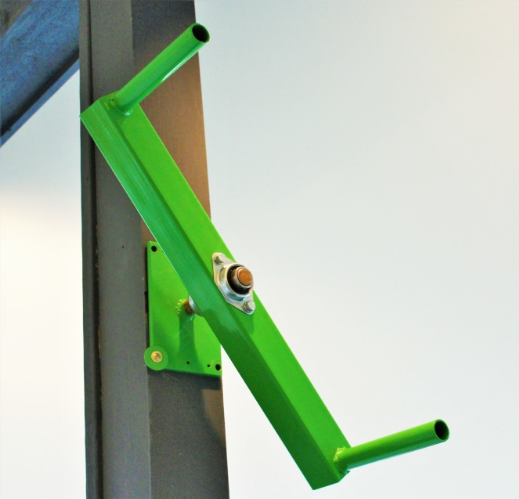 Application:
For those that attended the BattleFrog finale at Kings Domain in Ohio, you may have experienced some difficulty ascending those steep monkey bars without feet. Finding a set like that is near impossible except on an actual OCR course. The Klimber brings that solution into your house with several other uses. Besides working on incline monkey bars, you can use it for pull-ups, uneven pull-ups (one hand higher than the other), dips (depending on setup) or just working on your hanging grip strength.
Setup:
The hardest of the three items covered here, but it is still fairly easy. You will need to pick up your own bolts for this one and pre-drill holes. The hardest part about setup is the Klimber weighs a fair amount, thus making it hard to hold and install simultaneously. For ease of installation bring a friend*.
Cost:
The Klimber is not the cheapest product coming in at $240 but if you are serious about taking your OCR game to the next level, you may want to buy this (or add it to a list as a gift…birthday? Christmas? Wedding registry?)
These are just three of the Sinergy Sports line of products that are available. They have several other products that would be great additions to your home gym including the Rage Cage and the Rage Rack, if you are willing to spend the money. If OCR is your thing though and you compare how much money you spend each weekend for a race, having your own rig might be worth the investment.
For those that attended OCR World Championship in 2015, you may remember the "Band Cutter" obstacle in the festival area. Sinergy Sports is owned by the same guy that created that, Rob Butler. Him and his wife, Jill, also own the truly challenging permanent OCR course Shale Hill in Benson, Vermont (right near Killington). They are even hosting an OCR festival in August with a nine different distances and chances to qualify for OCRWC (details can be found here).
Sinergy Sports' motto is "When strong isn't strong enough" and they follow through with this. For those looking to seriously step up their home gym, start a home/professional gym or build their training truck (?)(yeah, that's a thing now thanks to the Hitch Mounted Rope Climb), check out the Sinergy Sports website at www.SinergySports.com.
*Friend not included.
All pictures are from the Sinergy Sports website.
Video filmed and provided by Evan Perperis