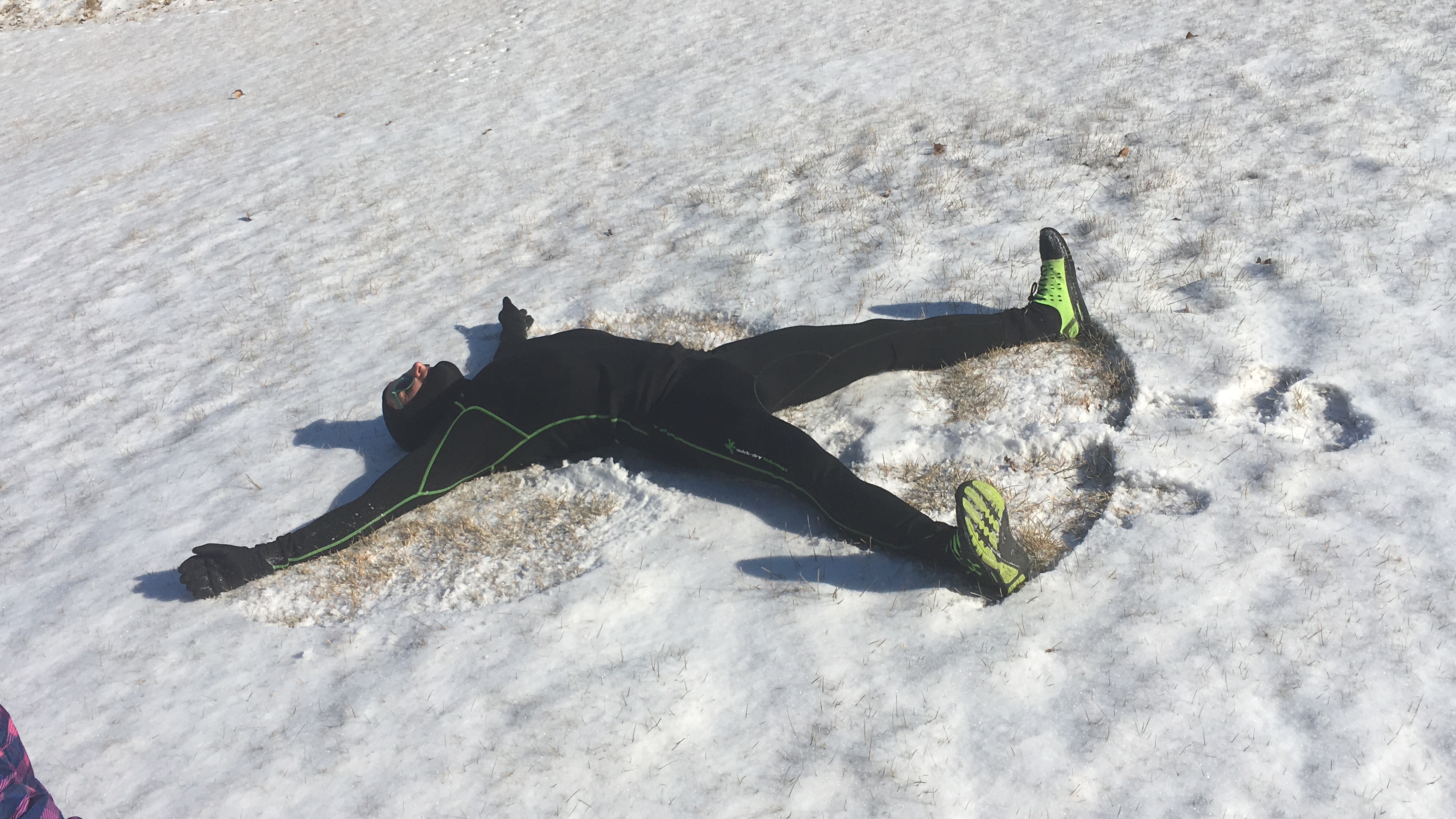 "I love Frogskins." "You need a pair of Frogskins."  "Obviously you own a pair of Frogskins right?"  All of these statements have been said to me in the past year.  So I finally relented and decided to test out a pair of the Australian based Frogskins designed by Probe Wetsuits since my friends would not stop mentioning them in conversations having to do with Ultra-Obstacle Course Racing (OCR) like Toughest Mudder, World's Toughest Mudder and Spartan's Ultra-Beast.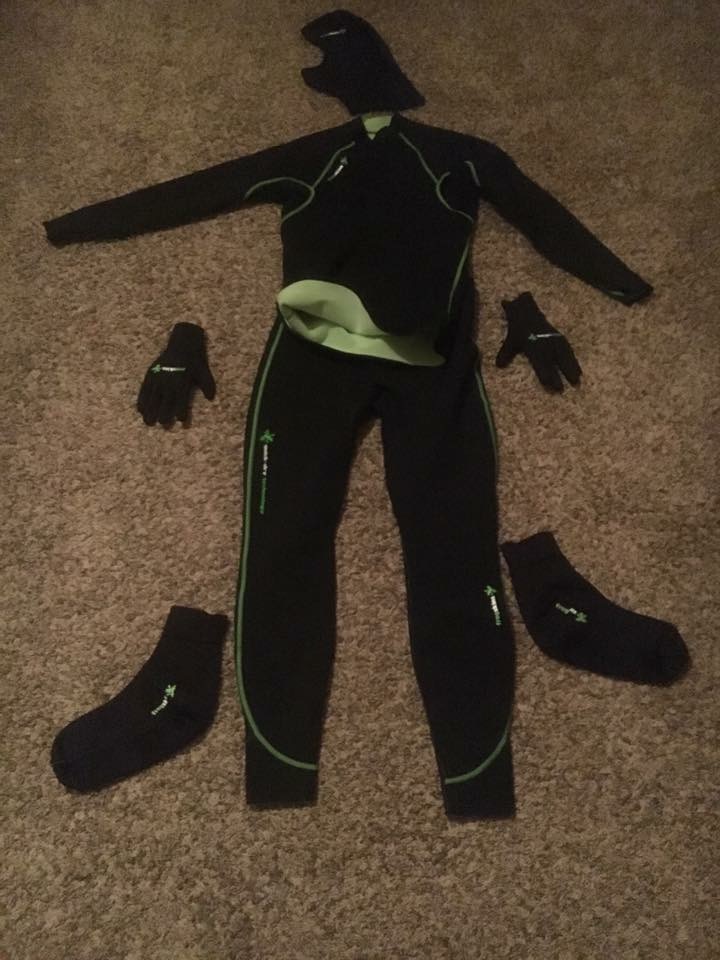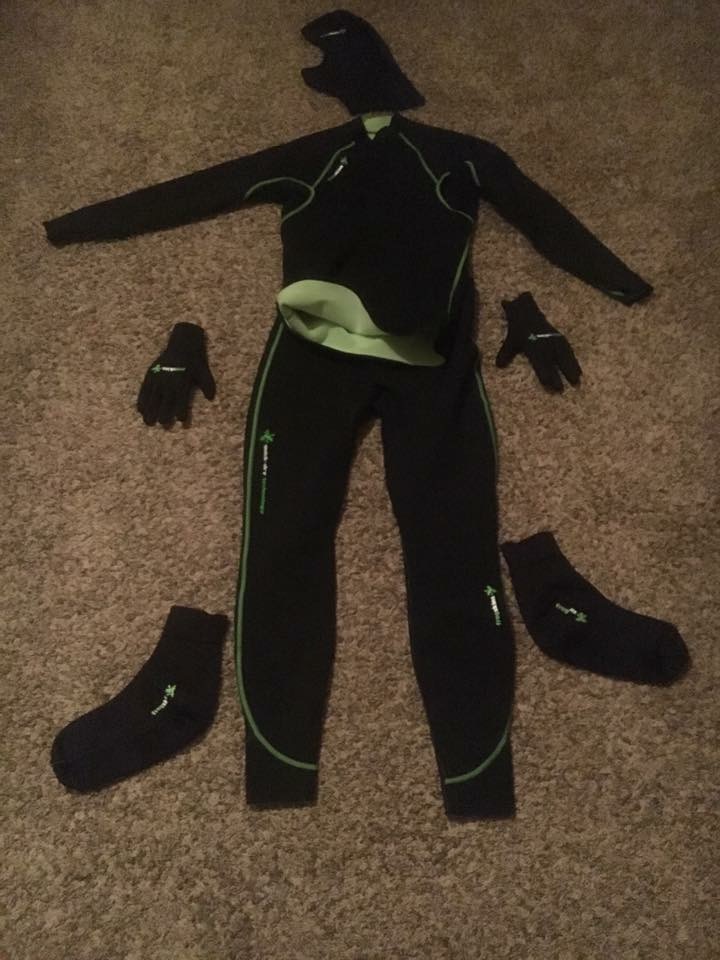 I decided to pick up a pair of the neoprene long sleeve top, pants, hood, gloves and socks.  This review will focus on the long sleeve top and pants.  A separate review focusing on the hood, gloves, and socks will be published later on Mud Run Guide.
Specifications:
The top and bottom consisting of a 0.5mm neoprene internal membrane with a quick dry fleece lined inside.  The outer lining is a windproof and abrasion resistant ultra-stretch nylon. The pants come with a cord around the waist that can be tightened to ensure a snug fit.  In addition to making a long sleeve top, they make a long sleeve top with built-in hood and a sleeveless top with built-in hood.  Additionally, the offer a women's long sleeve top, something you rarely see as an option.
Fit:
I wear a medium in almost everything with the exception of triathlon tops and bike jerseys with a European cut.  I went with the medium for the long sleeve top and bottom and both fit well.  They do offer a ton of sizes from XS all the way up to XXXL providing you with the perfect fit based on your body type.  If you are on the line between two sizes, I would go with the larger size since neoprene clothing tends to be designed to fit snugly.  That being said, I'm happy with the medium for both and found they both fit comfortably with no major issues.  For those looking for more arm freedom, the sleeveless top with a built-in hood would be a great option to solve the complex issue of warmth and range of motion.  The quick dry fleece lining made them easier to put on and remove than traditional neoprene clothing, an issue that gets magnified when you have been racing for 6+ hours.
Functionality:
The pants are phenomenal.  I have used several different wetsuits for Ultra-OCR before and their one-piece design always feels like it restricts movement on some level.  The Frog Skin bottoms felt like wearing another layer of compression tights.  In fact, I could hardly believe I was wearing neoprene on my legs when I took them for a run.
The top was tight fitting but still loose enough where I felt like I could go over obstacles with ease and without restricting my natural movement.  The top even has two small loops near the wrist, which you can place over your thumbs if you want to prevent your sleeves from riding up.  While I didn't use the loops, I thought that was a nice touch considering I have had problems with wetsuits riding up on my limbs in the past.
The modular design is amazing and one of the main reasons Frogskins should be included in anyone's gear bag that is getting ready for any of the Toughest Series, Spartan Ultra-Beast or any other Ultra-OCR with bad weather or harsh conditions.  I love the fact that I can add just the pants and gloves or just the top with socks.  It really allows you to customize your outfit to the current conditions.  One of the problems with a full wetsuit is it is all or nothing.  I have talked to many athletes at World's Toughest Mudder that are cold one lap so they put on a wetsuit and are burning hot the next lap.  Frogskins fill this gap between nothing and full wetsuit.  It creates a step by step process to keep you warm by adding layers and accessories.  For open wave athletes that means you will be comfortable longer and for elite/competitive athletes it means you can run faster or longer due to less restrictive clothing that is perfectly suited to the environment.  If you are prone to get really cold, Frogskins can also be worn as an additional base layer underneath a wetsuit providing more insulation.  Just be sure you buy a wetsuit big enough to fit your body plus Frogskins layer.  This option also prevents you from having to put multiple wetsuits of different thickness, instead, you can use one wetsuit and layer Frogskins underneath.
Downside:
I'm honestly having trouble thinking of what I don't like about Frogskins.  My biggest complaint is directed at myself for not getting these in 2014 when I ran my first World's Toughest Mudder.  With the Toughest Series and Spartan's Ultra-Beast going to harsher climates, Frogskins should be placed on your gear list for future events.  I guess the only downside is they are based out of Australia so be prepared to pay a couple extra dollars for shipping which is only AU$29.95 (about $23 USD) for express delivery via the Probe Wetsuits online store (www.probewetsuits.com).  However, I think after you get the product you'll forget the extra shipping cost and just be excited to have fleece lined neoprene.
Overall:
This is an easy 5/5 stars from me.  The top and bottom are very comfortable.  I've only tested them out around my neighborhood and using it as a snowsuit when playing with my daughter outside, so I haven't given them the full run through yet but I feel like I've got enough experience doing Ultra-OCRs to know what will work and what won't work.  Although they were not originally created for Ultra-OCR, I'm pretty sure they have found a perfect home in this sport and in this community.  They are multi-sport functional making them great for any water-based sport including but not limited to surfing, stand up paddle boarding, diving, water skiing or any other land-based activity where you need to stay warm.  Expect to see me dressed in black and green on the course in 2018 staying warm while remaining agile enough to complete the most technical obstacles.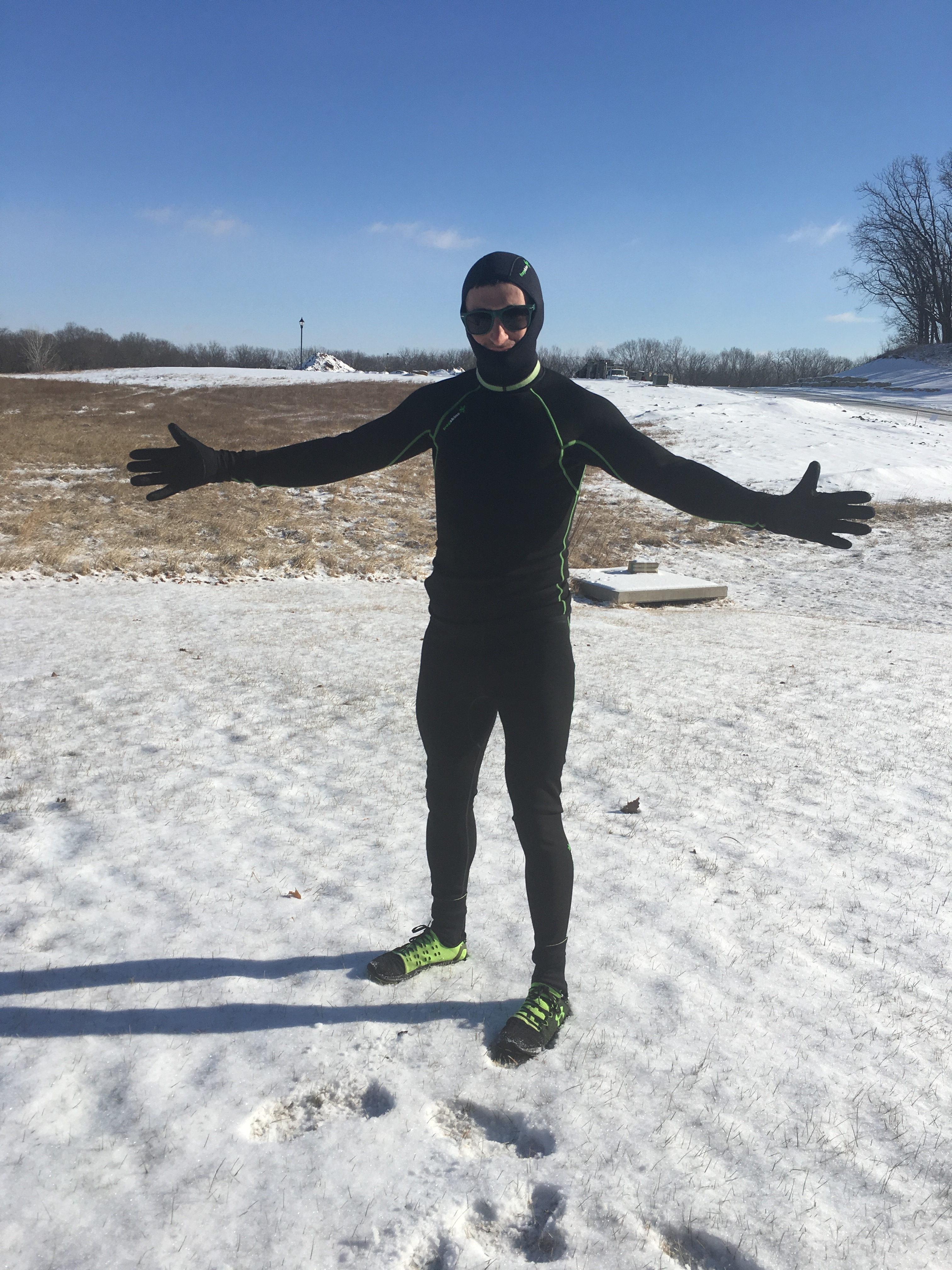 Pictures provided by Amy Perperis of Strength & Speed
Wesley Kerr photo provided by Wesley Kerr