If you started Obstacle Course Racing (OCR) because you were looking for a challenge outside your normal comfort zone, then it is time to head to the Midwest.  The Hammer Race held its first event in 2013 just outside of Minneapolis, MN and has been running ever since.  Unlike a normal OCR, this event involves carrying a sledgehammer over the 10k (ish) course while completing obstacles that have a hammer theme.  Here's a quick rundown of how it went: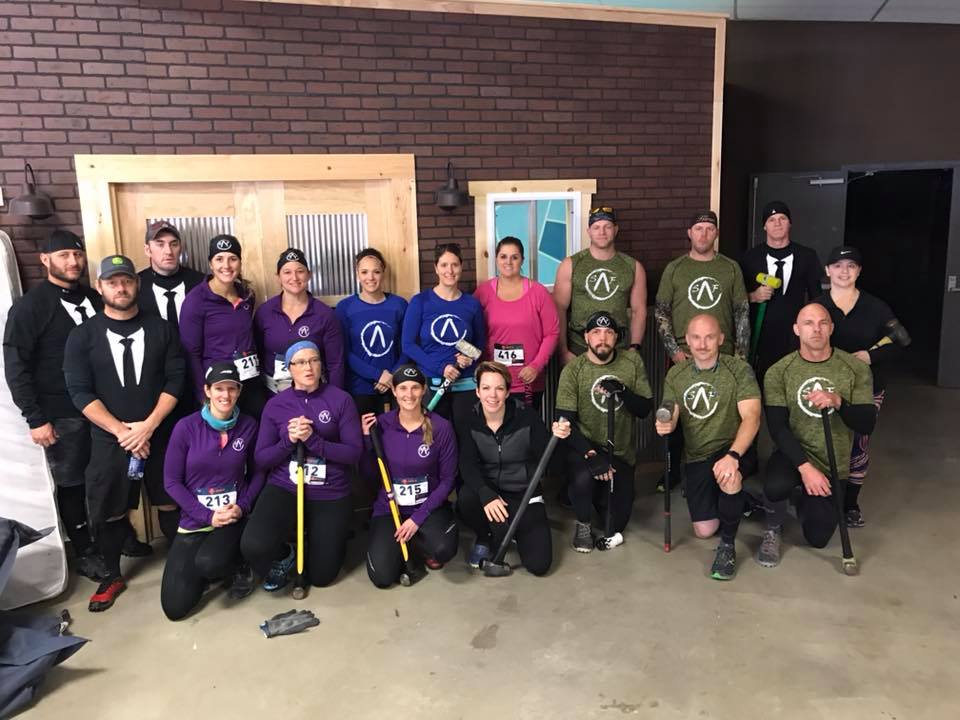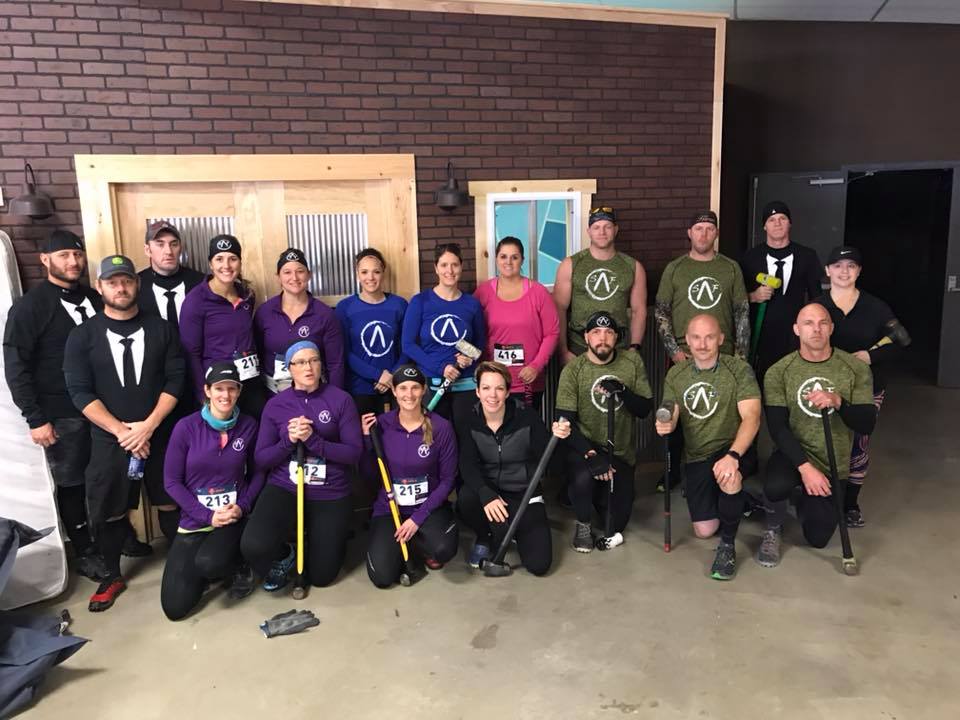 Parking & Check In: 
The event was on the smaller side of other OCRs I have attended, which meant parking was really easy and close to the start/finish line.  That means no need for a bag check, no long lines at registration and everything was quick/easy.  It was a nice change of pace compared to some of the bigger races I've run.  Parking was a reasonable $10.
Terrain:
The terrain was 10k through lots of short but steep uphill and downhills.  The course designers really made good use of the terrain taking you in and out of little ravines, down the occasional road, through drainage tunnels, and through the forest.  Overall, it was varied and is representative of what OCR should be.
Obstacles:
The event requires you to run with a 8 lbs. sledgehammer.  You must carry the hammer (i.e. no slings or backpacks) and you can go heavier if you are feeling burly but a 8 lbs. head is the minimum.  Each obstacle has a set of rules, for example, the bucket carry you can put down the hammer but the timber carry you need to carry both the timber and your hammer.
Strength obstacles included a tire flip, bucket carry, timber carry and railroad timber flip.  Hammer specific obstacles included bangers (hit the block of wood down a track and back), a tire banger (more friction = harder), a tire drag (using your hammer as the handle), a hobo carry (tire carry using your hammer as the handle) and an Atlas stone carry/banger obstacle, just to name a few.  Technique obstacles included Hammersend (an angled traverse wall with places to rest your hammer while traversing) and The Final Test (a large wall with grips, similar to The Destroyer obstacle).  Add in some crawling like a very long low crawl through a tube, a drainage pipe crawl and Roadkill (going under three sets of tires, which was surprisingly hard as it pushed you deep into the sand) to round out the course.
A unique obstacle that I've never seen was "The Black Door", which is basically part maze in the middle of the course.  Essentially you enter a roped off section of the woods and you can't leave the roped off section until you exit via the black door.  The section was large enough that you might run an extra ¼ mile but small enough that you weren't going to get stuck in there.
If you are racing this event make sure you join "The Hammer Race Group" Facebook Group.  They post pictures of the rule signs in the group.  Had I not been in the group, I would have had to stop to read the signs before each obstacle (which is less of a problem if you aren't running for the podium).
Spectating:
Two spectator areas made this a good course.  The first one was the start/finish line which was located next to two obstacles that occurred around mile 2 (tire drag) and 3 (Atlas Carry).  Plus the run into the finish had Hammersend, the tire low crawl and The Final Test obstacle.  The second spectator area was a short walk down the hill that included about another five strength obstacles.  The only improvement here, which is one my wife makes of almost every race, is she wishes the obstacles were numbered.  That way, a spectator you know where you should stand next.
Awards: 
The Hammer Race kills it on awards and swag.  In my race bag was several Hammer Race stickers, a magnet and a nice t-shirt.  All of which was of the style and quality I would expect to find in a normal race merchandise booth.  The finisher medals were a cool looking reflective medal that has the logo magnet attached, allowing it to rotate.
The overall winners of the male, female and team got one of my favorite prizes of all time.  It was a legit Thor looking hammer.  The announcers did announce the top three men and women as well as the top team, which was nice recognition.  Personally, I would have liked to see an award for 2nd and 3rd too.  It doesn't have to be something fancy or expensive, but the medals with their magnetic base would allow for an easy switch of a slightly different logo to showcase an athlete's podium finish.
 Overall: 
If are a fan of unique challenges, you need to sign up for this now.  They hold two races, a spring (April 13th) and Fall (around October 12th).  I tried to go to the Spring one and it got snowed out (yeah, that's right…a snow storm in April…thanks Minnesota).  Actually, they still held the event, which looked like a ton of fun, but they canceled the competitive part of the event and just had it as a fun run.  Athletes trekked through snow and obstacles last April of what must have been a ton of fun.  I opted to transfer my registration to the Fall at no cost (great customer service!).
The race was unique and fun.  It is definitely something I would go back for despite the long drive from my house (about 6.5 hours).  The idea of running with a hammer and doing obstacles is really clever.  I would love to see them continue to grow the event in both size and with more unique and challenging obstacles.  So if you get a chance fit this into your schedule.  The race did have a weird start time of noon, which I'm personally not a huge fan of but it was nice to sleep in for once.  Overall, it is a great experience and something that I would add to your race schedule.
Pictures provided by the athletes pictures.
Tariq Stoos pictures provided by Tammi Jo
5/5 Stars
Rating: 5/5
---
Have you done an Hammer Race?
Leave your own Hammer Race review and feedback...