Mud Run Guide sent me all the way to the other side of the world to get the latest scoop on the expanding world of Obstacle Course Racing (OCR) by covering the 6km Hannibal Race in Le Plateau De Bakish, Lebanon.  Just kidding, I happened to be in the area, and I was drawn to the race like an OCR athlete to Icebugs.  Located just 19 miles from the border of Syria, the course was a unique experience, and I was glad I had the opportunity to attend.  Here is a rundown of the event by category.

Terrain: 
The 6km race was run on the side of a mountain.  So you spent about the first third of the race running straight uphill before a couple of flat sections, some more uphill and finally back downhill towards the finish.  Bottom line, the winter 6km Hannibal Race is a mountain course, comparable to any OCR I have run in America on a ski mountain.
Obstacles: 
There was a total of 18 obstacles that were of medium difficulty.  I think it was harder than a Warrior Dash and probably best comparable to a Rugged Maniac.  Included in the obstacle lineup was a ¼ pipe, monkey bars, giant's ladder, over/under/through walls, six-foot walls, A frame cargo net, low crawl, low crawl under barbed wire, double sandbag carry and a few more that I am having trouble remembering.  The hardest one was probably the double sandbag carry and I think a few of my unethical competitors agreed (see sportsmanship).  The race started off with a 50m run immediately into a low crawl, through mud and water.  There was so much splashing it felt like the start of a triathlon and not an OCR, but quickly started breaking up the field.  The first obstacle having water also meant that it took about half the race to warm up from being wet with an ambient temperature of 45 degrees.  About 9 of the obstacles were in the last 200m before the finish line, which was great for spectators and the television cameras but bad for me since I was gaining ground at every obstacle.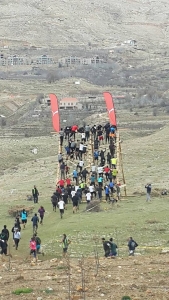 Atmosphere: 
I enjoyed the atmosphere as a whole.  Despite chilly weather people were in good moods, there was loud music and the race director/hype man sent us out after some Arabic words of encouragement (I think).  Luckily, I know my numbers, so that saved me from an embarrassing false start.  Tea, coffee, and Man'oucheh (think crepe with spices spread on it) were available for a small fee ($1).
Media:
The race had amazing media coverage.  The LBCI (Lebanese Broadcasting Corporation International) did a 2 hour live broadcast of the event with interviews and action from the course.  That is the equivalent to having a 2-hour block of time dedicated to OCR on a major network like NBC, something I have only seen done in the US for things like the NYC and Boston Marathons.  I even had one of the cooks from a local restaurant that I frequent, who did not know I would be racing, tell me, "I saw you on TV this weekend."
Price: 
Free parking, cheap food and $30 registration fee.  You cannot beat prices like that.  I am pretty sure this is the cheapest race fee I have ever paid for.  If only it did not cost so much to fly to Lebanon.
Swag: 
A finisher's medal was the only swag provided.  As someone who races very frequently, I thought this was great.  Less swag means lower entry fee and my t-shirt drawer is already overflowing.  I will take that any day over another $20 price increase to account for a shirt.  After talking to the race directors, they told me normally they provide t-shirts, but this race was planned last minute, so they did not have time to get ones printed.
Sportsmanship: 
Everyone I talked to pre/post-race was very nice.  I even engaged in some light conversation with some of the Lebanese Military in broken Arabic.  However, I saw a couple of things on the course, which does not align with the normal sportsmanship at OCRs.  The first was when one of the other racers passed me on the course.  As he passed, he aggressively cut in front of me almost making contact.  While it could have been on accident, it seemed very purposeful based off the width of the trail.    Not a big deal but the next thing bothered me.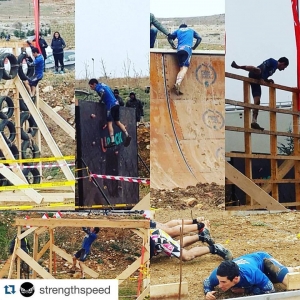 Going into the sandbag carry, I was in 6th place with 2nd through 5th in my sights.  There was a ton of confusion at the site including someone doing burpees instead of carrying the two sandbags.  I showed up, grabbed my two sandbags and continued along the out and back section, which doglegged off the main course.  Meanwhile, I watched multiple people break the rules by just running past the obstacle and by turning around before the end point.  It looked like complete chaos.  I entered the sandbag carry in 6th and exited in 8th despite passing other racers and not being passed.
The worst offender was one guy who tried running past the carry and was yelled at by volunteers.  Then he grabbed his two bags and turned around after 10 feet of walking.  The volunteers yelled again, so he turned back around to complete the obstacle.  After the volunteers turned their backs and he had walked another 10 feet, he turned around again.  After struggling to complete 20% of the obstacle he took off in front of me.  I guess persistence is the secret to cheating successfully.  I later had to run him down before the finish.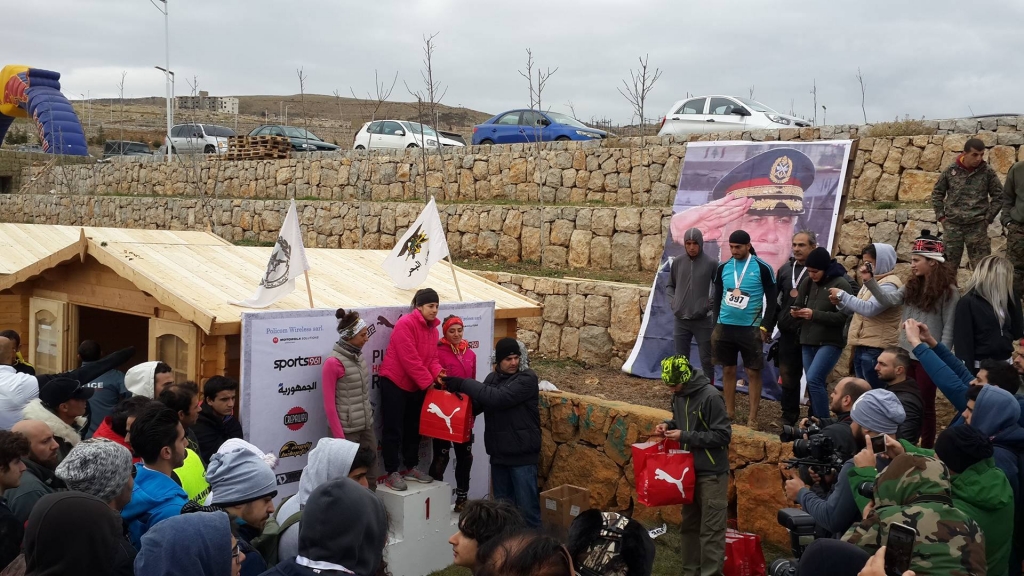 Overall, despite some cheating by competitors, I officially was the 5th person to cross the line.  I would like to think everyone that beat me obeyed all the rules and ran a clean race but that is not the case.  When they posted the end of the race video online 3rd and 4th place were caught on camera cheating after failing the monkey bars, add that to me witnessing 6th, 7th and 8th place not completing the sandbag carry.
After talking to the race directors the following week, they informed me that they eliminated 35 people for cheating and would be adjusting placements.  The assured me that future races will ensure that top competitors are more closely monitored and do no cheat.  As everyone knows, it is hard to catch everyone if they do not adhere to the rules.  You are probably thinking "why didn't they just cut wristbands or tell them to redo the obstacle," well that is hard when competitors fail/don't complete something and then just take off running.  Enforcing rules in this scenario is easier said than done.  (NOTE: This is not a knock on the race itself or the race organizers, but just a couple of athletes (3rd, 4th, 6th, 7th and 8th place finishers), who never learned that winning without fair play is not worth winning.)
If you are in the area, Hannibal Race is worth checking out.  For a country with one OCR series, holding their first winter race, they exceeded my expectations.  I only wish I was around for their summer race, which has a longer 15km option.  I am excited to see OCR expanding worldwide and look forward to future events.
Rating: 4/5
---
Have you done an Hannibal Race?
Leave your own Hannibal Race review and feedback...