BattleFrog continued their action packed 2016 with a regional qualifying event in Charlotte, North Carolina on April 23rd. On par with BattleFrog standard, they came through with a memorable experience for competitors of all levels.
Terrain: By sharp contrast to the other BattleFrog events I have attended, this venue was a flat and fast course with minimal elevation gain. This can best be reflected by the top three male participants in BFX getting seven laps total.
Obstacles: BattleFrog delivered with some incredibly challenging obstacles including two Platinum Rigs and something that was new to me The Wedge Wall. The Wedge Wall was an angled traverse wall that alternated between sections with foot/hand holds and just hand holds. I thought it was a great addition to the course that was challenging but not impossible.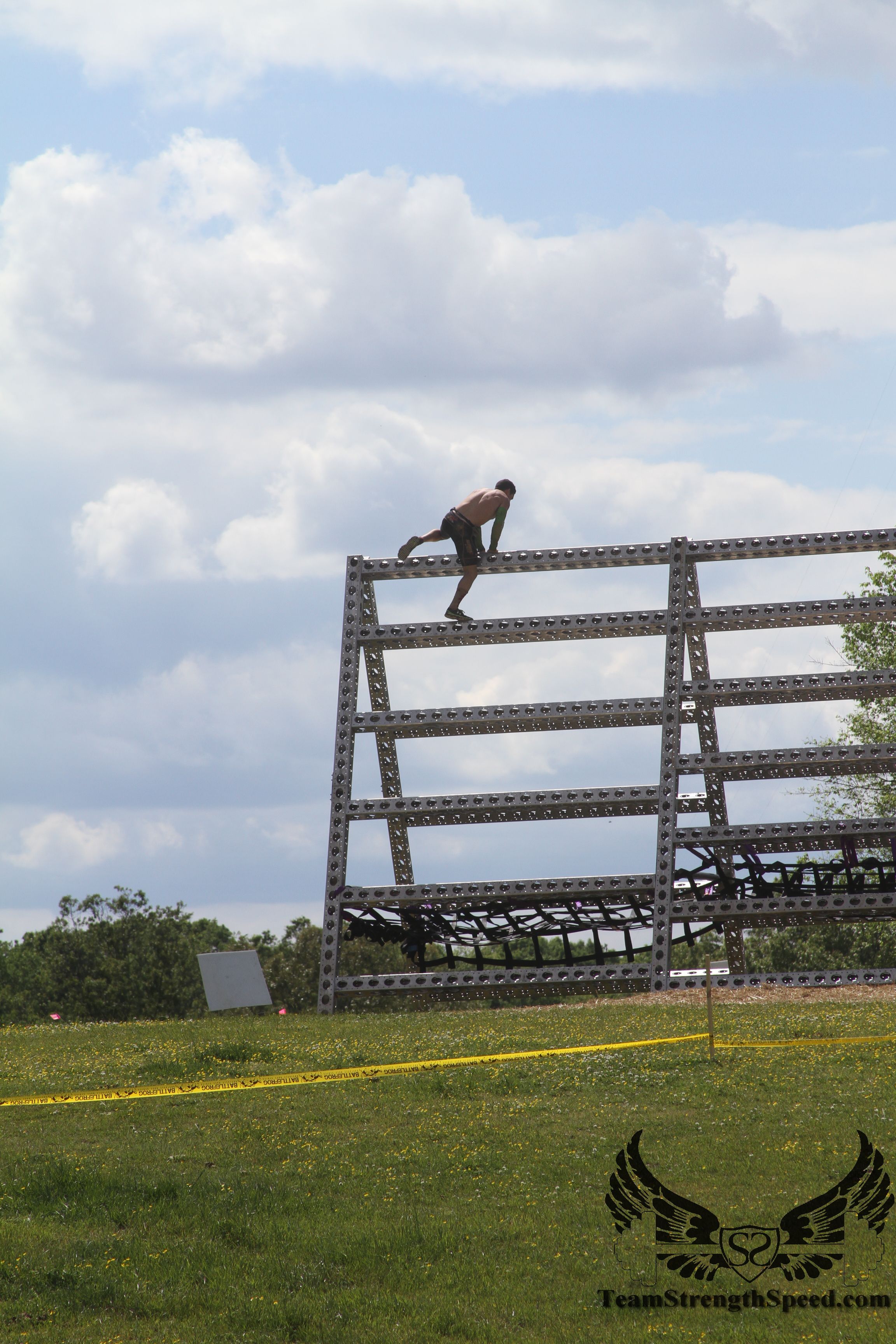 The Jerry Can carry was short and flat compared to previous events I have attended but it was right before Platinum Rig 1, which made that rig significantly more challenging for the Elite competitors that were required to carry two cans. Meanwhile, deep in the woods on the second half of the course Platinum Rig 2 looked like a social gathering as Elite athletes and motivated open wave runners repeatedly attempted to cross the rig unsuccessfully.
Both Platinum Rigs now have bells at the end, which you are supposed to ring to show you successfully crossed the rig. Which makes sense at first, but does not always make sense in practice. For example, I completed one rig by kicking the bell three holds out, by contrast, I also failed one rig because I was holding on to the last attachment but too exhausted to pull my bodyweight up to reach the bell. I think the right answer is you have to touch the final rig grip with your hand; I am not sure why I am not supposed to use my feet for any part of the rig but I can kick the last grip or the bell, and it counts as complete.
Another new addition came on the monkey bars. Upon reaching the top of the monkey bars, I was (unpleasantly) surprised by thick PVC piping covering two of the pipes. This made the monkey bars much harder as the pipe rotated when you grabbed it. Early in the morning, both pipes were removed, not sure if that was to accommodate more open competitors or if was after several people hit the ground pretty hard after falling.
Festival: The festival seemed very lively from what I could hear (I was running BFX again). There were contests occurring in addition to a DJ, which made it seem like they put a good show.
Parking: The standard $10 parking and $25 VIP parking were available. The parking lot was large and spacious, and there was no requirement for bus transportation. Without the requirement for a bus, the VIP parking only provided a 200 ft. closer parking spot that was not worth it in my opinion.
Complaints: My major complaint on obstacles was Tip of the Spear. The part you rest your feet on is now made of plastic instead of wood. After my first lap on BFX, the elite lane for Tip of the Spear became impossible for me because my shoes had no traction on the mud covered plastic. To prove the mud was the issue and not my strength, I went across the elite lane after 7+ hours and seven laps of the course once the mud had dried out without issue. Having some traction covering on that wall or switching back to wood seems like the right answer. Otherwise, those in front have a marked advantage that continues to grow with each participant, especially due to the mud mounds obstacle directly before Tip of the Spear. You could say this is part of racing, but the change in conditions is what I would describe as drastic.
Finally, BattleFrog, please update your website for BFX. The website under BFX details still lists 800 briefing and 830 start time despite Nashville, Charlotte and the planned Kansas City event having their briefing at 0745 and 0815. It is inappropriate to "punish" athletes for missing a briefing when you are putting out the wrong time on the main site.
Podium Placings: Big shocker, Ryan Atkins and Lindsay Webster both won first. For the rest of the Elite males, OCR Gear-Icebug athlete Brian Gowiski and Ben Kinsinger, took 2nd and 3rd. For the females, BattleFrog Pro Team member Corinna Coffin on her first race back from injury took 2nd, while Conquer The Gauntlet Pro Team members took 3rd and 4th, Amy Pajcic and Ashely Samples respectively. Michael Bell rounded out the Canadian 1st place wins with seven laps for BFX marking his 2nd BFX win this month. The female BFX winner was Delia Perez.
Overall: BattleFrog continues to deliver high-quality events with very challenging obstacles at a value that is significantly cheaper than some of the other major brands. Expect to see me at more of their races this year because when companies put on great experiences and awesome courses, I prefer to give them my business instead.
4.5/5 stars
---
Have you done a BattleFrog Series? Leave your own BattleFrog Series review and feedback…
Use discount code MRG20 for $20 off your BattleFrog Series registration!
All pictures provided by Amy Perperis of Strength & Speed