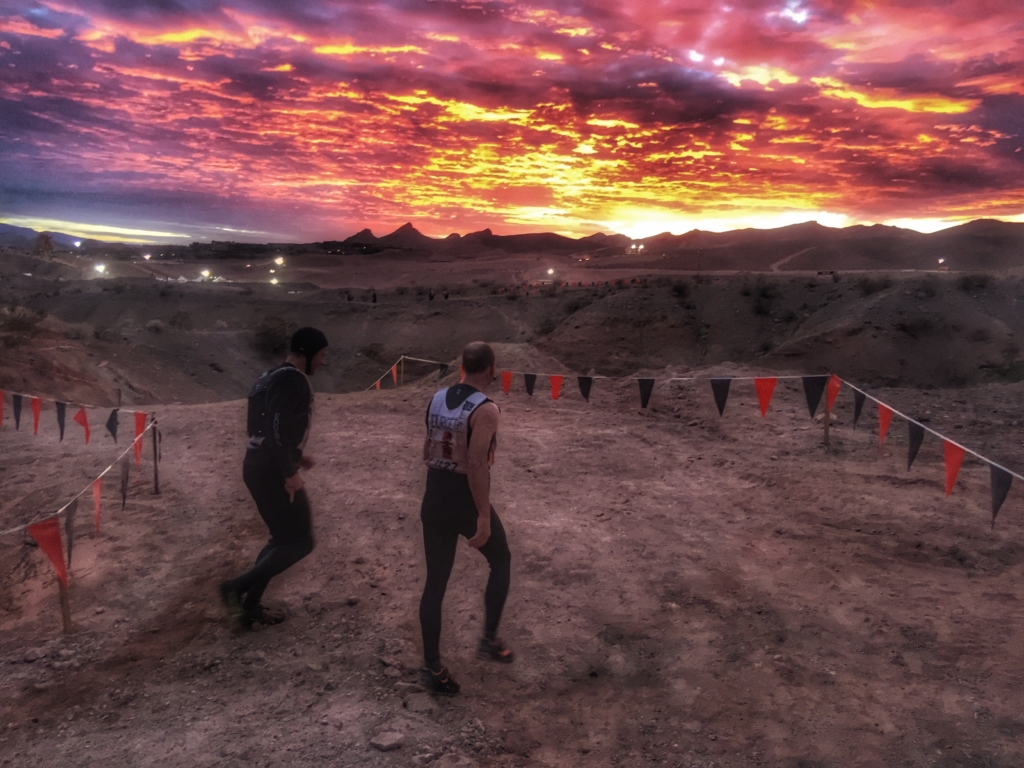 An epic endurance race of incredible distances in harsh conditions, although filmed weeks earlier the rest of America is just getting a glimpse of it now.  Unknown to many, this event has been going on for years attracting local participants as well as those from across the globe.  This year is different, though.  It is the first year televised, but not just by any television channel; a primary network has picked it up for airing.
World's Toughest Mudder vs. Ironman
This year records are set; participation is at its highest and the struggle for the finish is about to change the sport as we know it.  After this television episode airs, the sport will skyrocket into the spotlight bringing in more sponsors, more athletes, and more competition just to get a spot on the starting line.  But this is not 2016; it's 1982.  The event is something most people would view as insane, but it is not World's Toughest Mudder (WTM), it is a little-known race called Ironman.
The records and human interest are not from famed obstacle racers Jon Albon and Ryan Atkins. It is not about them winning $100,000 running 100-miles fastest at WTM. It is a college student named Julie Moss who collapsed 200 yards before the finish line giving away her overall win to another female athlete, Kathleen McCartney, in the closest finish up to that point.
 Julie Moss & Kathleen McCartney 1982 Ironman
For those that don't follow endurance sports or Triathlon, in 1982 ABC's Wide World of Sports aired an event called Ironman Triathlon, which started in 1978.  The race consisting of a 2.4-mile swim, 112-mile bike, and 26.2-mile run started by a Navy SEAL having an argument over which athlete (swimmer, cyclist or runner) is the fittest.
That moment caught on film featuring Julie Moss, fast-tracked Ironman triathlon into the attention of the world.  From its humble 15 people beginning to its current level of 2000+ athletes, Ironman triathlon has transformed over the years.  While many would say for the better (larger prize purses, more sponsors, more events, larger worldwide participation), some of the sports original athletes have publicly stated they miss some aspects of the old days.
No longer can you just sign up for Ironman, but you need to qualify now, and qualification is very hard, even for serious amateur triathletes.  To qualify you to need to win your Age Group at an Ironman event or have enough cash to buy your want into a charity slot or eBay auction.  Some say the race has lost that family or intimate feeling due to expansion.
The race company has changed hands many times since its original owners and is currently owned by a Chinese Company.  While the race itself focuses on the elite athletes, often the media coverage is concentrated in the opposite direction with the television coverage devoting as much time to celebrities racing (like Gordon Ramsay and Hines Ward) as it does to the elites.  ("Oh cool Gordon is racing, who is Chrissy Wellington?"ßnow retired, undefeated at Ironman…not just championships…all events she raced.)
CBS Sports Coverage of WTM
CBS Sports coverage of WTM airs on Dec 15 (Road to WTM) and Dec 25 (Main Race and After-Show).  If CBS Sports nails the embodiment of WTM, highlighting not only the best athletes competing on a hard course with insane conditions but also the message that everyone can come out to achieve their own personal best*, are we ready for the consequences?  We will all love the initial consequences of showing our family/friends, admiration from co-workers and more money pushed into the sport from outside sponsors, which translates to things like better obstacles.
This article is not meant to be a history lesson on triathlon but more of a warning.  We all want OCR to grow bigger, better and have more participants because there are a lot of benefits to that.  However, for those who fell in love with the sport from the beginning, I sometimes worry we should be careful what we wish.
If WTM follows a similar path to Ironman, here is what we have to look forward to (some of which is already here).  For example, the ability to "qualify" at shorter events (Half Ironman/Toughest Mudder) and increased qualification standards (2017's contender status) is already a change.
Could we see other 24 hour Toughest Mudder events throughout the year with the World Championship in Vegas every year?  Could Vegas become the permanent home for WTM like Kona is to the Ironman Championship?  Could the race become a celebrity bucket list item taking away spots for those who earned it or have raced from the beginning?  Will some like Justin Bieber get more Television time at a future event than Trevor Cichosz or Deanna Blegg?  Could the qualification standards become so rigid that the open wave athlete eventually gets pushed out of even showing up leaving only those competing for overall and age group titles?  What does the future hold in store for OCR and World's Toughest Mudder and are we ready for the consequences of catastrophic success?  Only time will tell the answer, but I am approaching the future with cautious optimism.
*"Nobody is better than your best and your best will make you better" –Sean Corvelle
---
Disclaimer: The viewpoints expressed by the authors do not necessarily reflect the opinions, viewpoints and official policies of Mud Run Guide LLC, or their staff. The comments posted on this Website are solely the opinions of the posters.