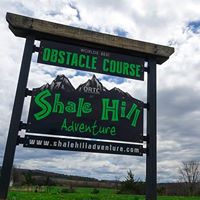 Next on the Permanent Facility Spotlight is Shale Hill, which might be the toughest 10k of OCR in America.
Venue:  Shale Hill
Website: http://www.shalehilladventure.com/
Location: Benson, Vermont (near Killington)
Signature Obstacles:
Shale Hill has so many unique obstacles people started changing the name of them to "Robstacles" after owner and creator Rob Butler.  Literally, don't even know where to start describing signature obstacles, so I'll just show you pictures of some of them.
Regardless of how many OCRs you have attended, I can almost guarantee you will see some obstacles here that you have never seen at any other venue (make sure you watch the two videos below to see more).
Approximate Events Held Annually: 2+
Types of Events:
-Polar Bear 8 Hour- 8 hour OCR held in February (check our Arnel Banawa's video below from this year)
-Shale Hell- 24 hr OCR held annually in the Summer with options for relay or individual  (next event is this Saturday 26AUG-27AUG)
-OCR Festival- Annual event covering races of all distances including things like 1 mile OCR, 5k OCR, 10k OCR, 24 hr Shale Hell, 48 hr Ultra-Run and 72 hr Ultra-OCR
Who will love it: 
Anyone that likes challenging obstacles and obstacle density should head to Shale Hill.  Back to back obstacles will test even the most seasoned athletes on their challenging course.
Reason for Open Wave Athletes to Go:
If you like obstacles, Shale Hill has a ton of them for you including about a dozen I have never seen at any other OCR.  Even their ones that are similar to other locations often have a twist to them like a traverse wall connected with balance beam and overhead board traverses.
Reasons for Elite Athletes to Go:
The obstacles are some of the most difficult around with Tarzan Swing being the hardest one and the uphill monkey bars as the second hardest (which occurs right after the regular monkey bars).  The obstacles make this a true OCR and definitely not a course where a runner can show up and win.
Where You May Know Them From:
Owners Rob and Jill Butler are also the owners of Sinergy Sports, the people that brought the band cutter to OCRWC 2015 and makers of some of the toughest OCR training tools on the planet.
Bonus Reason for Attending:
On-site in addition to their permanent facility, which is available for training, there is also an OCR gym consisting of Sinergy Sports products, an OCR Pro Shop and it is a designated Icebug testing facility allowing you to try on some test shoes for a quick run of the course.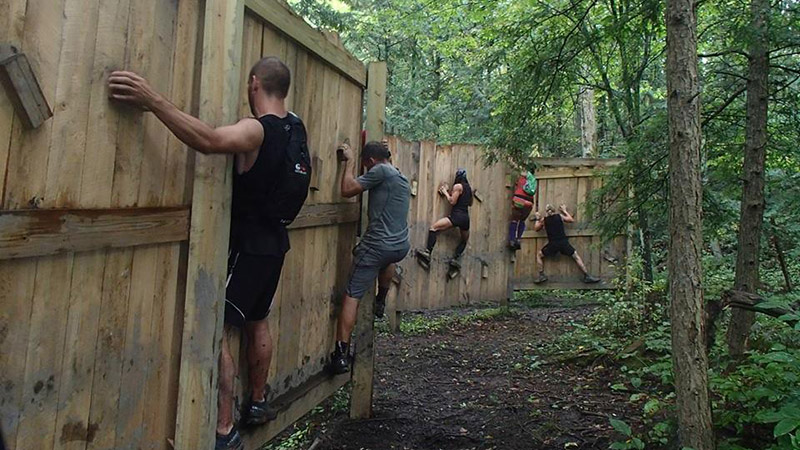 Check their page for the latest list of events and details.