Previously I reviewed Frogskins top and bottom on Mud Run Guide (check out the article here), so this review will focus on the Frogskins accessories consisting of the gloves, socks and a hood.  In my book "Strength & Speed's Guide to Elite Obstacle Course Racing" I say that although Obstacle Course Racing (OCR) is new, fitness is old and the answers we are looking for in our sport have probably already been solved by another sport.  In this case, the problem of dealing with cold without overheating while remaining functional has been solved by the Australian based Frogskins designed by Probe Wetsuits.  Let's take a look at their accessories including gloves, socks, and a hood:
Specifications:
The accessories consist of a 0.5mm neoprene outside with a green colored quick dry fleece lined inside.  The outer layer is a windproof and abrasion resistant nylon which makes them perfect to deal with the rough conditions of OCR.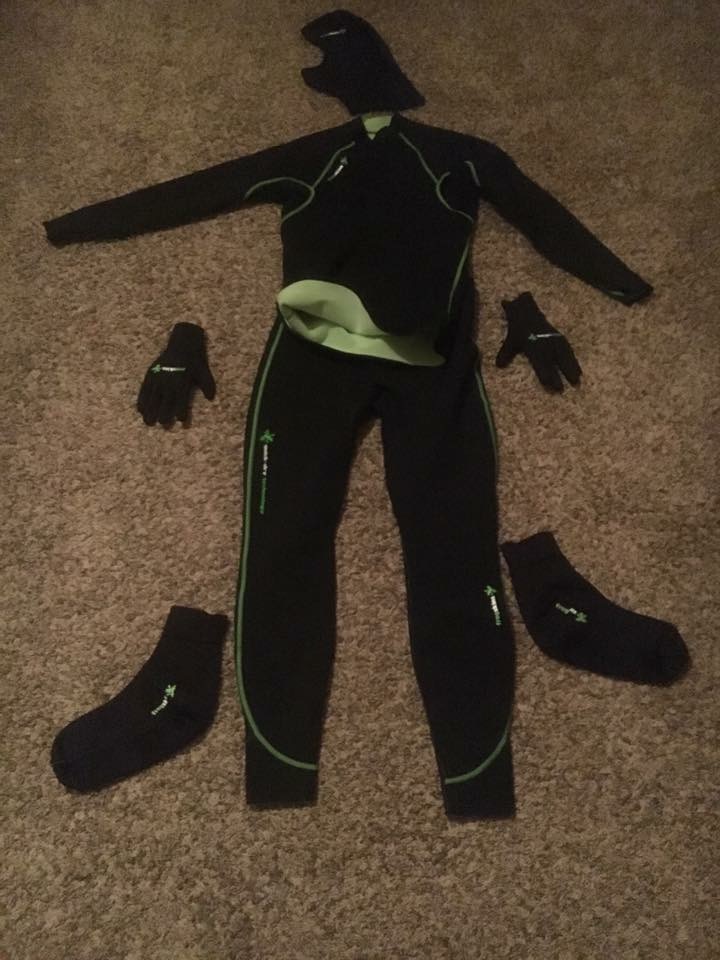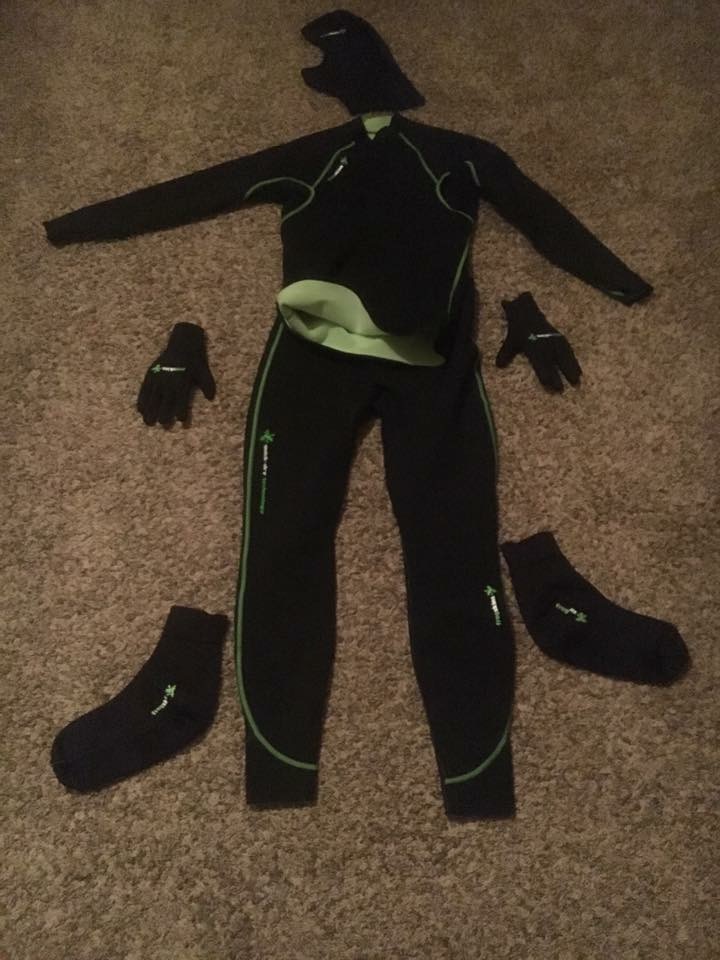 Fit:
I wear a medium in almost everything so I went with the medium for all my accessories.  Their website has a sizing chart on it that I double checked my sizes on before ordering.  I found that the sizes on the site were accurate compared to the products I received.   The gloves fit snuggly but not so tight they are impossible to take on/off, which is something that is required for Ultra-OCR.  (I always remove gloves to ensure I have the best grip possible for monkey bar/rig type obstacles but leave them on for obstacles like walls or crawls.)  The socks fit well into my shoes without issue and didn't cause blisters or chaffing while running.  I wore my normal running shoes and didn't have issues but if your feet are already tight fitting into your shoes, you may want to have an extra pair of shoes that is a half size up.  (I know several ultra-runners that bring a half size up shoe with them to races to account for feet swelling.)  Although I ordered a medium hood I think I could have gone with a large and still been comfortable.  The hood fits snuggly on my head and didn't bother me while running but I could see some people feeling constricted by the hood.  So just like I recommended with the top in my last Mud Run Guide review, if you are on the line between sizes go with the larger one since neoprene fits snugly.
Functionality:
The gloves are fantastic.  The weather in the Midwest of America (where I have been doing my running this year) occasionally dips into the negative numbers.  If it wasn't for Frogskins, I seriously think I would have gotten frostbite on more than one of my runs.  Furthermore, I wore them for a self-supported (no aid/water stations) 50k I did and my handheld water bottle started leaking.  Water spilled out and froze the outside of my gloves.  If I hadn't been wearing Frogskins gloves I would have been in serious trouble during that race because it was an out and back course without an opportunity to switch gloves.
The fleece lined socks feel great and are much more comfortable than other neoprene socks I own.  I have two different pairs of neoprene socks from other brands of varying thickness that were designed for diving.  When you put those socks on they aren't the most comfortable.  The quick dry fleece lining in these socks makes them feel like normal socks but with the added benefit of neoprene.  The 0.5mm thickness is perfect for Ultra-OCR providing some warmth without overdoing it and making your feet sweat.
The hood is also really nice providing an option to warm you up even after you have put on all your other warm clothing.  Part of Ultra-OCR is having a strong mental plan.  For me, part of that plan is always having the ability to add something to make me warmer.  The Frogskins hood is now my go-to for head warmth based on its fit, comfort, and ability to retain heat.
As I stated in the first review focused on the top and bottom, the modular design of Frogskins make them amazing for Ultra-OCR.  Having the ability to pick and choose your clothing by adding accessories make these mandatory packing items for all my future races.  In addition to each of these accessories, they also make long sleeve tops, a female cut long sleeve top, long pants, long sleeve top with built-in hood and sleeveless top with built-in hood.  Whatever solution you are looking for, Frogskins has a product to fill that capability gap.
Downside:
Again, I'm having trouble thinking of what I dislike about Frogskins.  As someone who already owns several neoprene products including a hood, socks, gloves and a top in addition to a couple of wetsuits, I am loving their product.  I have moved Frogskins up to my primary gear for races and have relegated all other neoprene to alternate, emergency or leave at home gear.  If you do place an order, I recommend buying all your accessories and tops and/or bottom at the same time.  This will help save money on the shipping costs from Australia.
Overall:
Frogskins are a 5/5 star product.  Functional, modular, warm and flexible make this the perfect solution for your extreme racing needs.  Although originally designed for water sports such as SCUBA diving and surfing, they are making a strong name for themselves in the world of endurance sports in harsh weather conditions.  Whether you are racing an Ultra-OCR this year, planning on doing some winter hunting or just live in a place with cold temperatures and don't like freezing your butt off, pick up a pair of Frogskins so you don't have to suffer the cold.